Healthy Seafood Recipe Perfect for Summer
---
We, Filipinos, are fortunate to be in a country where bountiful fresh seafoods are accessible for our consumption. Come summer days, seafoods become even more abundant. To name a few of these fresh bounties are varieties of prawns, oysters, squid, mussels, yellow fin tuna, tanigue, tambakol, and many others!
Not only that these scrumptious seafoods give us a refreshing feeling, these also protect us from certain diseases because of its immunity-boosting nutrients. Seafoods are known to be rich in Omega-3 fatty acids, Iodine, and Selenium. Below are the functions of these nutrients for our immunity:
| | | |
| --- | --- | --- |
| Nutrient | Function | Example of seafood sources |
| Omega-3 fatty acids | Help reduce inflammation in the body and support healing | salmon, mackerel, tuna, oysters, swordfish, mussels |
| Iodine | A mineral that the body needs to make thyroid hormones which contributes to a well-functioning immune system | tuna, seaweed, shrimp, scallop, sardines, oysters |
| Selenium | Acts as an antioxidant that helps to lower oxidative stress levels in the body, which in turn reduces inflammation and enhances immunity | yellowfin tuna, sardines, oysters, clam, shrimp, salmon, crab |
Now we know how valuable seafoods are to our immunity, let's try learning another summer recipe from Cookmunity® named Mixed Seafoods with Ensaladang Bulaklak ng Kalabasa made yummier with AJI-NO-MOTO® Umami Seasoning. First, you will need to buy fresh seafood ingredients from the market namely shrimp, tahong, halaan, and squid. To check freshness, shellfishes should look moist and are tightly closed. The shells should be clean and free of dirt and mud. Squids should look shiny and smooth. Before cooking, ensure that all ingredients bought are washed thoroughly.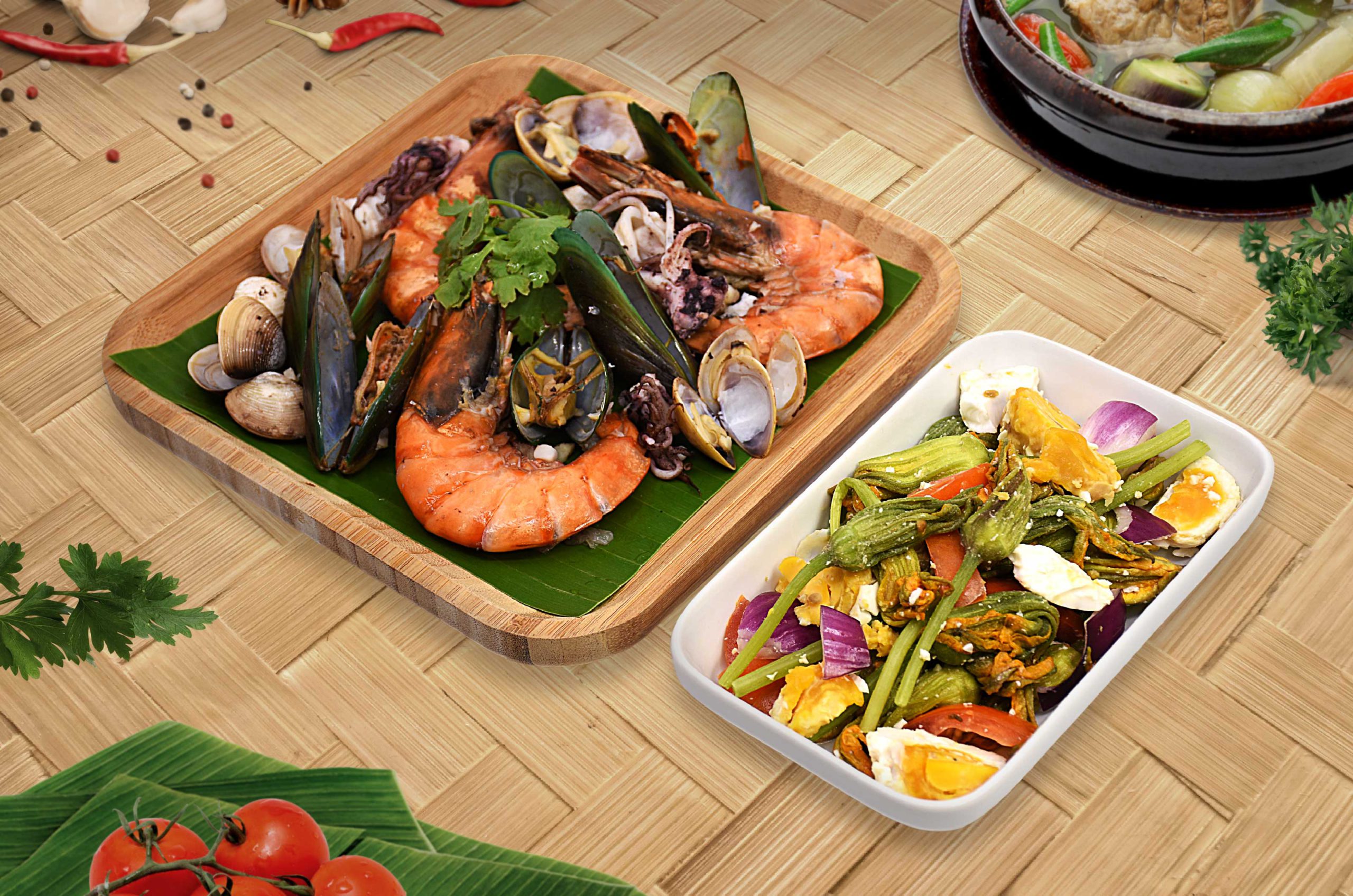 Start by combining shrimp, tahong, halaan, squid, red onion, cilantro and ginger in a large mixing bowl. Then add AJI-NO-MOTO® and mix well. The next step is wrapping using a rectangular banana leaf (at least 12 inches by 8 inches size). Get at least 1/2 cup of the mixed seafood and place in the center of the leaf, fold in one side, then the other side, then pull in the long ends, and fasten them at the top of the packet with a toothpick. You should produce a square or a rectangular package. Repeat the process for all the mixture. After wrapping, place the wrapped mixed seafood on a griller and grill each sides for 7 minutes. After cooking all sides, remove from the griller pan then set aside.
Prepare an equally refreshing and nutritious side dish to your mixed seafood by making Ensaladang Bulaklak ng Kalabasa which is very easy and quick to prepare. In a bowl, add bulaklak ng kalabasa, salted egg, white onion, tomatoes, and pepper. Mix well and it's done. To serve, place the cooked mixed seafood together with the ensaladang bulaklak on a large serving platter.
Look for more seafood recipes and try incorporating seafoods in your weekly meal plan to get a variety of nutrients along with all the other food groups (fruits, vegetables, meat, rice and starches, etc). It is recommended to consume at least 2-3 servings of fish (1 serving = 1 piece medium size) or other seafoods (1 serving = 1/3 cup) a week. The key is to eat a variety of foods to get a variety of nutrients that could all contribute to a stronger immunity.
References:
Desnacido, J. P. (2017). Fish in the Filipino Diet. Food and Nutrition Research Institute – Department of Science and Technology.
Support your immune health by eating a variety of seafood. (2020, April 14). Seafood Nutrition Partnership. https://www.seafoodnutrition.org/seafood-101/support-your-immune-health-with-seafood/