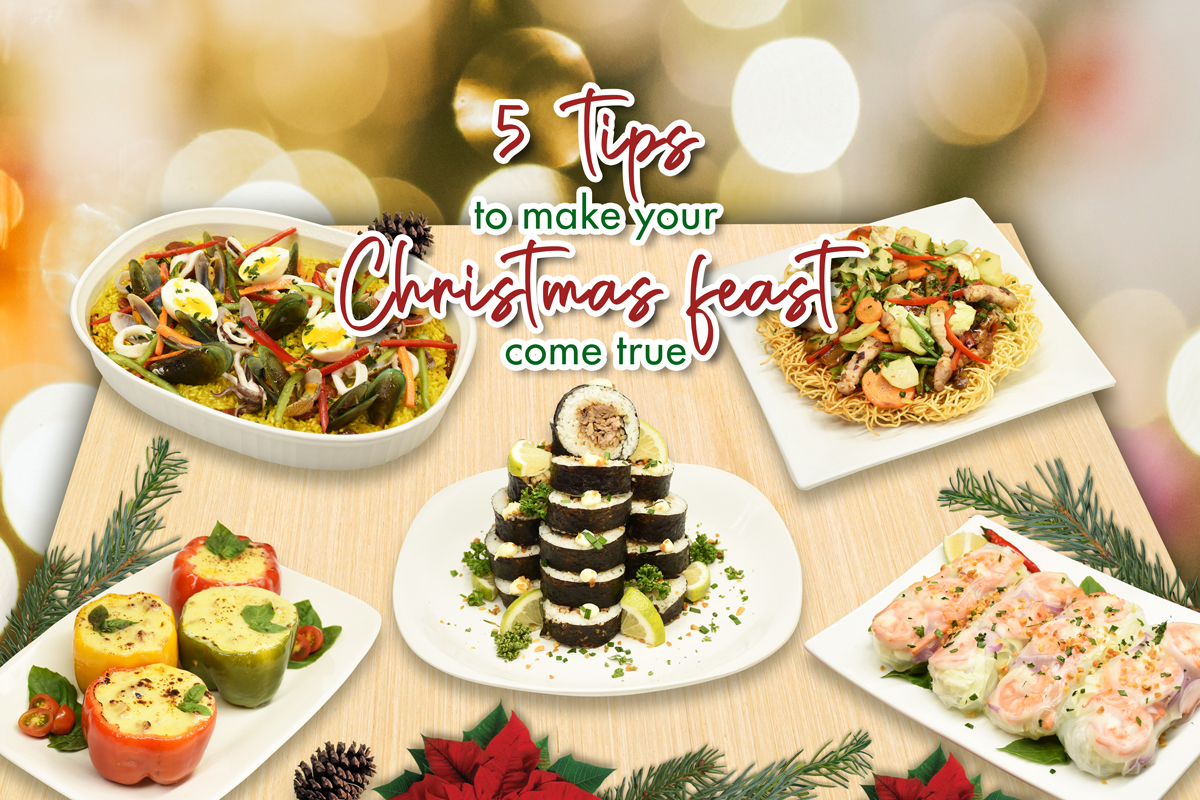 It's Christmas time! The holiday vibe brings to life many great memories of Christmas celebrations in the past. The central activity revolves around sharing special meals with family, friends and colleagues. The Christmas feast is one of the highlights of Christmas celebrations.
Many wonder how to celebrate Christmas after having gone through many tough experiences and heartaches caused by the pandemic and the recent typhoon devastations. For this reason, COOKMUNITY® prepared 5 tips to make your Christmas feast wish come true.
From ordinary to extraordinary
The best way to jump start your Christmas menu is to consider using ingredients that are already in your usual grocery list. This will help you work within your budget. Then, create something new out of ordinary ingredients by trying out different cooking techniques.
One good example is the Crispy Pancit Canton , which uses ordinary ingredients but makes the dish more special through frying instead of boiling the noodles and topping it with freshly-cooked meat and veggies laced with the rich and umami-tasting Sarsaya® Oyster Sauce . This will be like making your own version of Bird's nest or Crispy Chow Mein, a popular dish in Chinese restaurants.
Go for Pinoy fusion food
It's Christmas, so there is freedom in introducing something foreign to spice up your Christmas feast. But take care not to go overboard or you will end up spending a lot on food that people will barely touch due to unfamiliarity.
Try to create Pinoy fusion food as a way to infuse familiar taste of Pinoy cuisine to classic foreign delicacies. Examples are Seafood Bringhe made more ma-umami/ma-linamnam with AJI-NO-MOTO® Umami Seasoning . This is a local version of the classic Spanish Paella. For Japanese food lovers, try this delicious Adobo Maki made more rounded and flavourful with AJI-SHIO® Garlic Seasoning Mix .
Make your Christmas table Colorful
Much like decorating your Christmas tree, colorful dishes make your Christmas table more enticing and bongga!
You don't need to spend much to achieve an instagrammable table spread. Put up these gorgeous Stuffed Bell Peppers that will surely make your mouth water with delight. This dish that's made with PORKSAVOR® will become an instant family favorite.
Eat and Serve Healthy food
If you call to mind the most expensive dishes you have served in past holidays, you may come up with a list of oily, fatty and unhealthy food that leaves you and your family feeling sick after Christmas dinner.
This year, try to carefully select what goes to your Christmas table. Offer variety by shifting to fresh spring rolls rather than a fried lumpia. The Merry Spring Roll recipe from COOKMUNITY® is made with AJI-SHIO®  Pepper that brings together the lovely flavors of shrimp and veggies.
Get creative in your food presentations
Your Christmas table could need some styling, you can borrow some Christmas accents from your tree to make the table sparkle. But the stars of the dinner table will always be the dishes that you lovingly prepared for the enjoyment of your loved ones.
Take this Caramel Jelly , a simple dessert made more appetizing with Prottie® Soymilk Drink Mix Caramel . You can serve this in a  traditional way with a plate or in decorative cups; reminiscent of dessert buffets.
So there you have it! Five easy tips on how you can realize the Christmas feast of your dreams. Watch out for more tips and techniques in preparing your special Christmas feast in our next blogs.