Celebrate Pahiyas at Home
---
It's that time of the year in the Philippines when festivals or "fiestas" are celebrated left and right. And if there's one dish na hindi mawawala sa mga pistang bayan, yan ay walang iba kundi ang PANCIT.
In the province of Quezon, Pahiyas Festival is celebrated annually every 15th of May to give thanks for their bountiful harvest.
Taste and feel the colorful celebration of the Pahiyas Festival without having to leave your home by recreating this popular specialty of Lucban Quezon – Pancit Habhab!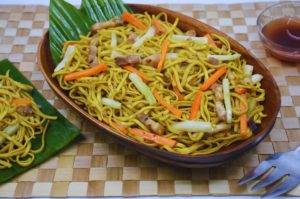 To make this local delicacy, firstly heat oil in pan and sauté pork until light brown. Add onion and garlic, then once fragrant, add sayote and carrots, mix well. You can add more vegetables such as cabbage and chicharo for added vitamins and minerals that can help in strengthening the immune system. Pour in water or pork stock, then once boiling add the pancit and let it simmer until the noodles are cooked. If you don't have Lucban miki noodles, you can replace it with other types of pancit like canton.
Next, season the pancit with pepper and SARSAYA® Oyster Sauce, this will make the dish extra special with delicious oyster flavor and blend of savory – sweet & salty taste, then mix well and simmer for about 2 minutes.
Pancit Habhab is eaten with a spiced vinegar, and you can make it by combining water, vinegar, onion, brown sugar, salt, and black pepper in a pot then simmer it for 2 minutes.
To get the traditional feel of eating Pancit Habhab, serve it on a piece of banana leaf, season with spiced vinegar and directly chomp from the leaf. Enjoy sa pag-habhab!
We hope you achieved that fiesta feels at home by cooking Lucban's popular local delicacy. This month of May, saan mo man piliin maki-fiesta, we're here to celebrate with you. Happy Fiesta Ka-Cookmunity!
For more recipes and updates, like and follow our Facebook Page, Cookmunity by Ajinomoto Philippines!