Christmas Recipes done in less than 45 minutes
December 11, 2020 4:00 am
---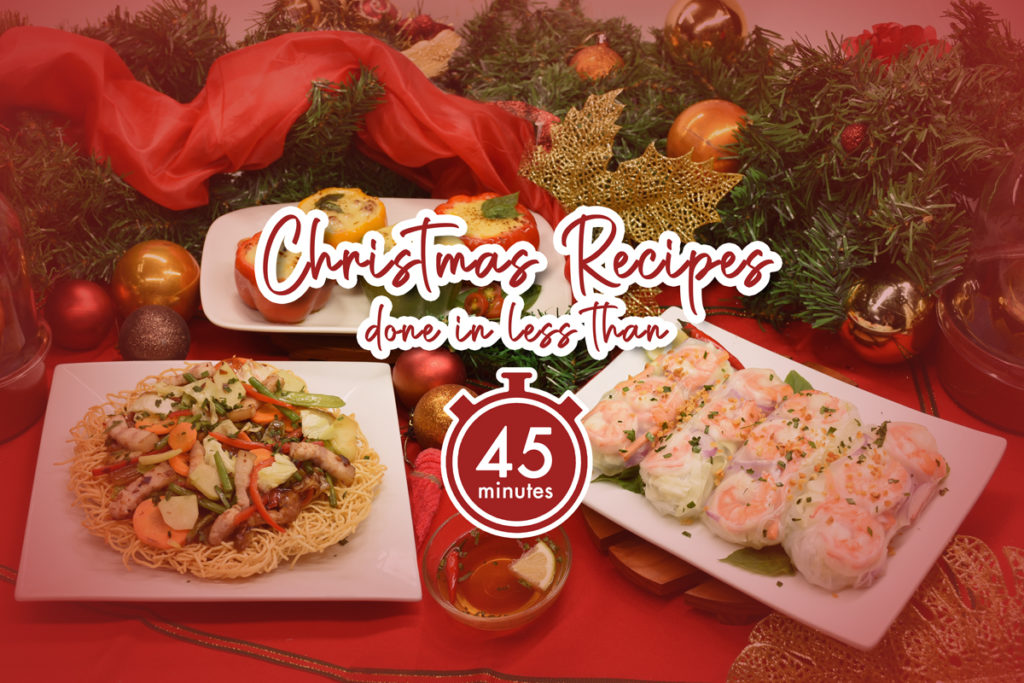 Christmas season, even if we are mostly confined at home, could still be the busiest time of the year for most of us. Whipping up a Christmas feast can be quite demanding. So to help you solve this merry problem, COOKMUNITY® came up with quick recipes that you can include in your Christmas menu.
We will be working with fresh vegetables so take note that we cannot overcook the ingredients. This is to ensure that the nutrients in the veggies stay intact and the delicious flavor of fresh vegetables will be retained.
Although done in a shorter time, these recipes require some cooking skills, so here are some cooking techniques that you can apply.
This dish is something special as you get to enjoy canton in unique ways — with its crunchy texture at first and its al dente texture towards the end. So it is important to follow this cooking technique:
BOIL the noodles until al dente. Since the noodles are to be cooked twice, take care not to overcook by cutting the boiling process immediately. Soak the noodles in cold water once al dente texture is already achieved.
Drain the water out of the noodles using a strainer and lay them out on a plate to dry. Drying the noodles is important to avoid splatters when deep frying.
DEEP FRY. Put the noodles on a stainless net strainer and deep fry noodles in hot oil until brown and crispy.
The next step in the procedure is to make the saucy vegetable and meat topping for the Crispy Canton. Adding Sarsaya® Oyster Sauce provides rich, sweet, and umami oyster taste that will make your Crispy Canton special and premium.
Click here to access the full recipe which is good for 12 servings.
The first step is to thoroughly clean  your lettuce, carrots, and cabbage since we will use this raw. Once cut, mix, and season with AJI-SHIO® Garlic Seasoning Mix to achieve rounder and fuller taste for our mixed veggies. The second step is simply to boil the sotanghon or vermicelli noodles until al dente and separately boil the shrimp then set aside.
Since we will use our hands to put together the ingredients in a roll, wash your hands properly and use clean hand gloves if possible. To assemble, fill a bowl with warm water, dip each rice paper for a second and lay flat on a clean plate. Line with vermicelli noodles and shrimp and top with the vegetable mix. Carefully roll and seal spring roll tightly.
The last step is to make the dip by mixing fish sauce, water, lime or calamansi juice, garlic, white sugar and Red Chili. This time use AJI-SHIO® Pepper Seasoning Mix to attain the balanced taste of the sauce.
Click here to access the full recipe which is good for 6 pax.
Watch out for our next blog for some inspirations on how to showcase some cooking tricks on your Christmas handaan.