5 Pasta Favorites Perfect for the Holidays
November 29, 2022 5:28 pm
---
The countdown to Christmas is on! A pasta dish is always present on every Filipino occasion — easy to prepare, delicious and a true crowd pleasure. For mommies, hindi kumpleto ang handaan without a pasta dish, right?
This Christmas liven up your holiday table  with these "not your ordinary pasta dishes" that are absolute must-tries. From appetizer to a hearty pasta dinner, dish-up something new for the whole family and guests with our recipes that are packed with protein and tasteful ingredients.
Instead of buying salty potato chips as an appetizer for your guests this Christmas, why not try making your own chips at home? Itong kakaibang Pasta Chips recipe can turn your typical soft pasta into a crispy delight that's also less sodium, thanks to AJI-NO-MOTO®!
Just deep-fry sliced and cooked lasagna sheets in a pan with oil. Drain excess oil using a strainer or colander. If you have, you can also use an air-fryer for this recipe for a less oil version. Preheat the air-fryer at 180°C then cook for 3-5 minutes until golden and crispy. While hot, immediately sprinkle some grated parmesan cheese, salt, and AJI-NO-MOTO® Umami Seasoning for that added umami-goodness. Toss to coat well then set aside.
To make the creamy dip, melt butter in a pan then mix in flour. Slowly pour in milk while whisking continuously. Season with salt and optional to sprinkle some nutmeg for an added flavor. This creamy dip, which contains dairy such as cheese and milk are great sources of Calcium for strong bones and teeth!
To serve, transfer chips to a serving plate or bowl then serve with the creamy dip on the side.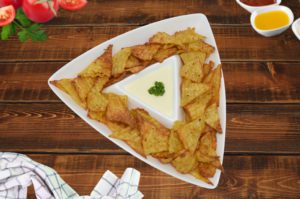 Impress your family and guests by exploring this Chicken Cajun Pasta.  Savor the delicious kick  from Cajun and the savory goodness of AJI-NO-MOTO® Umami Seasoning.
Heat oil and melt butter in a pot. Add the chicken pieces then cook until golden brown. Chicken breast is a great source of lean Protein to help build strong muscles. Add the onions, tomatoes, French beans then cook for 3 minutes. Toss together the cooked penne pasta. To ensure an al dente texture or slightly firm pasta, cook pasta one minute less than the package instructions. Drain then you may opt to drizzle a little bit of olive oil to avoid the pasta from sticking together.
Season with cream cheese and your homemade Cajun spice mix – smoked paprika powder, dried oregano, dried thyme, AJI-NO-MOTO® Umami Seasoning, and cayenne powder. Mix and cook for 3-5 minutes. Transfer to a plate then garnish with spring onions. This is another pasta dish that is complete with Go, Grow, and Glow Foods!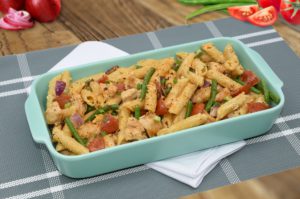 Mediterranean Chicken Pasta Salad
This protein-rich and vegetable dish will surely delight the dining table this holiday season made delicious thanks to AJI-GINISA® Flavor Seasoning Mix.
To start, pan-fry the chicken breast pieces until golden brown. Set aside to cool. Next, make the dressing by mixing olive oil, red wine vinegar, lemon juice, chili flakes, sugar, ang AJI-GINISA® para mas malasa ang dressing for the salad. You may add honey for a sweeter flavor of the dressing. Set aside.
For the salad, combine boiled penne pasta, diced cucumbers, tomatoes, feta cheese, and red onion in a large bowl. Drizzle in the salad dressing then toss together.  Instead of your usual vegetable salad, try adding a great source of protein like chicken and carbohydrates like pasta to consume a variety of Go, Grow, and Glow foods! Salad na all-in-one, sakto na for a single meal!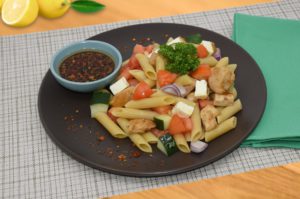 Filipinos love spaghetti meatballs in marinara or tomato sauce but why not try something new like  creamy white sauce? Well, you're in luck! This Creamy Meatball Pasta recipe is a mouthwatering dish made more delicious with AJI-GINISA® Flavor Seasoning Mix. Moreover, this is a high-protein dish! It contains dairy, pork, and beef which are good sources of Iron that helps maintain healthy red blood cells, too.
To make this recipe, prepare the meatballs by mixing crumbled bread, ground beef, ground pork, egg, flour, carrots, and AJI-GINISA®. Mold at least 2 tablespoonfuls of mixture and form into balls then fry until brown on all sides. Drain excess oil using a strainer. For less oil, you may opt to air-fry or bake these at 180°C for 25-30 minutes.
To prepare the creamy sauce, melt butter in a pan. Sauté the onions then add cream, milk, and salt. Mix and let it simmer for a minute then add the cooked spaghetti pasta and meatballs. Mix until the pasta and meatballs are fully coated with the sauce. Transfer to a plate, then serve!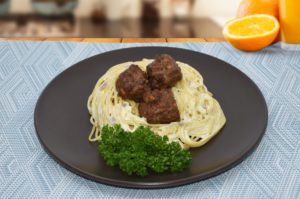 Using a typical breakfast food like longganisa and turn it into a scrumptious Noche Buena pasta dish. Have a go at this easy One-Pot Longganisa Pasta with AJI-GINISA® Flavor Seasoning Mix for a more flavorful dish.
Boil eggs for 6-7 minutes to achieve the soft-boiled stage. Immediately place them in an ice bath to stop the cooking. Let these cool and peel. Do you know that aside from meat and chicken, eggs are also a great source of protein? They also contain Selenium which supports a healthy immune system.
Next, in a heated pot with oil, sauté longganisa until brown. Add the tomatoes and chili flakes then cook for 3 minutes. Add the cooked linguine pasta then season with AJI-GINISA® and cheese. Mix well then transfer to a serving plate. Serve with sliced soft-boiled eggs and fresh basil leaves.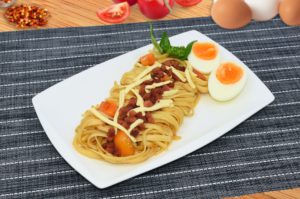 Even with all the holiday buzz and busyness, you can still be creative and turn simple ingredients to special and delicious meals to be enjoyed by the whole family!  Happy cooking mga Ka-Cookmunity at Maligayang Pasko!
Like and visit our Facebook Page, Cookmunity by Ajinomoto PH for more updates. Check out and subscribe to our Tiktok!