Cold Weather Merienda Ideas
September 9, 2020 9:00 am
---
The slight chill in the air only means one thing: BER months na talaga! The holidays are just a few months away, and the cool breeze outside is a testament to it. It's the season of rain and cloudy skies, kaya stay safe lang sa bahay and unwind!
What makes the coming months more exciting, you say? It's comfort food season din kasi! Imagine a nice cold afternoon with a warm, freshly-cooked merienda. Nakaka-relax talaga.
So, as we start to welcome the rainy season, let's plan the best Pinoy comfort food ideas that you could cook up on your next chilly afternoons with the fam! Para happy ang family, happy rin ang tummy. Try out these cold weather merienda recipes!
While rain is gently pouring down outside, spend the afternoon with a warm bowl of noodle soup. Calming, relaxing—bawat sip, comforting! Here's a Pinoy merienda idea that's perfect for a chill afternoon at home— Chicken Sotanghon !
Embrace a warm bowl as you bond with the family, or better yet, enjoy your well-deserved me time with this Pinoy favorite. It's made with vermicelli noodles, shredded chicken, annatto or atsuete, with veggies and spices! The ingredients are mostly readily-available at home, so going out during a rainy afternoon shouldn't be an option. Chill lang!
It's so easy to make, and affordable rin! Check out our Chicken Sotanghon recipe made more savory and satisfying with CHICKENSAVOR™ All-in-One Seasoning Mix!
Preparation and Cooking time: 1 hour
If you're looking for a merienda dish that's bite-sized, healthy, and packs a lot of crunch, ready your pans! Our Crunchy Squash and Malunggay Croquettes recipe is for you!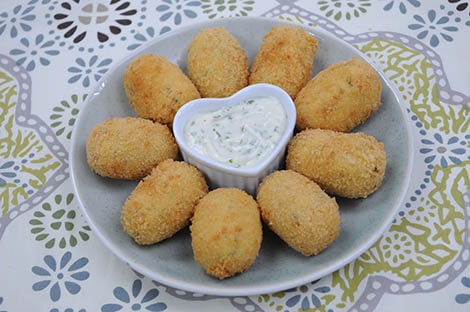 A potential merienda favorite for the young and old alike, this dish is perfect for a low-key afternoon bonding with the fam. Board game or movie sessions man, okay ang crispy croquettes na 'to!
To prepare this dish, just combine mashed potatoes, malunggay leaves, and squash, with one egg. Sprinkle a mixture of AJI-GINISA® Flavor Seasoning Mix to make the mixture Umami-licious! Then, form the mixture into nuggets—the shape and size are up to you!—then roll each nugget in breadcrumbs to give it a nice, crispy coating. Fry the nuggets until golden brown, and enjoy!
This awesome merienda dish is best paired with a creamy dip made with mayonnaise, garlic, parsley, salt, and pepper. For a detailed and easy-to-follow recipe guide, check this out . Mas pina-Umamilicious ang Crunchy Squash and Malunggay Croquettes with AJI-GINISA® Flavor Seasoning Mix!
Preparation and Cooking time: 30 – 40 minutes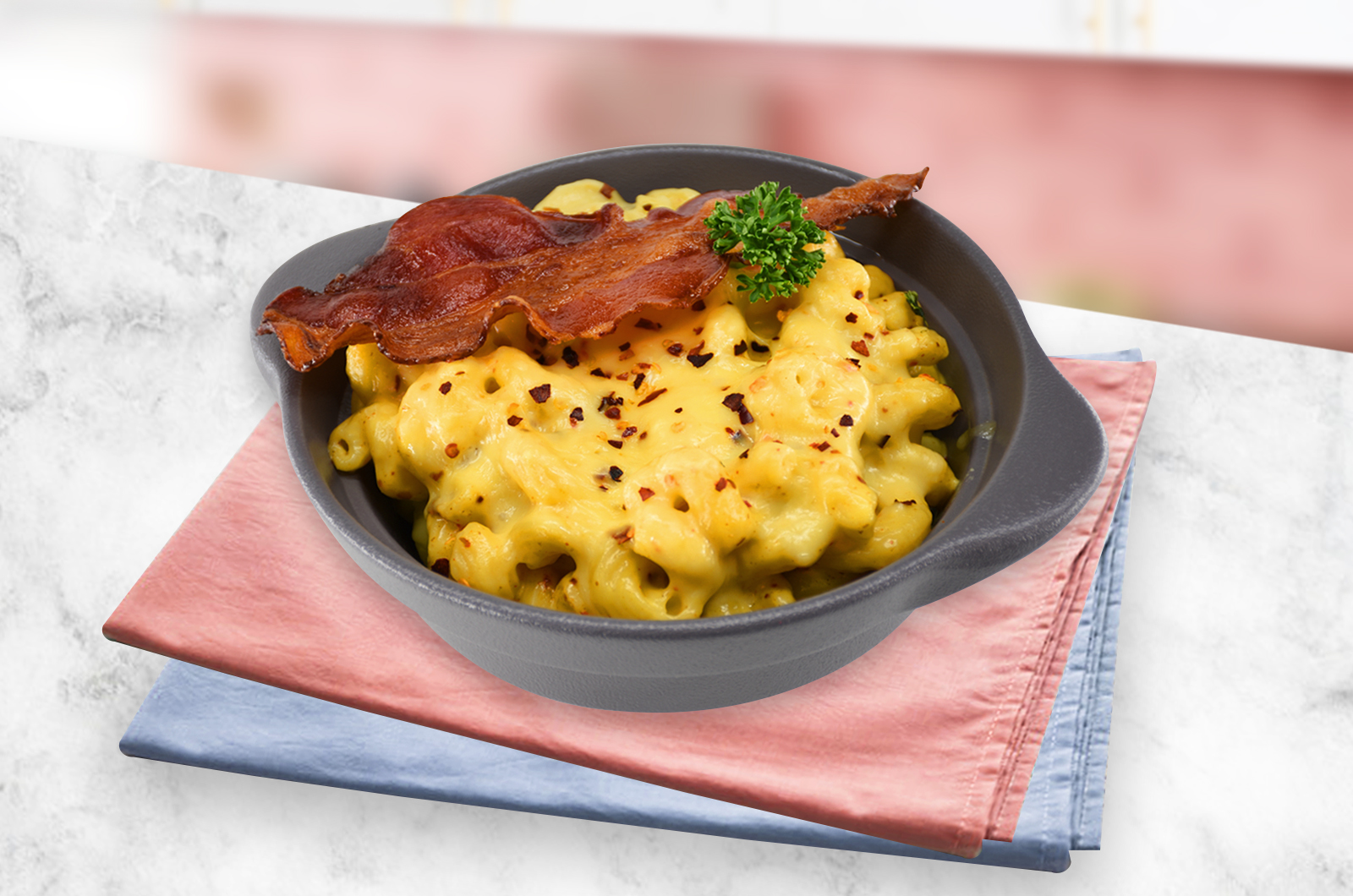 If it's cold outside, let's turn up the heat! How about something spicy and cheesy to kick it up a notch on a breezy afternoon? Bagay na bagay sa cold weather! Try making a batch of Spicy Mac and Cheese!
To prepare this scrumptious hot and cheesy merienda dish, start off by making the milky cheese sauce. Mix your milk, egg, cheese, chili powder, and PORKSAVOR® All-in-one Seasoning Mix in a bowl. Next up—in a pan, melt some butter, pour in your creamy mixture, and let it all simmer until you get that desired creamy consistency. While that is simmering up, make sure that you have your macaroni noodles ready—just cook the pasta as instructed in its packaging. Mix it in with the milky cheese sauce and serve! Here's an optional upgrade to this dish—add some slices of bacon! Lalong tasty!
Check out our full Spicy Mac and Cheese recipe made more yummy with PORKSAVOR® All-in-one Seasoning Mix !
Preparation time: 10 minutes
Cooking time: 20 minutes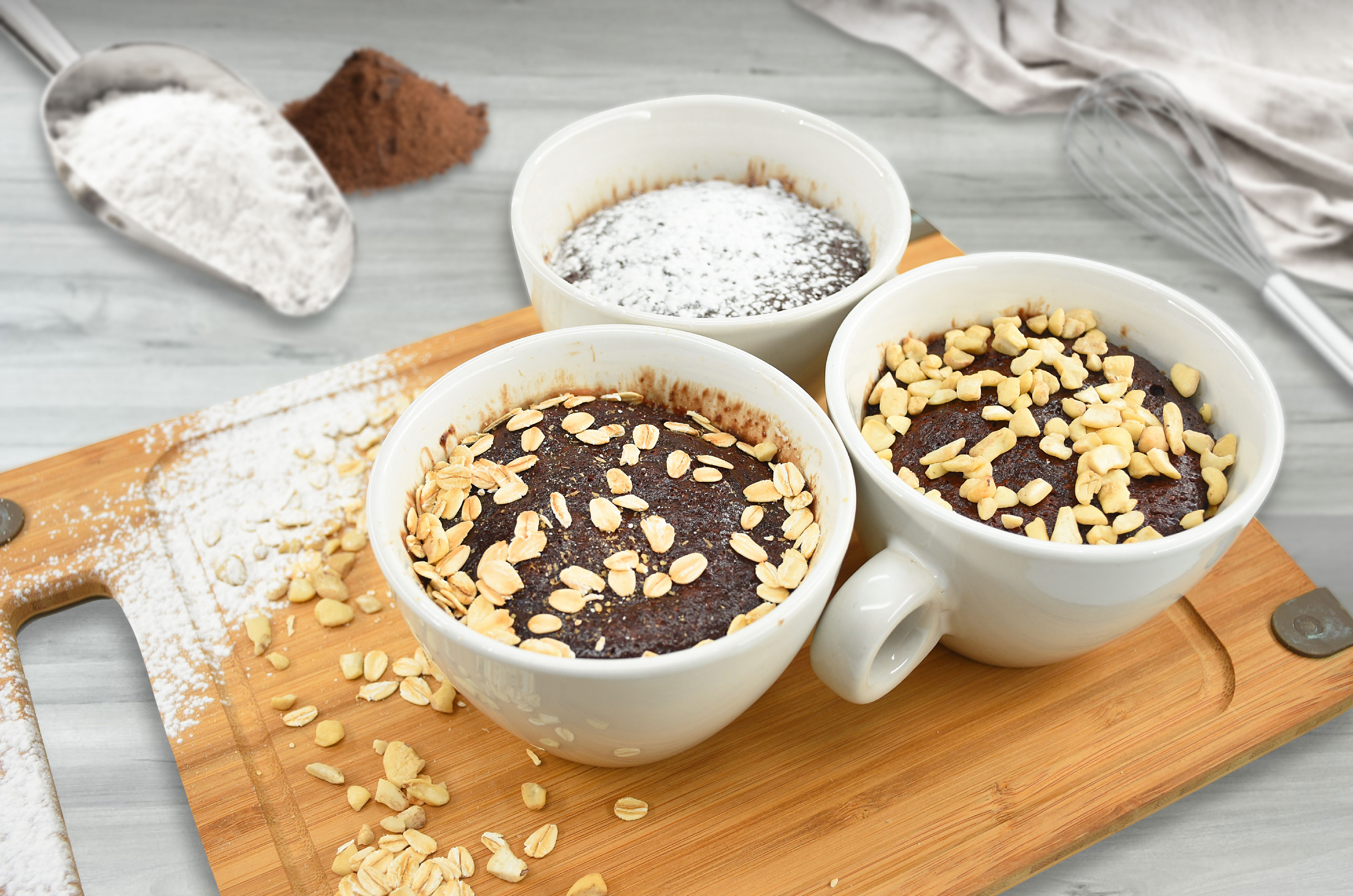 Imagine yourself by the window, savoring the beauty and calmness of the outside with a sweet treat to lighten up the mood—that's how an afternoon merienda should be like! So, if you're up for something chocolatey to satisfy your sweet tooth, try this easy-peasy Chocolate Mugcake recipe!
Cakes are intimidating but with PROTTIE® Soymilk Drink Mix (Chocolate) , easy lang!
Start off by mixing PROTTIE® Soymilk Drink Mix (Chocolate) , sugar, oil, and egg in a bowl. Make sure to whisk the mixture really nicely until bumps disappear and everything's well incorporated. Using an ice cream scooper, scoop in a mixture into a microwave-safe mug. Wipe off the excess batter with a cloth—remember to put in just the right amount of batter!—then, it's all ready for cooking!
Set your microwave's temperature to high, and pop in your microwavable mugs. The cooking process usually takes 2-3 minutes—make sure to check your mugs from time to time!
When the microwave dings and it's all smelling good, take your mugcakes out and serve it while it's hot! To make it more indulgent, feel free to top it off with chocolate chips, sprinkles, oats, nuts—be creative! Serve it and enjoy!
For the full step-by-step guide for our Chocolate Mugcake recipe, visit this link . An easy-peasy merienda made with PROTTIE® Soymilk Drink Mix (Chocolate)!
Preparation time: 10 minutes
Cooking time: 10 minutes
Cherish the sweater weather with more merienda meals perfect for cold afternoons! Just log on to https://www.ajinomoto.com.ph/cookmunity/ for more meal ideas to impress the fam!