Kakaibang Pinoy Snack Idea: Tokwa't Balut
---
To commemorate the Philippine Independence Day, COOKMUNITY® features "Kakaibang Pinoy Homemade Snacks" that we can all easily enjoy at the comfort of our homes. So get ready to see and try our unique recipes and share these delicious snacks with the whole family.
It's late in the night, and you hear a loud call "Baluuuuuuut." You go out and buy a few pieces of balut, crack its shell, sprinkle some salt, sip the savory sabaw, and take a bite of that juicy balut partnered with your favorite drink. To some people, this used to be their typical night with friends or family, or just at home alone enjoying their solitary time.
Balut may be intimidating to some people, especially seeing the boiled little duckling inside the shell, but this exotic Pinoy street food is usually a must try especially to foreigners going on a food trip in our country and they either eat in fascination or gag in disgust. Balut is a 16-to-21-day old duck embryo, boiled until cooked and usually sold on the same day. The younger the embryo, the more tender it is. People usually prefer the 18-day old balut because it's when the beak and bones are more pronounced, hence giving a crunchier texture. The 21-day old balut usually has the hard white hard stone-like part called "bato" and it's usually discarded but edible.
So what would make our balut-eating experience even better? Imagine mixing in fried tokwa and an umami-rich dressing together with balut. Now, that's a combination you don't want to miss! Not to mention that it is packed with Protein and Calcium for muscle development and for building stronger bones. This new combo will surely be an umami treat for anyone to enjoy at home with friends or family.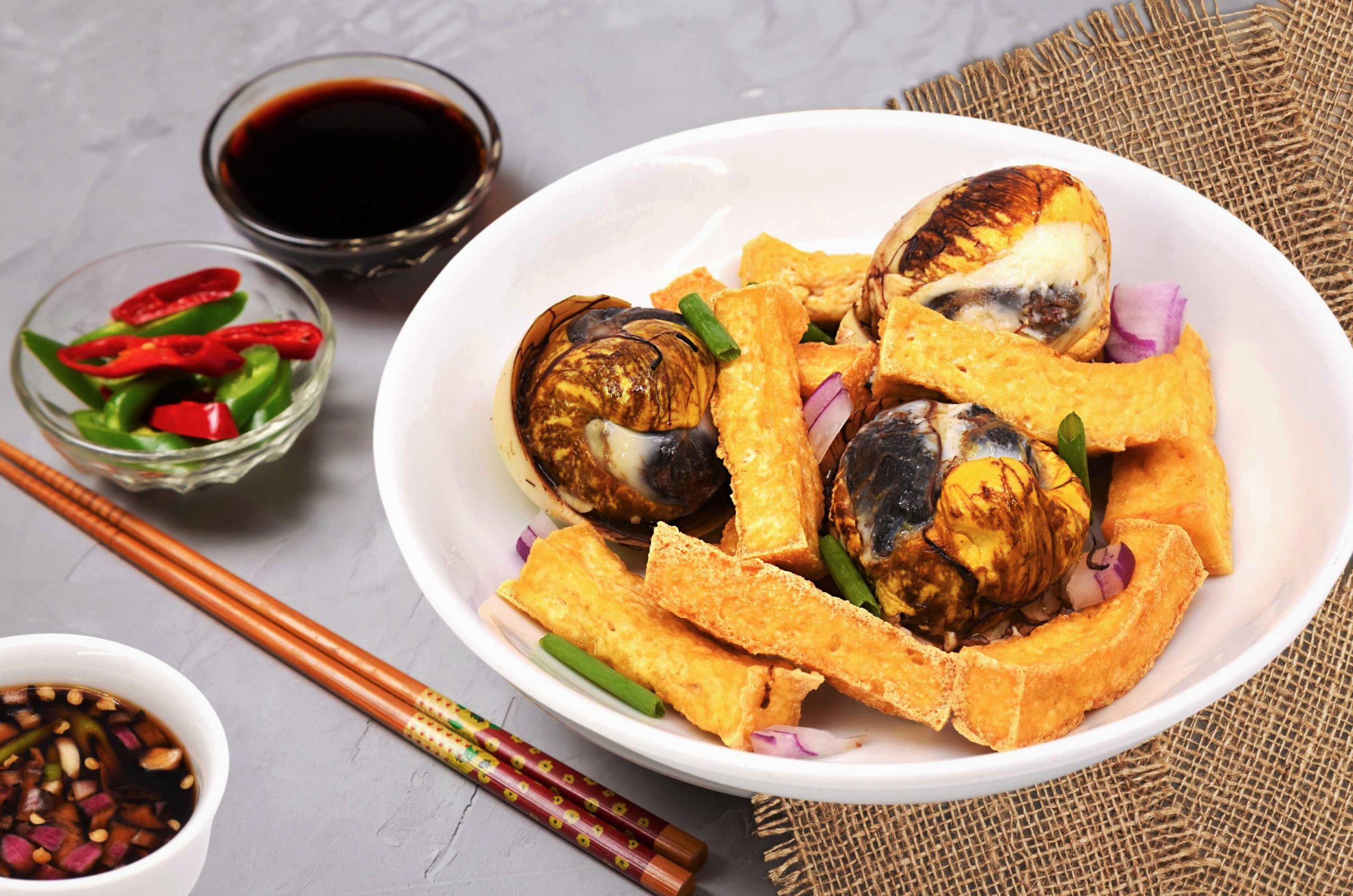 Now, you can make this Kakaibang Homemade Pinoy Snack at home! To make Tokwa't Balut, first, boil raw balut for 30 minutes or buy pre-cooked balut. Better to get the 18-day old balut for that added crunch. Peel these eggs and make sure to keep that delicious sabaw! Set these aside.
Next, to make the crunchy tokwa, cut the tokwa into thick rectangular slices. Drain the liquid before frying for a crunchier texture. Deep-fry the tokwa for 7-10 minutes or until golden brown. Remove from the pan and drain excess oil using a strainer or colander. Set these aside while making the delicious dressing, made yummier with SARSAYA® Liquid Seasoning.
To make the dressing, combine water, vinegar, diced red onions, brown sugar, chopped siling labuyo, chopped green chili, and SARSAYA® Liquid Seasoning. in a bowl. Mix well until sugar is dissolved. Compared to using soy sauce, SARSAYA® Liquid Seasoning. gives a mouth-watering and well-rounded profile that perfectly blends saltiness, sweetness and savoriness or umami. It will also give your dish an appetizing aroma.
The last step is to combine all these together, toss in balut (with the sabaw) and tokwa and pour the savory dressing. Mix to combine and then, transfer to a serving plate or bowl. Serve and enjoy!
For updates on new recipes and blogs, come visit and follow our Facebook Page Cookmunity® by Ajinomoto Philippines.