Kitchen Discoveries: Complete the Meal
---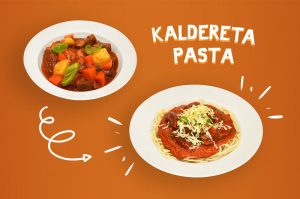 For our New Year blog series, we will explore our creative side and discover new dishes as well as easy to cook ulam recipes we can make in our kitchen. Take Kaldereta for example. This festive dish, with its bold and deep flavors, is not only for rice but also pairs well with pasta.
Kaldereta's rich tomato-based sauce, when blended with tomatoes, carrots, and bell peppers, fits perfectly as a pasta sauce. Adding a starch component completes the dish with the pasta as carbohydrate component, beef meat and cheese as the proteins, and carrots and bell peppers as the vegetable source.
Turning a Pinoy recipe like Kaldereta into a complete meal is simple, just follow this Kaldereta Pasta recipe. You will find that AJI-NO-MOTO® Umami Seasoning can round up the flavors to make this pasta dish truly satisfying.
There are a lot of Pinoy ulam recipes that can be repurposed and made complete by adding components suitable for the dish. Learning different cooking methods will allow you to invent new dishes that can be the next favorite of your family
What other saucy dishes do you have in mind? Why not try other tomato-based dishes like Menudo , Mechado and Afritada ? Or use other types of pasta? Try to incorporate other food items and apply other cooking methods to make a humble viand a complete meal. Stay tuned for other Kitchen Discoveries.