Kitchen Discoveries: Create new meals
---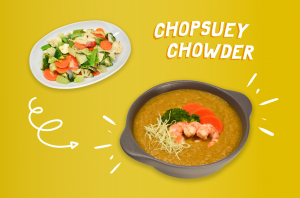 Good food does not come cheap and this makes homemakers less flexible with their menu options and be limited with tried and tested recipes. However, sticking to the same menu is also not an option, especially if we need to introduce healthy recipes from the Philippines . For this reason homemakers should take advantage of leftover food and instead of reheating the same thing, one must be more creative and make something new out of the ordinary dishes.
If you find some vegetable dishes from your previous meal, application of other cooking methods can turn your leftovers into new creations. Take for example Chopsuey, a typical Pinoy vegetable dish. Chopsuey is a usual leftover and homemakers utilize this as toppings for the next day's Pansit Bihon. When you have leftover chopsuey, try this Chopsuey Chowder recipe made with Aji-Ginisa® Flavor Seasoning Mix to give new life and new face to your typical vegetable dish.
Aside from cutting down food wastage, this recipe will also answer the problem of serving vegetables to your family. This recipe will enable you to feed picky eaters in your family with vegetables and they won't even notice it. It can also be served as well to adults in order to shift from the usual clear soups we have as meal starters.
So how do you regenerate leftover veggies? What other Kitchen Discoveries do you have in mind? Let us know and we'll wait for your own kitchen discovery!