Cook confidently with these Favorite Pinoy Ulam Recipes
February 16, 2022 12:52 pm
---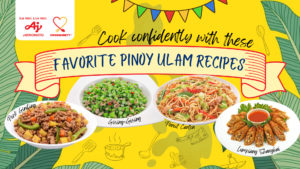 Have you ever heard someone say "Hindi ako marunong magluto" or "Takot ako magluto". We possibly might have known a few who are – afraid of getting their hands dirty in the kitchen, insecure of their knife skills, scared of oil splatters from frying meat or fish, almost sure that they will burn or ruin whatever it is they will cook. But wait, cooking doesn't have to be intimidating or difficult! We are here to help you gain more confidence in the kitchen. For those who haven't tried cooking yet and would like to explore the world of cooking, this article is just right for you.
Here are some tips for you to gain or regain your confidence in the kitchen:
Start small and learn the cooking techniques. It's good to try one (1) simple recipe at a time. Try to practice cooking for yourself by cooking your favorite dish. Learn the cooking technique/s this recipe needs. If this recipe calls for specific cooking techniques, you may check out this link for a crash course on basic cooking techniques https://www.cookmunitybyajinomoto.com/tag/kitchen-basiks/. After some time, try cooking 3-4 recipes and from there, you will learn a variety of techniques like frying, stir-frying, boiling, and more. You just have to start it slow and small.
Get comfortable with your knife. Just like learning the cooking techniques, it is important to get comfortable with your knife. Learning the proper way of holding and using a knife will be helpful to prevent cuts and unwanted accidents. Your knife doesn't have to be expensive, but should be something that you are comfortable holding. Try practicing different kinds of knife skills that will be useful in a variety of recipes.
Watch cooking tutorials or shows. Expose yourself into the world of cooking by watching cooking tutorials and shows. Aside from learning the recipe itself, you might also gain cooking tips from experts that can help you level-up your culinary knowledge and skills. There are a number of cooking tutorials and shows out there. Try watching these videos from Cookmunity by Ajinomoto website or at our Facebook page.
Try to cook often. After some time of exposing yourself to cooking, you might want to try to cook more often. Prepare a romantic dish for your special someone or volunteer yourself to cook at home for the family. To start your cooking journey, it's best to prepare common dishes that we are quite familiar with – our suggestion is no other than the classic Pinoy foods. We have prepared four (4) easy Filipino recipes you could try cooking na mas pinasarap ng Ajinomoto seasonings na tunay na swak sa panlasa ng Filipino. You won't have to worry how it taste because we've got you here, ka-COOKMUNITY®!
Alright, one recipe at a time. Let's try to learn this first dish, Pork Giniling, made saucier with SARSAYA® Oyster Sauce. First step is to heat oil in a pan. Then, sauté carrots until slightly toasted. To sauté means to cook food quickly in little amount of fat in high heat. Then, add potatoes and cook until somewhat translucent. Mix well, remove from the pan then set aside. On the same pan, use remaining oil, sauté onions, garlic, and tomatoes. Add pork giniling and cook well or until the color turns brown. Season by adding soy sauce and SARSAYA® Oyster Sauce and mix well. Add bell pepper and a dash of ground pepper. Cook for another minute. Turn off the heat and transfer to a serving plate. This Pork Giniling recipe is a favorite Pinoy ulam recipe because it's quick to prepare and even newbie cooks will surely not drop a sweat cooking this.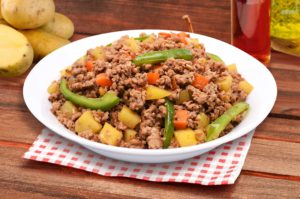 Take note that in the first recipe, we learned how to sauté. In this next Pinoy gulay recipe, Gising Gising, we will learn another cooking technique. Here are the steps. First is to heat oil in pan and sauté pork until lightly brown. Sauté the onion and garlic as well. Then, add coconut milk, coconut cream, Baguio beans, and siling labuyo and let it simmer until desired thickness is achieved. Simmering is a cooking method gentler than boiling. To simmer is to cook food in liquid at a temperature before it boils. Once you get your desired thickness of the sauce, season it with AJI-GINISA®. Stir well and serve hot. You may add more siling labuyo based on your preference, but be careful not to sting your eyes while chopping the chilies!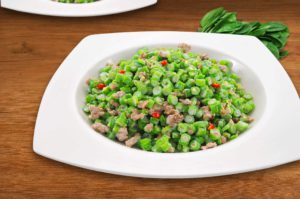 This 3rd recipe will let you practice more sautéing and simmering. It's also one of the favorite Pinoy handa during celebrations like birthdays. Filipinos always say that eating pancit makes you live longer or pancit is "pampahaba ng buhay" because of the long strands of noodles that represents long life. Try learning this Pancit Canton recipe and your family/ visitors might commission you to cook pancit for them again in their celebrations once they get to try this. So let's get started! First, heat oil in a large pan or wok. Sauté garlic and onion until fragrant. Add meat slices and sauté until lightly brown. Add water and pepper. Bring to boil and simmer until meat is tender. Add pancit canton, chicharo, carrots, bell pepper, and cabbage and cook for 5 minutes. Add SARSAYA® Oyster Sauce and mix well.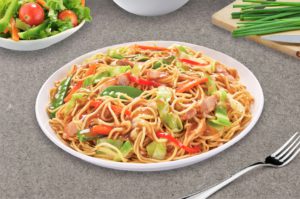 Last but not the least among our Pinoy ulam recipes is Lumpiang Shanghai – another Pinoy handaan favorite! To prepare, combine onion, garlic, singkamas, carrots, celery, ground pork, egg, soy sauce, salt, pepper and AJI-NO-MOTO® Umami Seasoning in a bowl and mix well. Take 1 tablespoon of the mixture and place it on a lumpia wrapper and wrap. Next step is to fry. When frying, make sure that the oil is hot enough to make better fried lumpia results. Fry the lumpia until it turns golden brown. Drain the oil and transfer to a serving platter. Make sure to keep your eyes on your Lumpiang Shanghai because we heard that it vanishes right away especially in Pinoy handaans. Kidding aside, Lumpiang Shanghai is also one of the dishes that's easy to do that newbie cooks can easily make.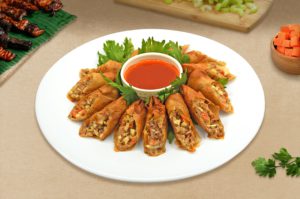 We hope that these four (4) classic and easy Filipino recipes helped to gain or regain your confidence in the kitchen. With a little bit of studying and more practice, you can cook with confidence like a pro. These Pinoy ulam recipes are just few of the many classic dishes that Filipinos love to eat and cook. For more Pinoy recipes, updates on new recipes and blogs, come visit and follow our Facebook Page Cookmunity® by Ajinomoto Philippines.