5 Must-Try Healthy and Affordable Pinoy Ulam
---
When you're cooking for the family, there are two things that you should always consider. First is the budget. Are the meals affordable to make? Does it fit your family ulam budget for the month? Affordability will always be an important factor in meal planning.
Second, how healthy are the recipes? Are they packed with nutrients and vitamins? The holistic health of our family members will always be of utmost priority. These are the two things that we should always keep in mind when cooking healthy Pinoy ulam for our families.
So, if you're looking for Filipino ulam dishes that fit the bill, read on! Here are healthy and affordable Pinoy ulam recipes that you can make at home!
Kapag may malunggay, healthy talaga! Malunggay is packed with antioxidants that help protect cells from damage. This wonder veggie also helps with boosting your immune system. Imagine a soup with all the benefits of malunggay, made tasty with chunks of fish and more veggies. Hindi rin masakit sa bulsa i-prepare 'to for the family!
Get your pan ready, and heat up your oil. Sauté your onions, garlic, and tomatoes until soft and fragrant. Add in your fish and let it cook for 10 minutes. Feel free to use any fish of your choice—keep in mind that it has to be budget-friendly!
Once it has simmered, add in your slices of ginger and malunggay leaves. Pour in a liter of rice washing and let it all cook for another 3 minutes. Once it's looking good, sprinkle a pack of AJI-NO-MOTO® Umami Seasoning, fish sauce, and pepper. Let it all mix and cook well!
Transfer the mixture into a serving bowl and enjoy!
Try our FISH AND MALUNGGAY SOUP RECIPE made more delicious with AJI-NO-MOTO® Umami Seasoning.
Preparation time: 10 minutes
Cooking time: 15 minutes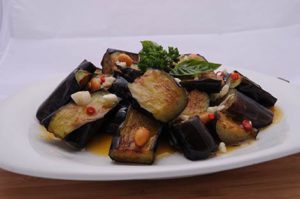 This Filipino veggie dish packs a lot of nutrients and flavor. Masarap na, siksik pa sa Vitamin B1, potassium, and phytonutrients that help keep our bodies healthier. This recipe is so simple to make—we suggest that you prep this up during jamp-packed days, kasi mabilis lang 'to lutuin! Cooking this healthy ulam recipe only takes 10 minutes! Hindi rin mahal ang ingredients, so try niyo an!
To start, heat up your cooking oil and stir-fry your chopped eggplant until light brown. You may use a wok or a regular kawali for this step. Add in your chilies and garlic, and let it cook some more.
Pour in your soy sauce, then your slurry—a simple mixture of cornstarch and water— to help give the sauce a nice, thick consistency. Season the mixture with AJI-GINISA® Flavor Seasoning Mix and let it simmer until the sauce thickens.
Finally, add your soy bean paste and basil leaves, mix well, and serve!
Try our THAI STIR-FRY EGGPLANT RECIPE made more tasty with AJI-GINISA® Flavor Seasoning Mix.
Preparation time and Cooking time: 10 minutes
On a cold rainy night, this will be the perfect healthy Filipino dish to prepare for your family. This hearty soup has leafy broccoli that's packed with folate. This promotes healthy red blood formation, growth, and function. Enjoy this hearty and creamy Chicken Brocolli Soup, that's both budget-friendly and good for the body!
Pour water into a pot, then add chicken and salt. Let it all boil until the chicken is nice and tender. Once it's good, remove the meat from the broth, and carefully separate meat from the bones. This method is easier when your chicken is cooked properly, so make sure it's nice and cooked well! Cut the meat into small cubes, and set aside, as well as the broth.
Next, heat up a pan and sauté your onion and garlic in butter and oil. Once fragrant, add flour and continue cooking until it's fully incorporated. Pour in your milk and broth, and add your diced carrots, celery, and broccoli. Season the mixture with pepper, fish sauce, and AJI-NO-MOTO® Umami Seasoning. Sarap! Mix well, transfer into a serving bowl, and enjoy this healthy meal!
Try our CHICKEN BROCCOLI SOUP RECIPE made more yummy with AJI-NO-MOTO® Umami Seasoning.
Preparation time: 15 minutes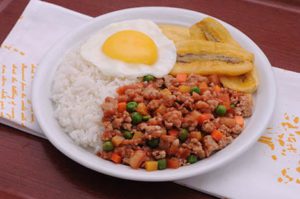 This tasty, scrumptious, all-in-one healthy Filipino dish already covers ⅓ of an adult's nutrient requirement for one day—so it's best to serve this up as a complete meal! Masarap, healthy, at hindi mabigat sa budget. Your family will thank you for this meaty, wonderful, and pasok-sa-budget ulam dish!
First off, sear your ground pork until it's slightly brown and its fat has rendered. Add in the onions, garlic, tomato, sweet potato, carrots, and green peas. To taste, add in a splash of soy sauce, tomato sauce, and AJI-GINISA® Flavor Seasoning Mix. Let the meaty mixture cook for about 10-15 minutes, or until the meat is nicely done. Set this aside as we fry our banana slices and eggs that go perfectly with the ulam dish.
Fry the banana slices until it achieves a golden brown color. Make sure to drain the excess oil! Next, fry the eggs—sunny-side-up or scrambled, pwede! When plating, pair the meaty mixture with 3 slices of bananas, a cup of rice, and an egg! Sarap, 'di ba? Healthy pa! Enjoy!
Try our ARROZ ALA CUBANA RECIPE  made more scrumptious with AJI-GINISA® Flavor Seasoning Mix.
Preparation and Cooking time: 1 hour
Tilapia is a low-fat protein source that's also rich in Omega 3 which helps with lowering cholesterol in the body. Also, by cooking it in coconut milk, instead of the classic method of frying it, we cut down on fats making this a healthy, must-try ulam dish for the family! Affordable pa, kaya try niyo an!
In a pan, sauté your onions, garlic, ginger, and tomatoes until it's all nice and fragrant. Pour in your coconut milk or gata, and add the lemon grass, siling haba, siling labuyo, and your tilapia. Mix well and let it all simmer for a good 30 minutes.
When the fish is cooked, add in your spinach leaves, and season with fish sauce and AJI-GINISA® Flavor Seasoning Mix. Let it cook for another 2 minutes! Easy 'di ba?
Serve it while it's hot. Enjoy!
Try our GINATAANG TILAPIA RECIPE made more nakakatakam with AJI-GINISA® Flavor Seasoning Mix.
Preparation time: 10 minutes
Cooking time: 20 minutes
Budget-friendly? Check! Healthy? Check! Masarap na ulam for the family? Check na check!
Make sure to try these delicious Filipino ulam dishes the next time you cook for the family! For more healthy and affordable Pinoy recipes, visit our website: https://www.ajinomoto.com.ph/cookmunity/!
Happy cooking!