Level Up Your Regular Meal Plans at Home with These Famous International Dishes
---
Are you tired of days where you get to eat the same old dishes you have at home? Or you simply just want to try something new to level up the usual meals you serve for your family. Well, you are in luck because here in Cookmunity®, we've got you covered with 5 famous international recipes you can try at home for your next meal plan.
From easy peasy healthy fish recipes like Japanese Tuna Mayo Wrap, to spicy Mexican beef recipes like Birria Tacos, coming up with something new for your meal plans is made easier with Cookmunity®.
Feta Baked Cheese Pasta
If you want something filling and cheesy for dinner, you might want to try this Feta Baked Cheese Pasta recipe. This baked dish will level up your typical macaroni pasta with its healthier twist! In this recipe, we've added more vegetables that contains Vitamins and Minerals to help maintain optimal health.
Simply mix all ingredients such as zucchini, tomato, carrots, olive oil, garlic, and a whole block of feta cheese and bake in a preheated oven at 200°C (400°F) for 40-45min or until the vegetables are cooked and the cheese is golden. Season the mixture with salt and AJI-SHIO® Pepper Seasoning Mix to give the true taste and aroma of pepper with just the right balance of saltiness and savory goodness. Lastly, toss with cooked macaroni pasta then garnish with fresh basil leaves.
No oven? No worries! You can still cook this recipe on the stove which will give almost similar results! Just stir-fry the vegetables in a pan for a few minutes then mix in the feta cheese, salt, AJI-SHIO® Pepper, and pasta. You can also add 1/4-1/2 cup of pasta water to the dish to make it saucier.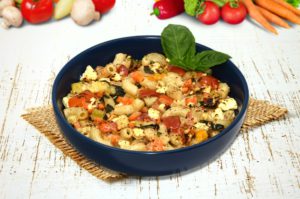 Birria Tacos
Why not try this Mexican delicacy to spice up your dining experience at home? Birria Tacos is a dish made of spiced beef, onion, cilantro, and cheese wrapped in tortilla. What makes this dish special is its delicious stew that dual purposes as a dip! This hi-Protein recipe will surely compete for the "best taco in town" award no doubt.
To make this dish, first, you must blend dried chili flakes, chipotle pepper or green pepper, vinegar, tomato, dried oregano, paprika powder, cumin powder, and AJI-NO-MOTO® Umami Seasoning to help amp up that flavor and increase the umami-goodness of the dish. Then, add this mixture to the beef and let it marinate overnight. Beef is a great source of Protein that promotes muscle growth and development.
After marinating your meat, sear the beef in a pan with hot oil. Then, sauté onion, add cinnamon powder, bay leaf, and water. Let it simmer until beef is tender and stew has reduced by half. Once the beef is tender, let the meat cool then shred into bits.
To assemble the taco, dip each tortilla in the stew mixture. If you want to give that orangey hue to your tortilla, you may add achuete powder to the stew mixture before dipping. Place the shredded meat, white onion, fresh cilantro, and cheese on the tortilla and on a heated pan, heat the tortilla on both sides until slightly toasted. Serve the Birria Tacos with the prepared stew mixture and enjoy with friends and family.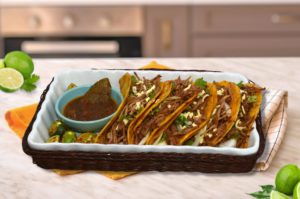 Korean cream cheese buns
We know you've developed an insane K-raving for Korean dishes after binge watching K-dramas at home. If you want to try something other than the usual Korean barbeque, why not try their sweet and savory treats. These Korean Cream Cheese Garlic Buns might just quench your cravings perfect for your next K-drama sesh. Rich in carbohydrates, this dish will help boost your energy throughout the day! Not only that, but this recipe is also low in Sodium thanks to AJI-NO-MOTO® Umami Seasoning! Bite into three layers of goodness: the buns, cream cheese filling, and the garlic butter sauce.
Want to know how to make this creamy bun? We got the recipe just for you. First, you must prepare the homemade buns. If there is none available, you can use your preferred pre-made buns. Combine warm water and active dry yeast in a bowl then let it sit for 5 minutes. Add this mixture to flour, sugar, egg, salt, and AJI-NO-MOTO® Umami Seasoning. Mix and knead the dough for about 15 minutes or until smooth and elastic. Then let it rest in a bowl covered in cling wrap or damp towel for 1 hour or until doubled in size.
Make 16 buns from the dough then let it proof for 20 minutes or until doubled in size. At this point, you may brush the buns with beaten egg or milk for a shinier finish. Bake the buns in a preheated oven at 190°C (375°F) for 10 minutes or until golden. Set aside to cool then slice the buns into quarters but not cutting all the way through.
Assemble the buns by filling each gap with the cream cheese filling then dip each bun in garlic butter sauce. Heat the buns in the toaster for 2-3 minutes then garnish with parsley. Enjoy your meal!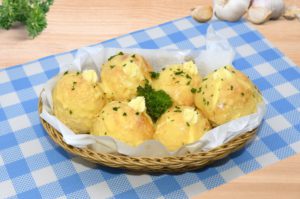 Decorative Focaccia Bread
Start your mornings with a levelled-up breakfast! This Decorative Focaccia Bread recipe will help brighten the start of your day. This dish is also a healthy low sodium recipe thanks to AJI-NO-MOTO® Umami Seasoning. What makes this dish more nutritious is the olive oil included in the recipe which is rich in Antioxidants that help reduce the risk for chronic diseases.
To make the oil mixture, combine olive oil, garlic, thyme, rosemary, pepper, and sugar in a pan then heat the mixture on low heat until fragrant. Set aside to cool.
In a small bowl, combine warm water and active dry yeast. Mix then add this mixture to 1/4 cup of flour and the oil mixture then let it sit for 5 minutes. Add the rest of the flour then knead the dough until smooth and elastic. Let it ferment in a bowl covered in plastic wrap for 1 hour or until doubled in size.
After fermenting the dough, place it on a large baking dish. Flatten the dough and put dimples using your fingertips then let it proof for 20 minutes. To personalize your healthy breakfast, decorate the focaccia with sliced vegetables of your choice. Season with salt and AJI-NO-MOTO® Umami Seasoning to help boost the natural flavors of the dough and vegetables.
You can brush the focaccia with beaten egg for a shiny golden crust then bake until golden brown. Let it cool and serve to enjoy with your loved ones.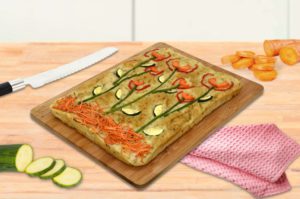 Japanese tuna mayo wrap
How can we talk about umami goodness without including Japanese cuisine? To save you from your worries, making a sushi roll doesn't have to be as complex as you thought it would be. This Japanese Tuna Mayo Wrap recipe is the perfect umami explosion you and your family need during mealtime at home. Aside from its deliciousness, thanks to the tuna, this recipe is high in protein which helps build muscles and Omega-3 Fatty Acids that helps keep a normal heart rhythm.
To prepare the sushi rice, combine rice, sushi vinegar syrup, and AJI-NO-MOTO® Umami Seasoning to help amp up the flavor. Mix well then set aside. In a separate bowl, combine tuna and mayonnaise. Mix well until combined. Set aside.
Here's a tip just for you: To make homemade sushi vinegar, combine 1/4 cup vinegar and 1/4 cup white sugar in a saucepan then simmer for 5 minutes. This sushi vinegar will help create a stickier rice.
To prepare the sushi wrap, lay one nori sheet then cut from the bottom edge to the center. Place 1/4 cup rice on the lower left quarter, 1/3 cup tuna and 1/8 cup sliced cucumbers on the upper left quarter, 2 tablespoons avocado on the upper right quarter, then 2 slices crab sticks on the lower right quarter.
Fold the rice over the tuna, then over the avocados, then lastly over the crabsticks. Cover the square sushi with cling wrap to secure the fillings.
Using a sharp knife, slice the sushi wrap into half. This dish is optional to serve with soy sauce, wasabi, and sesame seeds.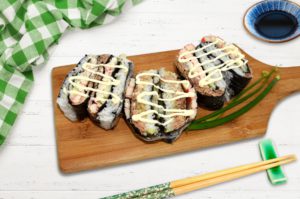 The possibilities are endless when it comes to meal planning. If you manage to find yourself looking for other new dishes to try, come visit and follow our Facebook Page Cookmunity® by Ajinomoto Philippines for more unique international recipes and blogs. Happy cooking!