5 EGG-citing Ways to Cook Eggs!
---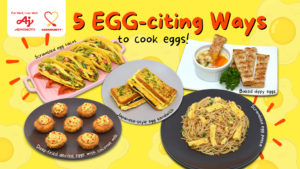 Eggs are one of common pantry ingredients.  It is affordable, versatile and packed with essential nutrients such as Protein, Choline, Iron, Selenium, Zinc, Vitamins A, D, and B-complex.
Other than the usual sunny-side or scrambled breakfast egg dish, why not make it eggstraordinary?  With these new umamilicious and less sodium egg recipe ideas, make meal time more EGGciting and nutritious. All thanks to AJI-NO-MOTO® Umami Seasoning!
Scrambled Egg Pasta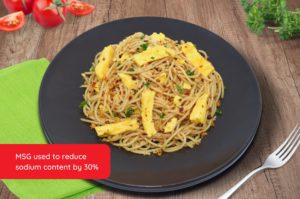 Egg with pasta? It's not your usual combination but it works! Enjoy this Scrambled Egg Pasta for a quick lunch or dinner option that contains Vitamin A for a healthy eyesight.
First prepare the scrambled eggs by cracking egg in a bowl then add milk and AJI-NO-MOTO® for that added linamnam taste to your eggs. Mix well until fluffy then fry in a pan with oil until soft curds form. Set aside.
In the same pan with oil, add cooked spaghetti pasta, scrambled eggs, fish sauce, sugar, and parmesan cheese. Toss well to combine. You may opt to add chili flakes with the oil for that added spice. To serve, transfer to a plate then garnish with toasted garlic and parsley.
Baked Dippy Eggs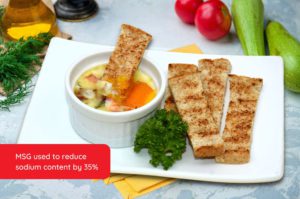 This simple eggy snack is so easy to make, you can even whip it up with your kids! Teach them how to prepare their own food while making them eat their veggies. These Baked Dippy Eggs will surely become a family favorite merienda!
First, combine chopped tomato, kangkong, and mustard in a bowl. Season with AJI-NO-MOTO® for that extra umami punch. Transfer this mixture to small oven-proof ceramic bowls (or ramekins) then crack one egg on each bowl. Top with grated cheese and bacon.
Bake in preheated oven at 180°C (350°F) for 15 minutes or until egg whites are set and cheese has melted. You can achieve the same results by popping them in a toaster then cook for 6-7 minutes.
To reduce your risk for bacterial infection of Salmonella, make sure that egg whites and egg yolk are thoroughly cooked.
Check out the full recipe here!
Scrambled Egg Tacos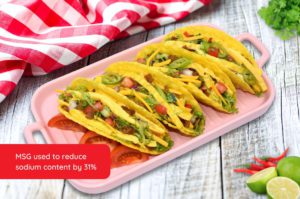 Instead of ground meat, try filling your favorite tacos with scrambled egg! It's just as delicious and more affordable compared to your usual tacos. Plus, eggs contain choline that helps reduce risk for brain diseases such as Alzheimer's disease.
First, make scrambled eggs by cracking eggs in a bowl. Instead of salt, season it with AJI-NO-MOTO® for that umami taste. Mix well then pour in a heated pan with oil. Form an egg sheet then cut into strips. Set aside.
Next, prepare the salsa or pico de gallo by combining chopped tomato, red onion, cucumber, garlic, chili, calamansi juice, cilantro (wansoy), salt, and sugar in a bowl. To increase the salsa's shelf-life, remove the seeds of the tomatoes because the seeds contain extra moisture which can promote bacterial growth.
Lastly, to assemble the Scrambled Egg Taco, add the scrambled eggs, pico de gallo, lettuce, and cheese on a hard-shell taco. Serve!
Read the full recipe here.
Japanese-style Egg Sandwich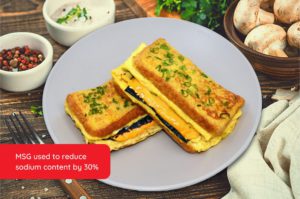 I'm sure you've seen the Tiktok egg sandwich hack, but let's flare it up by adding Japanese elements to it! This Japanese-style Egg Sandwich will surely make your life a little easier for a quick snack or breakfast idea. This yummy dish is also healthy because eggs contain antioxidant
First prepare the egg mixture by combining eggs, milk, soy sauce, sesame oil, and AJI-NO-MOTO® Umami Seasoning in a bowl. Beat well until fluffy.
To make the sandwich, melt butter in a pan then pour around 1/3 cup of the egg mixture. While the eggs are still wet, place 2 pieces of sliced bread in the center, flipping each side to coat with the egg mixture then sprinkle some spring onions.
Once egg has set, flip the entire sheet then fold the edges towards the bread. You can use two spatulas to flip the egg easily. Add mayo, cheese, nori, and sesame seeds. Fold the sandwich then continue cooking until cheese has melted and bread has browned on both sides.
You can catch how to make this sandwich in our official Tiktok channel! Click here to watch the full video.
Deep-fried Deviled Eggs with Coconut Milk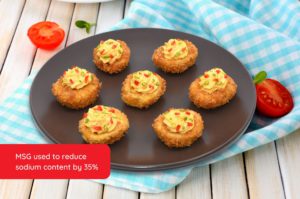 Here's an elegant finger food to impress your guests, Deep-Fried Deviled Eggs with Coconut Milk. With its crunchy fried egg whites that's rich in Protein and creamy egg yolk filling that's high in Vitamin B12 that promotes healthy red blood cells, this dish will be the talk of the party. Not just because of its flavor and uniqueness, but because of its name as well. In culinary terms, "devil" is used to describe a spicy seasoned dish because of its spiciness in relation to the hot temperatures in hell. But deviled eggs are popularly known simply as stuffed eggs.
First, boil large eggs for 11-13 minutes. Cool it immediately in an ice bath or cold running water to stop the cooking. Peel, slice into half, then separate the yolks from the whites.
Coat the egg whites with flour, then dip in beaten egg mixed with AJI-NO-MOTO®, then coat with breadcrumbs. Deep-fry the egg whites until golden brown then set aside.
Next, mash egg yolks then add coconut milk, boiled sweet potato, AJI-NO-MOTO®, salt, sugar, and pepper. Mix well until it forms a smooth . Mashing the yolks first will ensure that the mixture will not be lumpy. If the mixture does become lumpy, you may use a strainer for a smoother consistency.
To assemble the deviled eggs, add each deep-fried egg whites with the egg yolk mixture using a piping bag or a spoon. Top with red bell peppers and to add color and appeal to the dish. Serve cold.
Want more egg-straordinary and egg-citing recipes? Come and visit our Cookmunity® website and Facebook page for more news and recipe updates. Don't miss out on our Tiktok as well for quick and easy to follow recipe videos. Happy cooking, Ka-Cookmunity®!