Chef Rob Pengson's easy Asian-style Dishes
---
Looking for new and creative recipes that are easy, quick, and delicious? Well, look no further as we bring you Chef Rob Pengson's easy recipes that even newbie cooks can re-create at home! These Asian-style dishes will surely give you mouth-watering flavors and leave you wanting for more of that umami-goodness! Try this Japanese-inspired dish, Eggplant Katsudon made more scrumptious with AJI-GINISA® Flavor Seasoning Mix and SARSAYA® Liquid Seasoning and this Chinese-inspired dish, Scallion & Shrimp Chow Mein made especially with SARSAYA® Oyster Sauce and AJI-NO-MOTO® Umami Seasoning.
But before we get to the recipes, let's talk about our renowned chef. Chef Rob, having won multiple awards in the culinary scene, is known as one of the most innovative and creative chefs in the country. He's the founder and owner of Aleanza Institute of Arts, a unique culinary school that combines both education and food service operations. Despite the pandemic, they continue to serve good food and share their knowledge on food, hospitality, and entrepreneurship. Their hero restaurant, Beso-beso, serves sophisticated Filipino dishes with a twist from international flavors. Chef Rob Pengson continues to inspire young aspiring chefs to follow their passion.
With Chef Rob exploring outside the fine dining industry, he has developed these two recipes, Eggplant Katsudon and Shrimp & Scallion Chow Mein, to teach not only home cooks, but also newbie cooks to explore the kitchen and learn the wonders of cooking. Now let's jump right in to our first recipe, Eggplant Katsudon.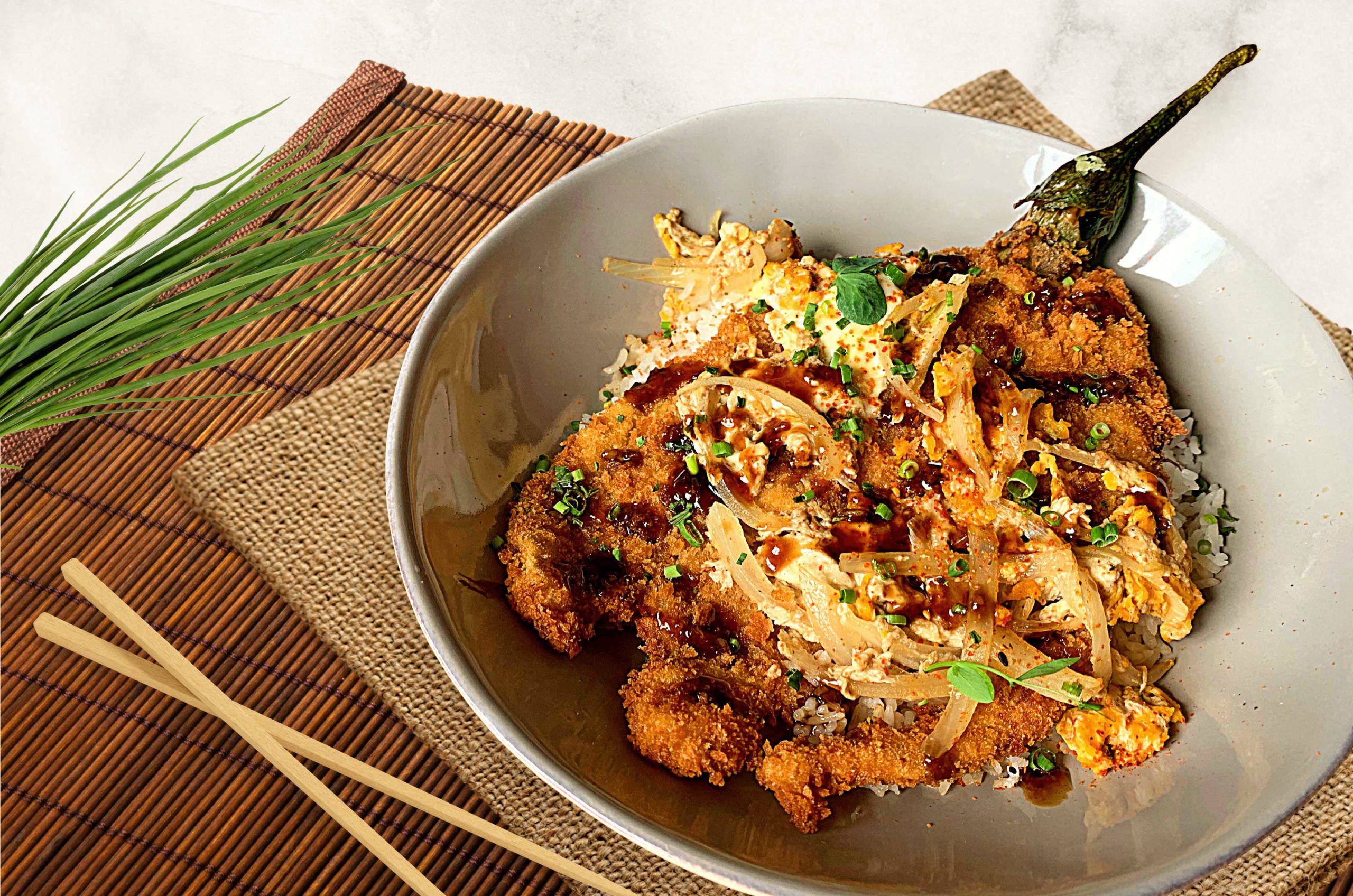 Katsudon, which literally means "pork cutlet rice bowl," a combination of two Japanese words tonkatsu (pork cutlet) and donburi (rice bowl). But instead of using pork, this recipe uses eggplant which contains antioxidants that helps boost our immune system! This dish will surely captivate and impress your friends or family. This dish can also make kids eat vegetables!
To cook Eggplant Katsudon, first prepare the eggplant. Cut it in lengthwise without slicing all the way through so it would open like a book. Score incisions on the flesh of the eggplant and then, season it with AJI-GINISA® Flavor Seasoning Mix. AJI-GINISA® gives the dish that gisa taste and aroma and the meaty flavour too. Then coat the eggplant in flour, egg, and breadcrumbs. Deep-fry the eggplant on both sides until golden brown, drain excess oil using a strainer or colander. Set this aside.
To prepare the katsudon sauce. In a saucepan, mix vegetable broth, onion, sugar, and SARSAYA® Liquid Seasoning. Instead of soy sauce, SARSAYA® Liquid Seasoning will give a mouth-watering and well-rounded profile that perfectly blends the sweetness, saltiness, and savoriness of the dish. Bring this to a simmer then add the fried eggplant. Pour the lightly beaten eggs all over the pan and simmer until cooked. Transfer this to a bowl with hot steamed rice.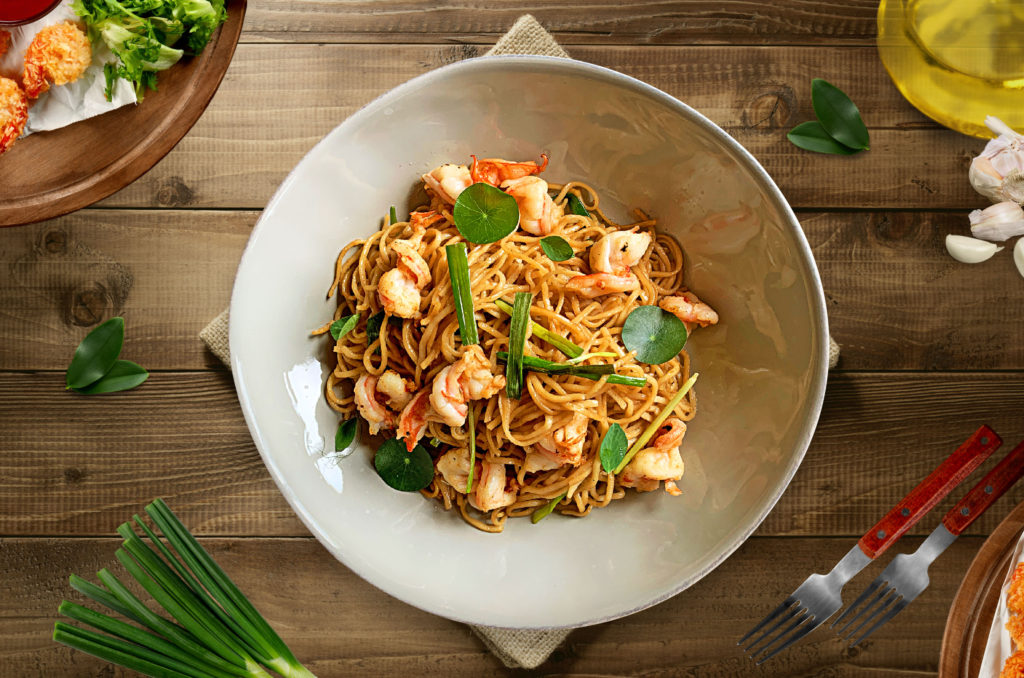 On to Chef Rob's second recipe, Scallion & Shrimp Chow Mein. Chow Mein literally means "stir-fried noodles" and this usually contains a source of protein (chicken, pork, beef, seafood, and/or tofu), onions, and celery. Shrimp, being the main source of Protein of this dish, also contains Calcium, Magnesium, and Phosphorus that are essential in maintaining healthy bones and teeth. Chef Rob's recipe only has three easy steps: parboil, sauté and season, and mix. This recipe only has seven common ingredients that can easily be bought from the groceries.
To start, first boil the chow mein noodles in a pot of boiling water according to the package instructions. Drain using a strainer or colander then set aside. To make the sauce, heat up garlic oil in a pan, then sauté the shrimp until cooked. Season this with SARSAYA® Oyster Sauce and AJI-NO-MOTO® Umami Seasoning. SARSAYA® Oyster Sauce will help elevate this dish, giving it a balanced sweet and salty taste while AJI-NO-MOTO® Umami Seasoning will enhance the natural flavors of the sauce that will add that linamnam! For the last step, mix the noodles to the sauce and then garnish with chopped spring onions or scallions. Serve and enjoy!
This dish is a good source of carbohydrates that serves as the main source of energy for our bodies.
For updates on new recipes and blogs, come visit and follow our Facebook Page Cookmunity® by Ajinomoto Philippines.