Maguindanao's Heritage Dish
---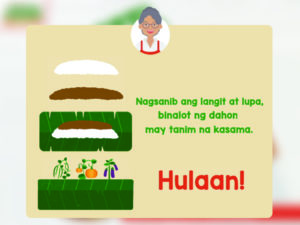 Flying over down south, LOLA brings you to the Southern Philippines for her third riddle. Mindanao, the second largest island in the country, is culturally diverse which can be especially seen in terms of their distinct food that is heavily influenced by the Malay neighbors. Moro cuisine may not be as famous as the other cuisines from Luzon and Visayas but it deserves recognition for having a rich and exotic flavor that is perfect for an ulam Pinoy recipe.
PASTIL
Pastil which is known to have been originated in Maguindanao is an easy to cook ulam composed of rice, topped with sautéed chicken, fish, or beef flakes. This banana leaf wrapped meal is a staple in Maguindanao's market places, sidewalks, and alleys. With its affordable price, it has been dubbed as a "Poor Man's Meal."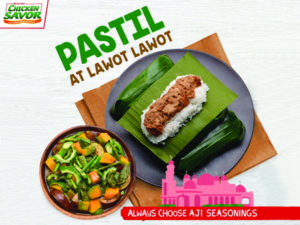 LAWOT LAWOT
Lawot Lawot is a Vis-Min vegetable dish composed of familiar ingredients: Squash, Okra, Eggplant, String Beans, Bittergourd. These vegetables are sautéed (sometimes directly boiled) then simmered in a thick broth.
MINDANAO'S LOVE FOR COCONUT
It is quite noticeable that the Southern Philippines has a strong connection with Coconut in terms of food preparation. They have a varied ways of preparing food using coconut. Methods include burning of coconut to produce a thick black sauce, some season coconut meat with turmeric and chili producing a spicy creamy coating.
ASIAN CONNECTIONS
Biryani
Biryani is a rice dish prominent in the Indian / Persian Region. It is commonly a mix of curry and semi cooked rice, cooked further forming a fragrant rice dish.
Riyandang
Riyandang is a Maranao dish comparable to Malaysia's Rendang. It is a dish made out of beef crushed with aromatics and cooked in coconut milk. It is comparable to caramelized curry.
Satti
Comparable to Singaporean Satay, Satti is a skewered beef and chicken liver in a thick marinating solution, grilled and charred. It is commonly served with rice as a breakfast meal.
Sambal
Sambal is commonly used in other Asian countries such as Indonesia, Malaysia, and Singapore. It is a mixture of shallots, ginger, onions, chili, peppercorns and other aromatics and spices. It is used as a component giving spicy and deep flavor profile to other dishes.
LOLA helped us revisit the flavors of Luzon, Visayas and Mindanao for her Bugtong ng Pagkaing Pinoy series. From Pampanga to Bacolod and Maguindanao, we have learned different ulam Pinoy recipe that are worth trying to make at home. Watch out for LOLA's next series in September for more Filipino dishes recipes.