Things You Find in Every Pinoy Birthday Handaan List
February 15, 2021 10:52 am
---
February 15, 2021 | 10:52 am
Here in the Philippines, we take birthday celebrations seriously. It's an opportunity for the family (or even the whole barangay!) to get together, reunite, and make merry the marking of another fruitful year. And with every birthday celebration comes a list of Pinoy birthday handaan staples to fill the table.
Although we now live in the new normal, birthdays can still be joyful! An intimate celebration with our closest family members can still be a memorable one with a menu of mouthwatering classic Filipino dishes bilang handa para sa pamilya! That's one fool-proof way to make any birthday party fun! So, however small your celebration will be, make sure to have these birthday handaan non-negotiables! Read on, and ready your notepads!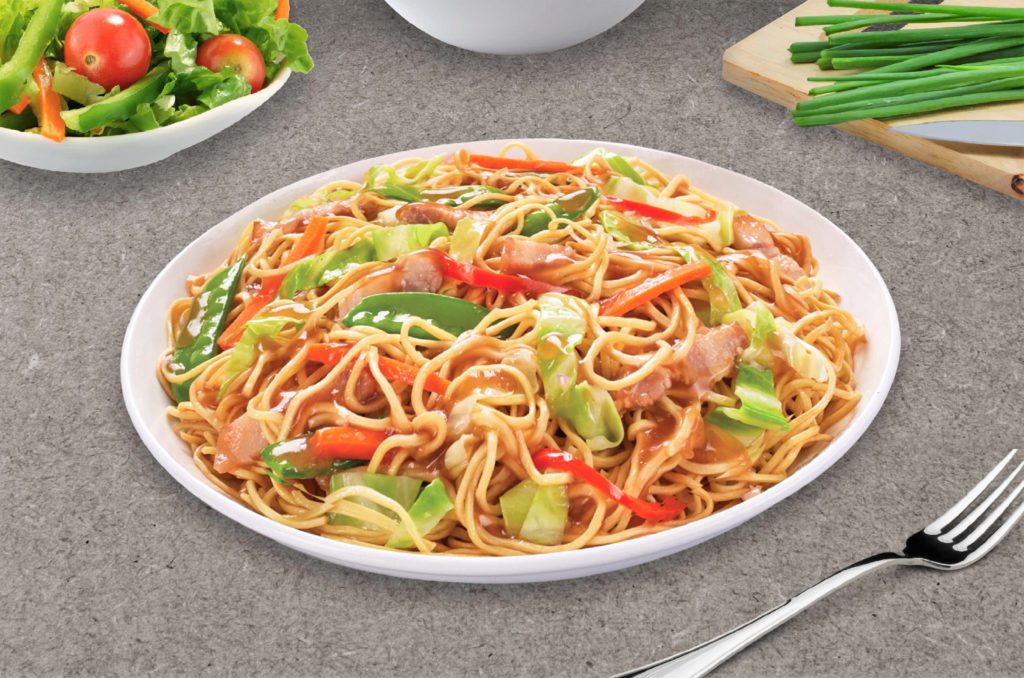 Here's to long life! It is widely believed that when you serve pancit on your birthday, you'll be rewarded with a long prosperous life. Hence, the presence of this Chinese-inspired noodle dish that's already become a staple in Pinoy birthday handaan celebrations. Slurp up, and enjoy this saucy, savory noodle dish!
To start, heat up your oil in a wok. You may use a regular pan for the stir-frying process if a wok is not available. Next, sauté the garlic and onion until fragrant. Add in the meat slices and continue sautéing until it achieves a golden brown color. Once it's looking good, pour in some water along with ground black pepper. Let it come to a boil until meat is tender.
Simmered? Time to add in the pancit canton. Mix it all well until you coat all strands evenly. Add in the vegetables and SARSAYAⓇ Oyster Sauce. Let it all cook for another two minutes, and serve while it's nice and hot!
Try our PANCIT CANTON RECIPE made more festive with SARSAYAⓇ Oyster Sauce.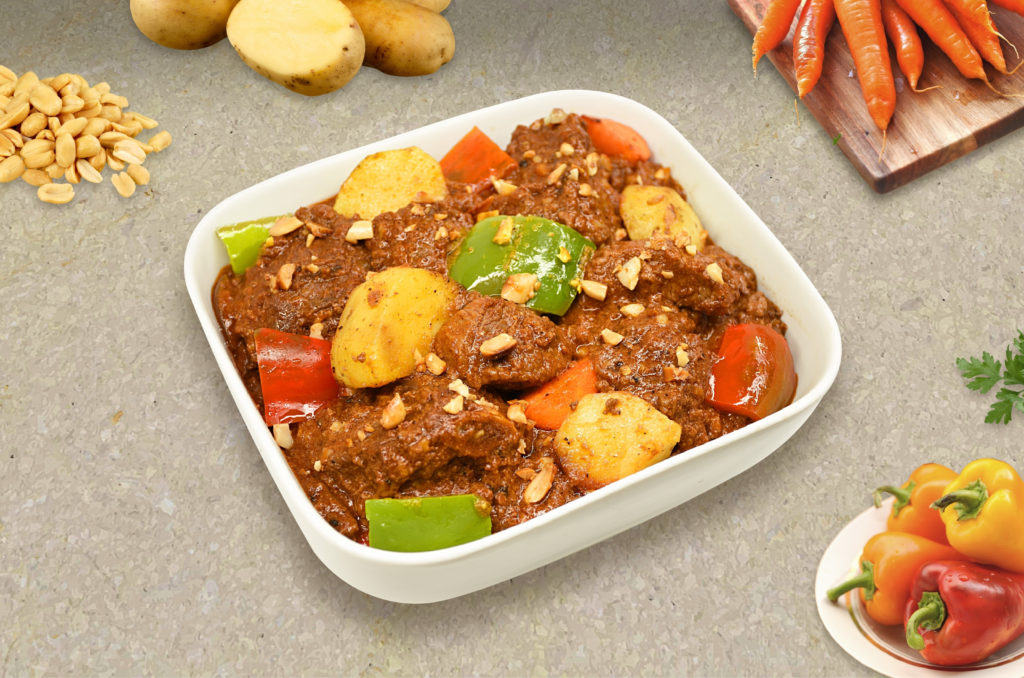 This next dish is a classic Filipino favorite. You will surely love this Pinoy beef ulam recipe that's meaty, gastronomic, and with a sauce to live longer for—Beef Kaldereta! Make sure to have this on your list—there's a huge chance your beloved guests might look for it!
In a pressure cooker, pour in some water and your pieces of kaldereta cut, lean beef. Tightly seal the pressure cooker to cook the meat properly until tender. When it's finished cooking, set aside the meat, as well as the broth. And now we move on to our sauce base. In a pan, add oil and fry the potatoes and carrots. When cooked, set the chunks aside to cool. And in the same pan, sauté your onions and garlic until fragrant. Add a spoonful of tomato paste and let it all sauté for a good minute.
When all the flavors have started to come together, add your pieces of beef and let it cook for another two minutes. Add the tomato sauce, peanuts, and 1 and ½ cups of beef broth. Let it boil for another minute.
Season the beefy mixture with pepper, fish sauce, and AJI-NO-MOTO® Umami Seasoning! At the last minute of cooking, mix in your fried potatoes and carrots, then serve!
Try our BEEF KALDERETA RECIPE made more scrumptious with AJI-NO-MOTO® Umami Seasoning.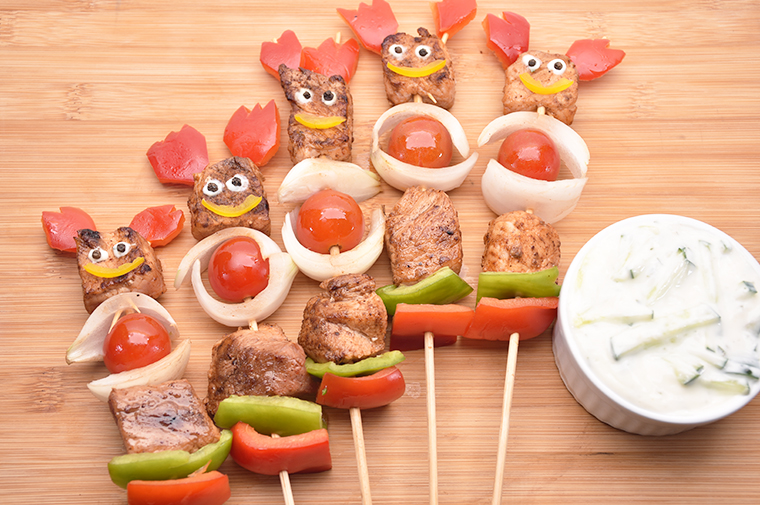 Birthdays are one of the many times a year the Filipinos' "ihawan" becomes a favorite (and overused) cooking tool. We all have a knack for barbecuing which is why it's not surprising that everytime there's a birthday handaan, laging may pork barbecue! But this time, let's give it a fun, creative twist—one that can also tug the hearts and tummies of young ones! Heat up your grill, ihanda na ang uling for our Kiddie Kebab Pork recipe!
Let's start with the marinade. In a bowl, mix in your spices: cumin powder, chili powder, salt, pepper, oil, paprika. Add in PORKSAVOR® All-in-one Seasoning Mix and use this to marinate the pork. Make sure to have your meat marinated for at least 15 minutes—it's best to prepare this the night before the celebration to have the meat absorb all the flavors well.
It's time for grilling! Thread the pork and your slices of veggies on skewers. Feel free to be creative when it comes to designing each kebab. Grill each of the kebabs until it's all golden and tasty!
For the sauce, mix mayonnaise, all-purpose cream, cucumber bits, pepper, and salt. Serve the dip on a platter along with the kebabs!
Try our KIDDIE KEBAB PORK RECIPE  made more savory with PORKSAVOR® All-in-one Seasoning Mix.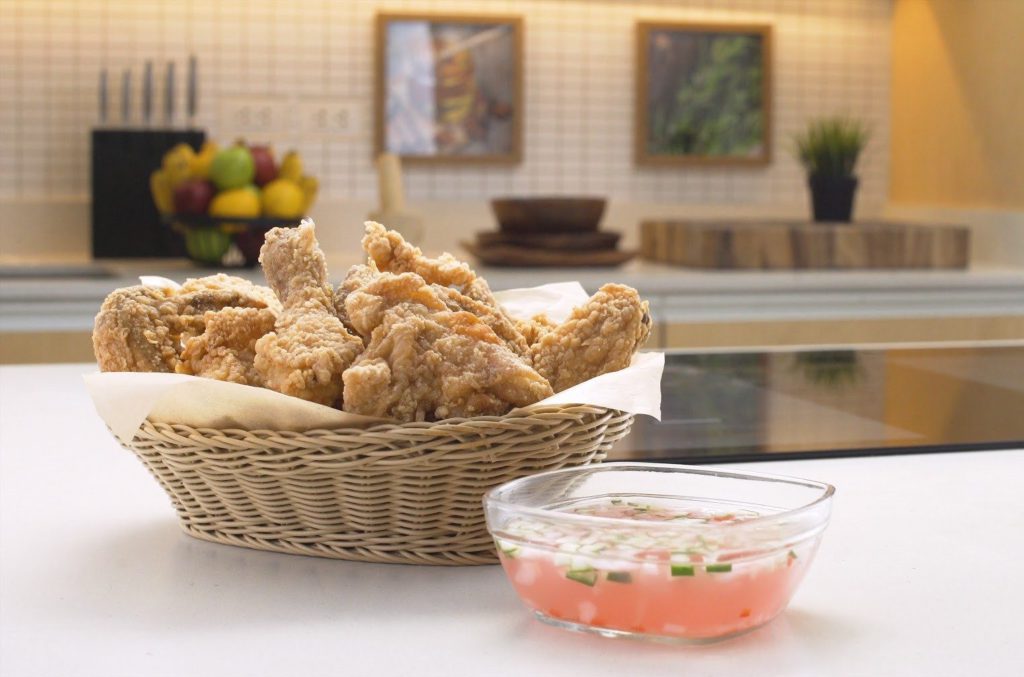 Have you ever been to a Filipino birthday handaan with no fried chicken served on the table? It's hard to imagine a celebration in the Philippines without this juicy handaan staple. Whether you like it sweet, crunchy, with ketchup, gravy, or vinegar as "sawsawan"—if it's a Pinoy birthday celebration, there should always be Fried Chicken!
In a bowl, combine beaten eggs and cayenne pepper. Add in the chicken. Coat it well, and let the meat sit for about 20 minutes. Then, get a separate bowl and mix in the dry ingredients: baking powder, salt, flour, and cornstarch. Don't forget to add in AJI SHIO® Pepper Seasoning Mix!
Time to coat and dredge the chicken! Get the pieces of chicken a nice even coating of the flour mixture, and deep-fry! Keep your eye on the chicken. When it turns crispy and golden brown, drain the excess oil by placing it on a bed of paper towels, then serve!
Try our FRIED CHICKEN RECIPE made more delicious with AJI SHIO® Pepper Seasoning Mix.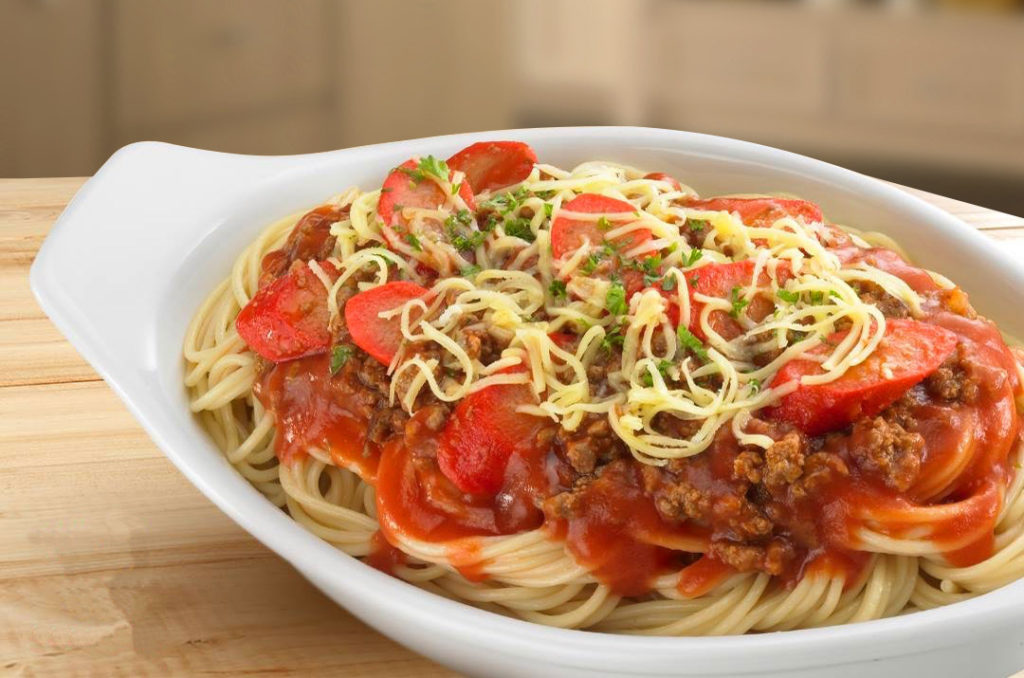 Imagine yourself at a Pinoy birthday party, and in your hands is a plate full of Filipino birthday favorites. We bet that there's a massive chance that in that imaginary plate, there's Spaghetti. Tama 'di ba? It's a Filipino party staple! We all should know how to make this classic recipe, para mapa-birthday man, o anumang okasyon, ready ka to cook this crowd favorite!
First off, cook your pasta as instructed in the packaging. Set it aside for a while, as we start cooking the sauce. In a pan, sauté the garlic and onion over low heat. Add in your ground pork and stir-fry for 2 minutes. Next, pour in your choice of tomato sauce, water, bay leaf, and sugar. Let this delicious and creamy mixture simmer over medium heat for about 3 minutes.
Finally, mix in slices of hotdogs, the ultimate "Filipino-style" add-on, and season with PORKSAVOR® All–In–One Seasoning Mix.  Let it cook for a few minutes, then serve by topping this delicious sauce over your pasta! Add in some grated cheese, and enjoy!
Try our SPAGHETTI RECIPE made more mouthwatering with PORKSAVOR® All–In–One Seasoning Mix!
Make sure to have these birthday party favorites on your next celebration! Remember to prioritize safety while cooking and celebrating! For more Pinoy birthday recipe ideas, head on to https://www.ajinomoto.com.ph/cookmunity/! Happy cooking!