Filipino Food Trip with a Twist
---
The month of August is "Buwan ng Wika" or the month where Filipino as language is celebrated.  The last Monday of August is the National Heroes Day commemorating the great deeds of Philippine heroes.
August gives highlight on Philippine heritage.  Food is surely part of this heritage.  Here are some Pinoy recipes you can enjoy with a new twist.
Talong Balls with Manong Sauce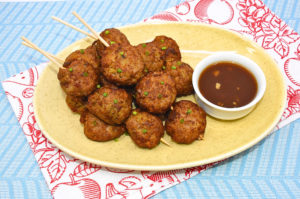 Looking for a healthier version of Pinoy favorite tusok-tusok street food? Try this yummy Talong Balls with Manong Sauce recipe!
First, let's make the talong balls. In a bowl combine eggplant, pork, garlic, onion, flour, AJI-NO-MOTO®, salt, and black pepper, mix well, then get 1 tablespoon of the mixture and mold into a ball. AJI-NO-MOTO® Umami Seasoning will balance the taste and overall flavor of this recipe.
This dish is also perfect for kids who don't eat enough vegetables, since it is made from eggplant which is rich in Anthocyanin, an antioxidant that helps in protecting cells against damage.
For the next step, let's fry. Heat oil in a pan then fry talong balls for 5 minutes or until golden brown then drain excess oil in a colander and set aside. Here's a tip, you may freeze the balls for at least 5 minutes to retain their shape while frying.
Now let's make the sauce. In a sauce pot, add water, cornstarch, sugar, flour, soy sauce, SARSAYA® Oyster Sauce, garlic, onion , vinegar, and mix well. Let it simmer until the sauce thickens. This version of Manong Sauce is made more special with SARSAYA® Oyster Sauce, this will give a pleasant sweet & savory taste to the sauce.
Finally, it's time to eat! Transfer talong balls to a plate then serve with sauce. Optional to sprinkle spring onions on top, enjoy!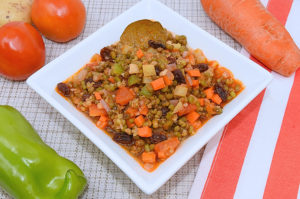 Elevate your usual Ginisang Monggo and surprise your family every Friday with this super easy, and fiber-packed Menudong Monggo recipe!
Let's start cooking! In a pan, heat oil then sauté onion and garlic until fragrant. Add tomatoes, carrots, potato, monggo, and tomato paste then continue to sauté for about 3 minutes.
Next, add water to the pan and let it simmer for another 5 minutes or until the vegetables are soft. In cooking monggo, if you want to save time, soak the monggo beans in water for a few hours so that they will cook faster when you boil them.
Mix-in laurel leaf and season with AJI-NO-MOTO®, salt, sugar, and pepper. Add raisins and bell peppers, combine well. AJI-NO-MOTO® Umami Seasoning will make this dish umami-licious!
Lastly, transfer into a bowl and serve!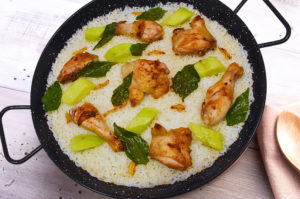 Enjoy the classic and comforting taste of tinola without the soup by making it into paella! Don't be intimidated, we made this recipe very easy with 4 steps.
First step is to sauté. Heat oil in a paellera pan, sauté onion, garlic, and ginger until fragrant. Add chicken and fish sauce then continue to sauté for 5 minutes or until the chicken is slightly brown. If you don't have a paellera pan, you can use a wok or a regular frying pan.
Second step is season and boil. Add rice and water then season with AJI-NO-MOTO®, mix well, and let it boil. AJI-NO-MOTO® Umami Seasoning will bring out and enhance the natural flavor of the ingredients of this dish.
This recipe is also healthy since chicken has lower fat content compared to other protein sources such as pork and beef.
Third step is to cover and simmer. Once boiling, lower the fire then add sayote and chili leaves. Cover the pan with aluminum foil and let it cook on low fire for about 25 minutes or until the crust has formed on the bottom. If you want a chewy paella texture, you can use a malagkit or glutinous rice.
Fourth and last step is serve. Share and enjoy this dish with your family!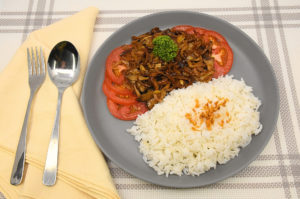 Want to add a twist to the usual Pinoy Tapa? Make it healthier by using mushrooms instead of beef!
In a bowl combine water, soy sauce, AJI-NO-MOTO®, sugar, calamansi juice, black pepper, garlic, and oyster mushroom, mix well. Set aside the mixture and let it marinate for about 5 minutes. In this recipe, AJI-NO-MOTO® Umami Seasoning will enhance the delicious savory taste instead of just being salty.
Next, heat oil in pan then fry the marinated mushrooms until soft and browned. To cook the mushrooms evenly, fry the mushrooms in small batches. In the same pan, pour the remaining marinade and simmer. You may add a slurry mixture (1 tsp. cornstarch + 1 tsp water) when cooking the marinade for a thicker sauce consistency.
Then finally, transfer mushroom tapa on a plate and pour the sauce all over. Serve with tomatoes (optional) and enjoy!
So Ka-Cookmunity, which of the recipes are you excited to try first? Go ahead and surprise your family and loved ones.
Find out more Filipino dishes by visiting Cookmunity by Ajinomoto Philippines, and like and follow our Facebook Page for more updates.