Beach Party Food For Your Summer Staycation
---
Summer is almost here and the vacation we all long for still seems like a lifetime away. If you're missing fun times at the beach, maybe it's time you consider recreating the same vibe at home. Lay down your inflatable pool, get everyone dressed in bright, floral outfits, and let's get the Beach Party started!
Let us warn you though: all that dancing and play might use up so much energy from your family! That's why a Beach-themed beach party isn't complete without a delicious tropical feast. Mixed with a Filipino twist, here are easy yet delicious and tropical recipes you can serve to take your family on a summer sun and sand adventure right from the comforts of home.
ARROZ A LA CUBANA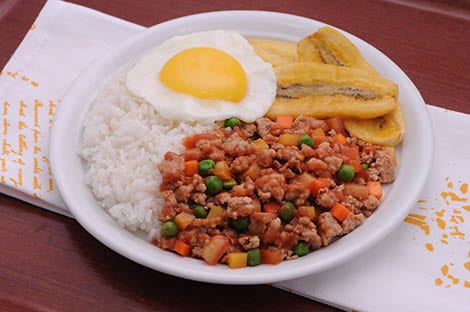 Arroz a la Cubana is a rice dish paired with ground meat and served with fried bananas or plantains. It's loved by both adults and kids because of its sunny, colorful appearance and deliciously meaty taste. It's highly nutritious as well, due to the balanced mix of protein, carbs, vitamins and minerals. Here's how to prepare it: Begin by searing ground pork until fat is rendered and is slightly brown. Then sauté it with onion, garlic, tomato, sweet potato, carrots, and green peas. Add soy sauce and tomato sauce, and cook for about 10-15 minutes or until done. Season it with AJI-GINISA® Flavor Seasoning Mix to bring out the meaty goodness of the dish. Set it aside as we prepare the side dish. Cut your banana into three thin slices. Fry them in some oil and drain. On the same pan, fry your egg according to how you like it! The usual way is to cook a sunny side up egg, but enjoying it scrambled is pretty satisfying, too! Assemble your plate nicely and top with corn kernels and raisins to bring out the colorful luau vibe of this dish.
ESCABECHENG TILAPIA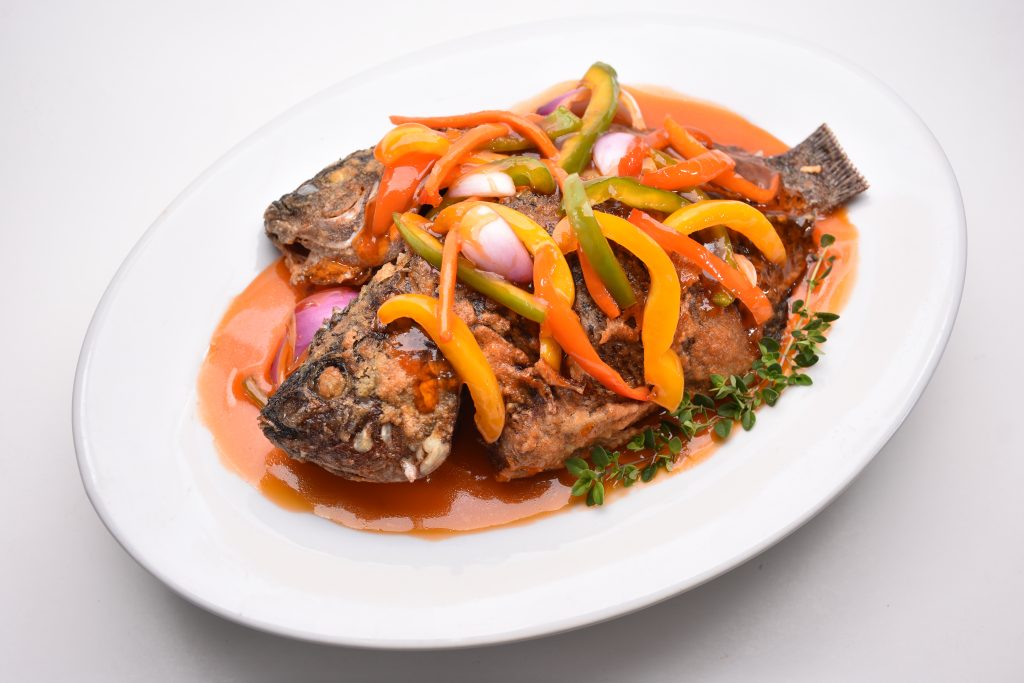 Nothing gets more tropical than the sweet and tangy taste of Escabeche! Make it an Escabecheng Tilapia and you've got a meal to dance for. While you imagine the sound of waves crashing into the shore, here's how to prepare your sumptuous sweet and sour fish: First, coat the Tilapia evenly with CRISPY FRY® Fish Breading Mix . Fry it in hot oil until golden brown and set aside. Pro-tip: Using a sharp knife, make a few shallow diagonal cuts across the surface of the Tilapia's skin. This is to stop the fish from curling up during cooking. Para bongga ang presentation! Now get another pan, heat some oil and stir-fry your onion, green-red-yellow bell peppers, and carrots. Pour a pack of SARSAYA® Sweet and Sour Sauce and let it simmer. Put the fish on a plate and pour over the sauce and vegetables on top of it. The beautiful combination of the colors and flavors of this dish makes it truly one of a kind. Serving an Escabecheng Tilapia for your next meal speaks of nothing but love and appreciation for your ohana.
CORNED BEEF BURRITO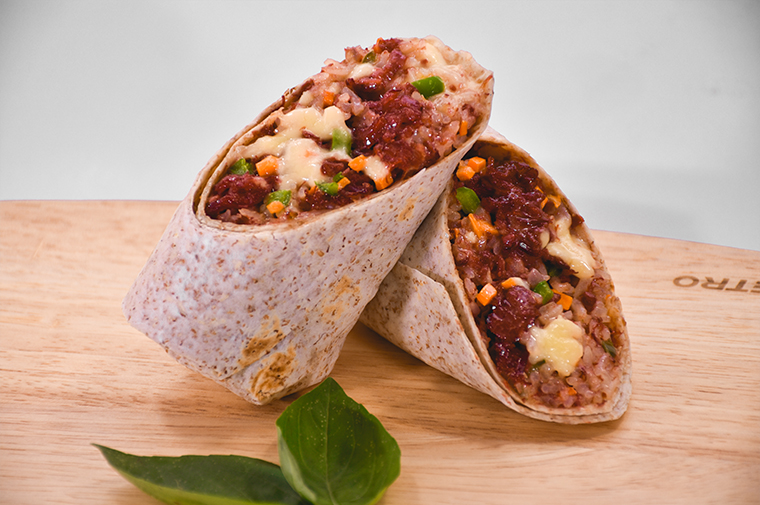 Mexico is another country with beautiful beaches so why not spice up your beach party with a Corned Beef Burrito ? You'd think it's weird, yet it's a match made in tropical paradise! With a little creativity, here's how you can whip up a unique dish with familiar pantry items in your kitchen. First let's prepare the filling! Sauté onion, garlic, carrots and green bell pepper until they soften. Add some corned beef and cook for 2 minutes. Pour in your tomato sauce and season with the meaty umami goodness of PORKSAVOR® All-in-One Seasoning Mix . Cook until done and put it aside. Now get some cooked fluffy rice, corned beef and grated cheese. Assemble the filling on a tortilla wrapper and seal it with a kiss. Serve it as merienda for the family as you play relaxing Luau music through the afternoon. Pro-tip: when choosing for a corned beef brand, go for the chunky version for better mouthfeel and texture. To complete the meal, why don't you serve tropical juices in Tiki Mugs, too?
HAWAIIAN FRIED RICE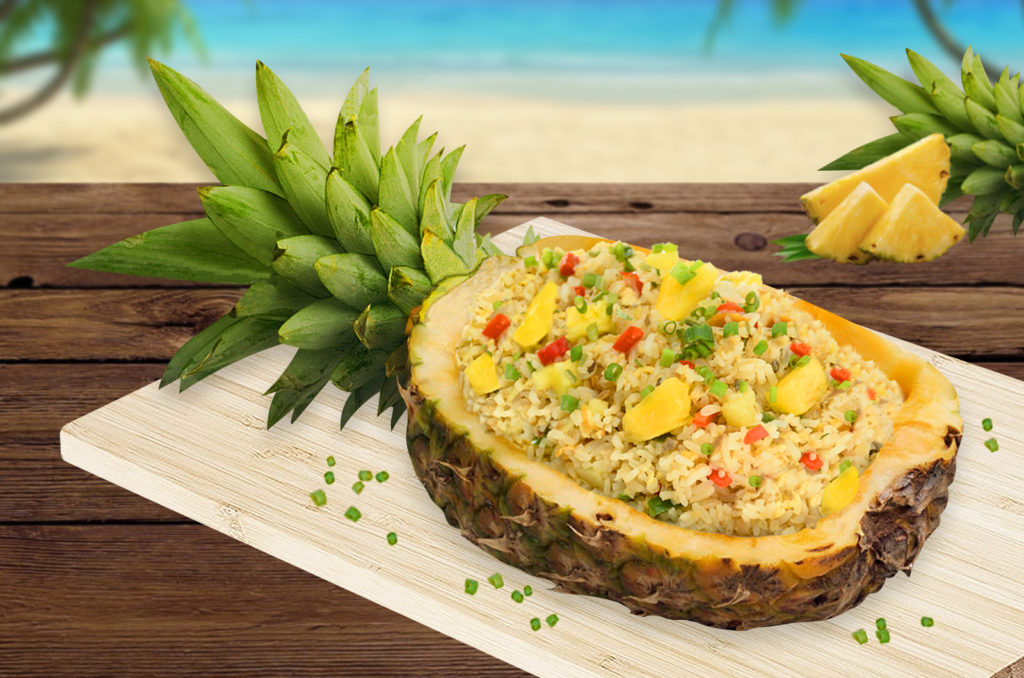 To bring up the tropical vibe to the next level, make your table centerpiece aesthetic and edible at the same time. Introducing: the Hawaiian Fried Rice ! It's a delicious and colorful fried rice recipe that you can serve on a cute pineapple boat. Here's how to do it: In a pan, heat some oil and sauté mushrooms and bell peppers. Move it to one side of the pan. Now that you have more space, pour your beaten egg and stir occasionally until it is cooked. Now mix everything that's on the pan altogether! Once you have this beautiful mix of yellows, reds, greens, and browns, add in some cooked rice and stir occasionally to avoid big lumps. Pro-tip: turn on heat to high to make sure your rice doesn't become mushy! Season with soy sauce and AJI-GINISA® Flavor Seasoning Mix to bring out the flavors even more. Lastly, add in pineapple cubes for that sweet and tangy kick. Serve it on a pineapple boat and there goes your instagram-worthy centerpiece!
Since you're cooking for a beach-themed party, you need a dish that one can easily pick up and eat. For that purpose, you'll never go wrong with a delicious and filling sandwich. Try this Pulled Pork Sandwich recipe for your next family merienda! To start, prepare your ingredients: you'll need buns, meat, and some shredded vegetables. Heat up a little oil in a pan and saute onion and garlic until fragrant. Add in the pork, SARSAYA® Oyster Sauce , soy sauce, vinegar, and AJINOMOTO® Flavor-Up Season-All Liquid Seasoning , and cook the meat until tender. Mix the toppings by combining the shredded cabbage, onion and cucumber in a large bowl. Pro-tip: Go for the purple cabbage for an added pop of color! Squeeze in some lemon and drizzle a little honey before you toss it well. Can't wait to dig in? Assemble the sandwiches by adding the pulled pork and toppings into your sliced toasted buns. Serve it quick before the buns get soggy!
With a little creativity and a whole lot of umami, delicious food can transport us to places we can't go to right now. It can let us imagine sceneries right from the dinner table. And it can give us plenty of memories to cherish with our ohana. If you've never tried any of these dishes before, now's the perfect time to get your cooking hat on! And even if your pantry has limited items for now, don't fret. You can still whip up restaurant-quality dishes with just canned goods, and packed sauces and seasonings from Ajinomoto.
For more recipes, visit www.ajinomoto.com.ph or follow us on Facebook at Cookmunity® by Ajinomoto Philippines.