Easy Recipes for Date Nights and Celebrations
---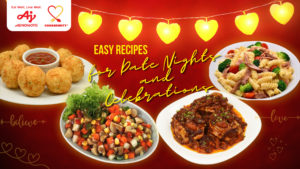 And just like that, the first month of year 2022 ends. We could only hope that the COVID surge that marked the beginning of the year would also come to an end. And since the Chinese New Year and Valentine's Day falls on February, there is a whole lot of reason to celebrate especially because you get to spend time with your loved ones.
Date nights are also better spent at home, where it's safe and comfortable. But how do you make it more special? First, prepare the mood that would stimulate your senses – decorate your home with the colors and symbols of love, turn-up some romantic music, light-up some aroma candles, and prepare a delicious complete meal. Can't decide what to cook? Don't worry because we got you covered. COOKMUNITY® has these four (4) simple and nutritious recipes that you can cook without a sweat for date night with your significant other or for any celebrations with your loved ones at home! These recipes have only less than 5 steps that you can do effortlessly. These recipes are also packed with nutrients which are essential in maintaining a healthy body!
Prepare this Creamy Tuna-Broccoli Pasta which has Omega-3 Fatty acids coming from the tuna which supports heart health! Perfect for the month of love. It's simple and most definitely delicious! First, sauté onion and garlic in melted butter. Then add tuna, tomato, cream, and broccoli. Let the sauce simmer for 5 minutes while stirring occasionally. Add the cooked fusilli pasta then season with AJI-GINISA® Flavor Seasoning Mix. AJI-GINISA® gives the perfect balance of meaty stir-fry deliciousness that is perfect not only for any stir-fried dish, but also for saucy dishes like this pasta recipe! Serve and enjoy while hot. You may add more water or cream if the pasta dries up.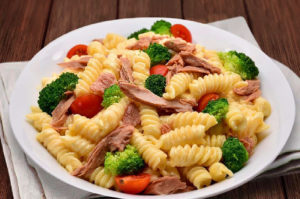 Cook up some Chicken in Tomato Salsa that's rich in Lycopene, thanks to the fresh tomatoes, that helps protect the body from oxidative-stress or from cancer-causing diseases. This is another perfect dish to complement heart's day with the homemade red tomato salsa. First, rub and marinate chicken thighs with salt and pepper for at least 1 hour or ideally overnight. In a hot pan with oil, sauté onion, garlic, and tomatoes until tomatoes are soft. This helps bring out the natural sweetness of the vegetable. Add the marinated chicken pieces then cook until browned. Add soy sauce and AJI-NO-MOTO® Umami Seasoning to help amp up the umami taste of the dish! Let the sauce simmer until chicken is fully cooked. Transfer to a plate and serve while hot!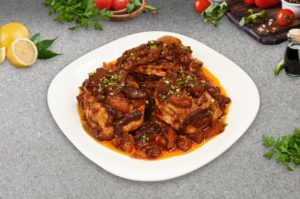 Now it's time to prepare some Potato Lollipops! A crispy dish filled with Electrolytes coming from the potatoes, which help prevent muscle cramps and weakness. To prepare potato lollipops, combine mashed potato, white onion, black pepper, and beaten egg in a bowl. Mix well then scoop a tablespoon of the mixture and form it into a ball or use a heart-shaped cookie cutter to form it into a heart in time for Valentine's. Coat the potato balls or hearts in CRISPY FRY® Seasoned Crumbs. This is an all-in-one coating mix made with Japanese bread crumbs complete with seasonings and spices that delivers a fuller crunch to your fried dishes! Deep-fry the breaded potatoes in hot oil then drain excess oil using strainer or colander. You may opt to refrigerate this for at least thirty (30) minutes prior to frying for a firmer shape of the lollipop.  Serve while hot.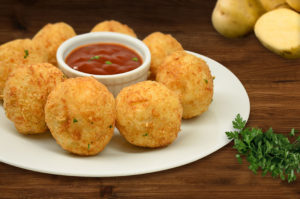 A complete meal is a not complete without a vegetable dish, right? Come and make this savory One-Minute Vegetable Stir-Fry that will help nourish you and your beloved with vitamins and minerals that are essential in maintaining optimal health! Plus, it's super easy to do! Just stir-fry carrots, sayote, red and green bell peppers, mushroom, and corn kernels for one minute in a hot pan with oil. Then, season with sesame oil, soy sauce, and SARSAYA® Oyster Sauce. Make sure to mix it well. SARSAYA® Oyster Sauce makes any dish extra special every time because of the delicious oyster flavor with blend of savory-sweet, and salty taste and rich brown texture! This dish is best served on a bed of lettuce.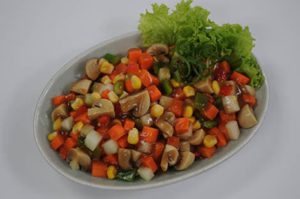 This pandemic has taught us many things including how to value relationships that matter. We may be living in difficult times but cooking doesn't have to be, especially when you prepare your meals for your beloved. Let your loved ones know how much they mean to you by preparing something homemade and from the heart. So why not try these recipes for Valentine's Day?
May your days be filled with love and meaningful celebrations!
For updates on new recipes and blogs, come visit and follow our Facebook Page Cookmunity® by Ajinomoto Philippines.