Best Easy-to-Make Pinoy Seafood Recipes to Try
---
The ocean has given us plenty of reasons to spend more time in the kitchen. It has blessed us with glorious seafood such as tuna, shrimp, and mussels that can do wonders for our taste buds when cooked beautifully.
The Filipino cuisine boasts a multitude of seafood recipes that are both delicious and easy-to-make, so try niyo na! One thing to know about cooking with seafood is that the more you cook it simply, the better. It accentuates the natural flavor of the seafood, making it a delightful dish to serve to the family.
If you're on the hunt for Pinoy seafood dishes that are a breeze to make, read on. These recipes take no more than 45 minutes to make!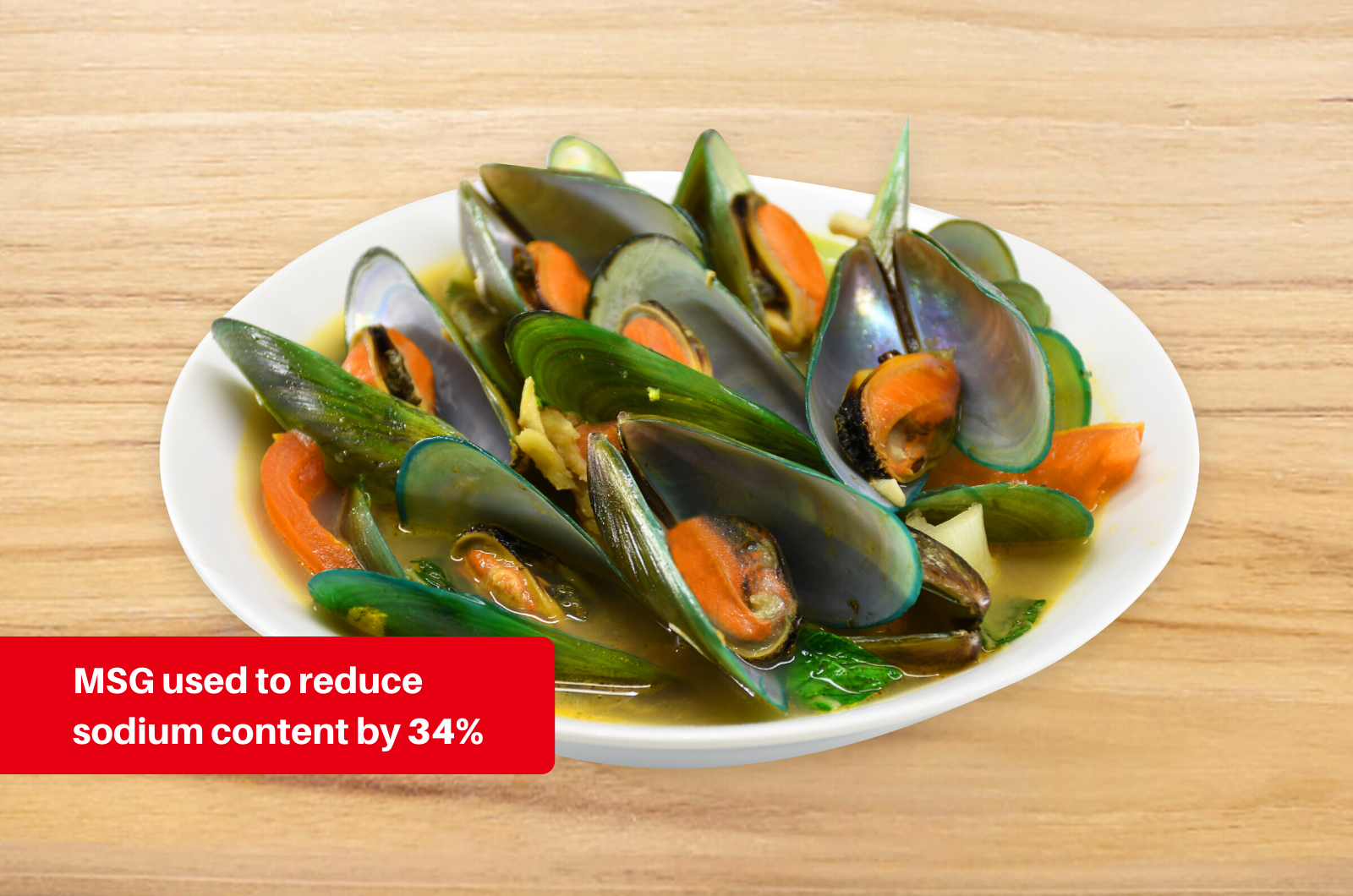 You can never go wrong with tahong! This delicious Filipino seafood dish packs in a lot of flavor coming from the mussels, making every sip of its sauce a delight. Here's a tip: the sauce is a winner when poured on top of your rice!
Heat oil in a pan and s auté garlic, ginger, onion, and tomatoes. When everything's tender and fragrant, add in the mussels until it renders out its own liquid—this is what makes the broth amazing! When the shells start to open, pour in some water. Season with salt and pepper to taste, and sprinkle AJI-NO-MOTO ® Umami Seasoning.
Cover the pan and let it all simmer for about 5 to 10 minutes. Finally, add the bok choy until it's cooked! Time to serve!
Try our GINISANG TAHONG AT BOK CHOY RECIPE  made more malinamnam with AJI-NO-MOTO ® Umami Seasoning.
Preparation time: 5 minutes
Cooking time: 15 minutes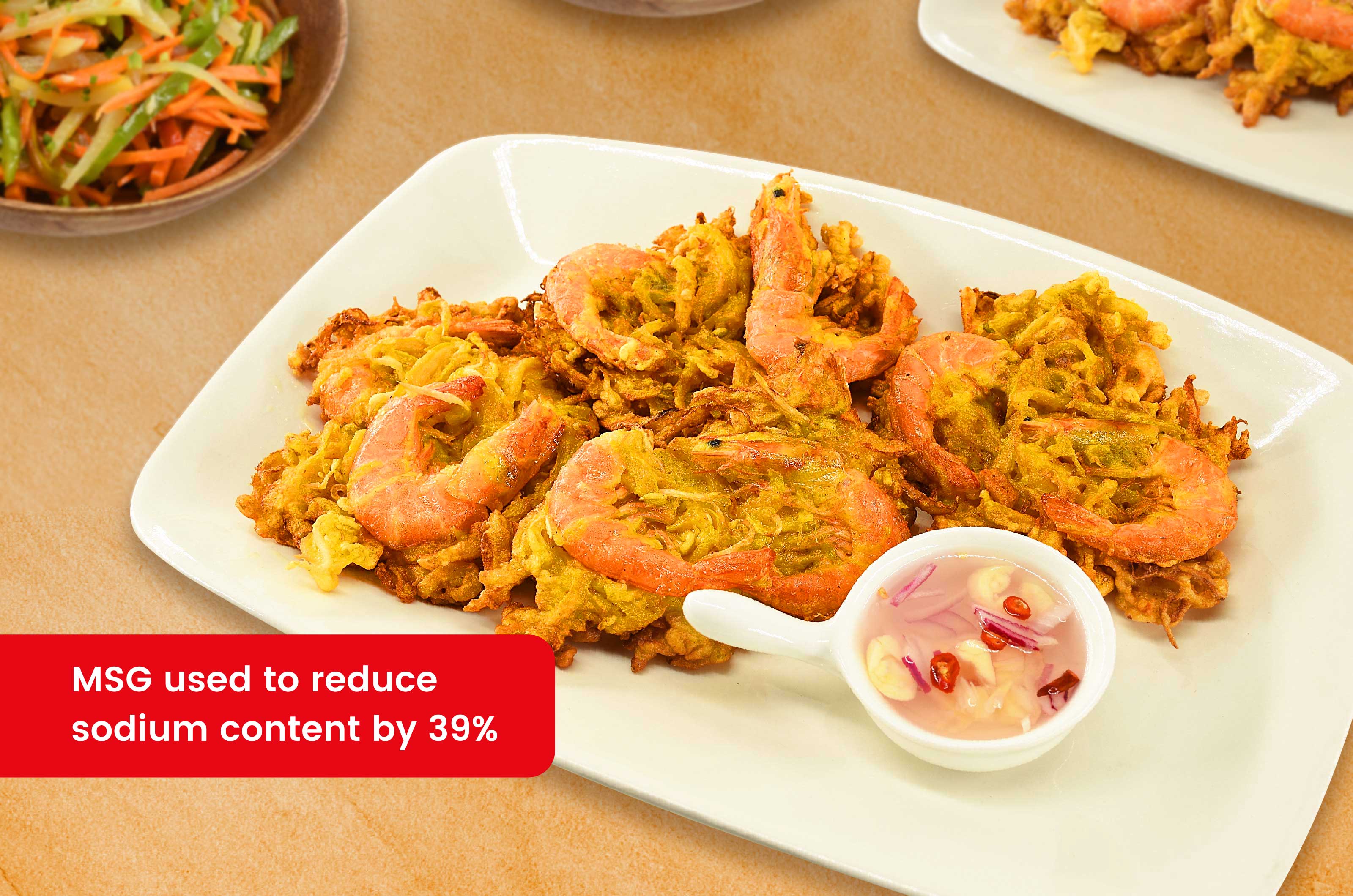 Easy-to-make ang Filipino dish na 'to. Easy rin 'tong maubos dahil masarap talaga! Try making Kalabasang Okoy na may Hipon for your next bonding time with the family. May crunch, may tanginess mula sa spiced vinegar dip, at healthier pa dahil may veggies and made with less sodium!
In a container, mix cornstarch, flour, salt, baking powder, water, and AJI-NO-MOTO® Umami Seasoning. Mix it all well to make a smooth batter. Make sure that there are no lumps, para crispy! Stir in your beaten eggs, kalabasa, bean sprouts, and ¼ kilo of shrimp. Mix well.
Heat up your oil and carefully drop ¼ cup of the mixture in. Deep-fry it until it's golden brown. When done, make sure to drain the excess oil before serving! It's best to have spiced vinegar on the side, para may sawsawan!
Try our KALABASANG OKOY NA MAY HIPON RECIPE  made more yummy with AJI-NO-MOTO ® Umami Seasoning.
Preparation time: 15 minutes
Cooking time: 30 minutes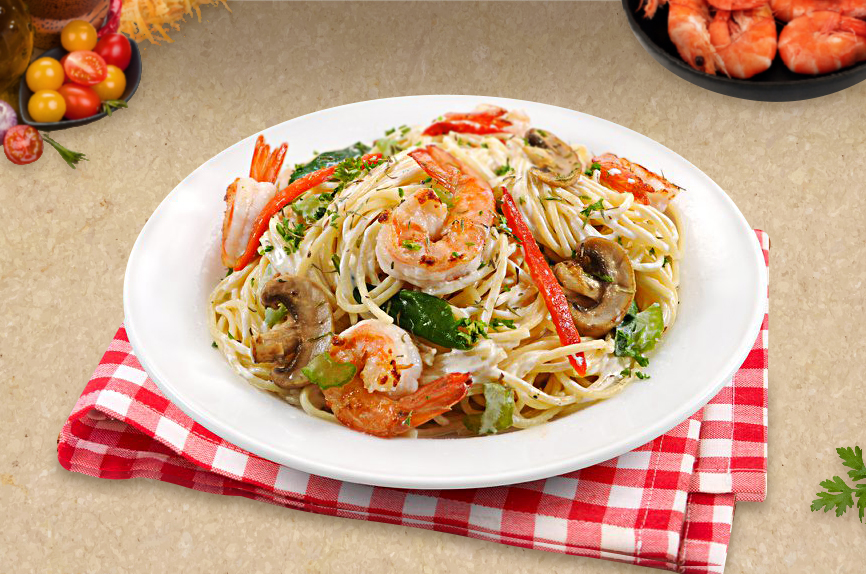 Seafood also works as an ingredient for pasta dishes. One of the best Filpino recipes to try is this creamy and mouthwatering Creamy Shrimp Pasta. Shrimp livens up the flavor and adds a nice texture to the creaminess of this delectable pasta dish! Try niyo na. It's worth it!
In a pan, s auté onions and garlic until fragrant and translucent. Add in the shrimp and cook it until it achieves a nice light orange color. Next, add in the celery, pasta water, and mushroom, then pour in the cream and let everything simmer together. Season it with PORKSAVOR® ALL-IN-ONE SEASONING MIX. And finally, add in your cooked pasta and spinach leaves. Mix, and serve with lemon juice, lemon zest, parsley, and bell pepper on top. Enjoy!
Try our CREAMY SHRIMP PASTA RECIPE  made more mouthwatering with PORKSAVOR® ALL-IN-ONE SEASONING MIX.
Preparation time: 5 minutes
Cooking time: 30 minutes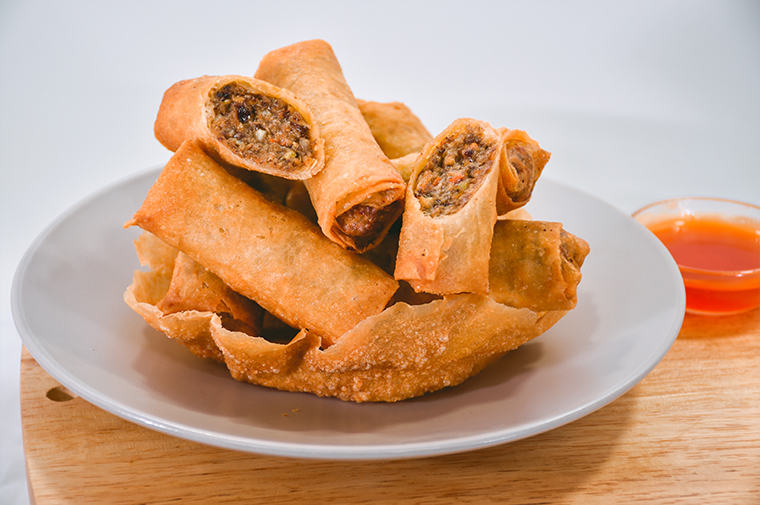 If there's a small celebration at home, try serving this fresh twist to a classic and loved Filipino recipe—Sardines Lumpiang Shanghai! It's the same Lumpiang Shanghai we all love, but with a tasty and creamy sardine filling. It's an easy-to-make seafood dish that's tasty, and doesn't break the bank!
Mix your canned sardines in tomato sauce with one egg, ginger, garlic, carrots, pepper, and AJI-GINISA® Flavor Seasoning Mix. Mix it all well until it achieves a creamy consistency. Take a lumpia wrapper and put 2 tbsps of the creamy sardine mixture. Roll it and seal the wrapper tightly. When you're done with a batch, fry each piece in hot oil until it's nicely cooked. Drain the excess oil with kitchen paper towels before serving. Enjoy!
Try our SARDINES LUMPIANG SHANGHAI RECIPE  made more nakakatakam with AJI-GINISA® Flavor Seasoning Mix.
Preparation time: 20 minutes
Cooking time: 10 minutes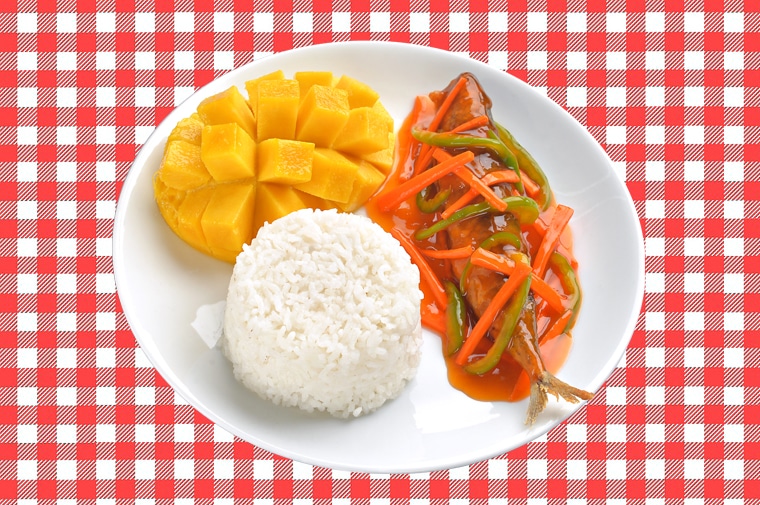 Masarap ulamin ang seafood, especially ang isda! Tasty, masustansya, and easy to cook. When your seafood cravings hit, try cooking this Filipino ulam dish—Sweet and Sour Galunggong! Fried galunggong gives this recipe a nice crunch, while the sweet and sour sauce balances the flavor out! Tasty, nakakatakam, siguradong mapaparami ka ng rice!
First, get a pan, pour in some oil, and fry your galunggong until golden brown. Set it aside as we make the sweet and sour sauce. Get a cup, and mix water and cornstarch. This mixture will serve as our thickening ingredient. Next, in a pan, s auté carrots and bell pepper. Add your thickening ingredient, water, a dash of soy sauce, and Sarsaya®  Sweet & Sour Sauce. For additional flavor, season the sauce with salt, pepper, and  AJI-GINISA® Flavor Seasoning Mix , and let it all simmer until the consistency thickens as desired. Serve it on a plate with a cup of rice, a piece of galunggong then pour sweet and sour sauce on top. 'Yan ang panalong ulam. Serve it with a fruit on the side, para kumpleto ang meal!
Try our SWEET AND SOUR GALUNGGONG RECIPE  made more tasty with Sarsaya®  Sweet & Sour Sauce and AJI-GINISA® Flavor Seasoning Mix.
Preparation time: 20 minutes
Cooking time: 10 minutes
Have fun cooking with seafood and make your family mealtime bondings happier! For more delicious recipes you can try at home, check out our website: https://www.ajinomoto.com.ph/cookmunity/ . Stay safe and enjoy cooking!