Hearty and Healthy Stir-Fried Dishes for All
September 4, 2023 6:53 am
---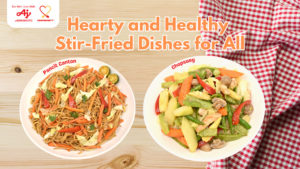 Delicious and nutritious gisa dishes have never been such a joy to make! Ka-Cookmunity, if you're looking for hearty and healthy dishes that won't break the bank without compromising the delicious enjoyment of mealtimes, we got you covered with these two less sodium dishes with the new AJI-GINISA® Flavor Seasoning Mix Less Sodium.
The new variant of Aji-Ginisa® has 30% reduced sodium content but still guarantees the same gisa deliciousness from onion, garlic, meat extracts, and seasonings that is perfect for all stir-fried dishes.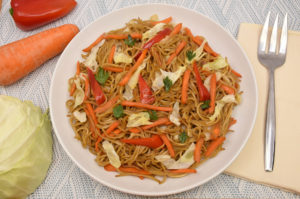 As a classic favorite among many pinoy dishes, enjoy Pancit Canton with less worry on less sodium. Learn how to cook this hearty version with 5 easy steps!
First, stir-fry bell pepper and carrots on hot oil until cooked. A bonus nutrition fact from this colorful dish is the great sources of Vitamin A from the ingredients such as carrots and bell peppers which help maintain healthy eyesight.
Next, pour water in the pan and let it simmer. Add pancit canton and soy sauce then cook until the noodles are soft, and water has been reduced. If you're using fresh or pre-boiled noodles, you may decrease the water by ¼ to ½ cup.
Once water has been reduced, let's stir-fry again for the third step. Add cabbage and kichay then let it cook for few minutes.
Then, let's season our dish with AJI-GINISA® Flavor Seasoning Mix Less Sodium then mix well. With AJI-GINISA®, this dish will have more gisa-sarap and meatier taste. Plus! This less sodium recipe is beneficial for people with Hypertension since it has 30% less sodium content.
Finally, serve. Transfer to a plate and enjoy!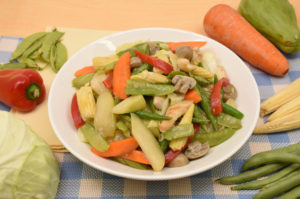 Ka-Cookmunity, did you know that by eating a variety of vegetables will ensure our bodies are getting different vitamins and minerals essential for maintain optimum health? To increase your own vegetable consumption, try incorporating more greens into your diet by cooking up dishes like this Chopsuey recipe.
In a pan, heat oil then sauté chicken and cook over medium heat until golden brown. Add carrots, chicharo, celery, sayote, baguio beans, button mushrooms, young corn, red bell pepper, and cabbage. Stir-fry your veggies until cooked.
Cooking tip! Stir-fry your vegetables on high heat for a short period of time to preserve its color, nutrients, and texture.
Add and season your gulay dish with AJI-GINISA® Flavor Seasoning Mix Less Sodium, mix well and let it simmer until the vegetables are half cooked. Add cornstarch mixture and let it simmer until the sauce thickens.
Lastly, transfer to a serving plate and serve and enjoy with the entire family!
You can now make healthier stir-fried dishes at home with the help of AJI-GINISA® Flavor Seasoning Mix Less Sodium. To find out more Less Sodium stir-friend recipes, like and follow Cookmunity by Ajinomoto Philippines on Facebook and Tiktok.