Healthy Goodness in One Pot
---
Celebrate the great woman in our lives – our dearest mothers with love and care for their health through these easy to prepare, delicious and low in sodium one pot recipe wonders.
Who says low sodium food can't be delicious? Check for yourselves and try these recipes at home.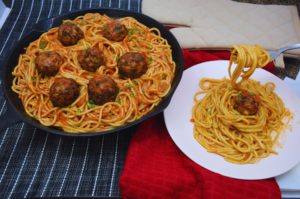 This super easy and hassle-free Vegan Meatball One Pot Pasta dish is packed with savory deliciousness even though it has low sodium content.
First step is to prepare the vegan meatballs. In a bowl combine grated cauliflower, minced kangkong leaves, tofu, garlic, AJI-NO-MOTO® Umami Seasoning, salt, and flour. Cauliflower contains Vitamin K which helps in building healthy bones, thus making vegan meatballs very nutritious. Once the mixture is combined well, scoop 1 tablespoon of vegetable mixture and mold into a ball. You can place the vegan meatballs in the freezer for 5 minutes to retain their shape. Next, heat oil in the pot then fry the vegan meatballs until golden brown. Drain excess oil in a colander and set aside.
To prepare the pasta, in the same pot, heat the additional oil then sauté garlic and onion. Once fragrant, add tomatoes and tomato paste, continue to sauté until mushy. Add water, cover, and let it boil. Once the water is boiling, add spaghetti and cook until al dente. Once the pasta is cooked, season with AJI-NO-MOTO® Umami Seasoning  (this will give the umami flavor in this dish without compromising the taste and sodium content), salt, black pepper, and brown sugar for flavor balance. You may opt to mix the vegan meatballs in the pasta or you may just place them on top to retain their crispiness.
Transfer the pasta to a serving plate. You can sprinkle parsley and parmesan cheese all over then serve and enjoy!
Savory Egg Custard (Chawanmushi)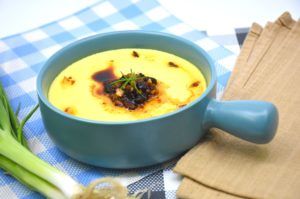 Surprise Mama showing off your cooking  prowess with this eggciting recipe.
To make this dish, mix egg and water in a bowl then season with fish sauce and AJI-NO-MOTO® Umami Seasoning, mix well. By using umami seasoning, it lowers the sodium content of the dish compared to using salt. For a smooth custard consistency, strain the egg mixture to remove air bubbles.
Next step is to transfer the egg mixture to a heat-proof bowl then place in a steamer with boiling water for 10-15 minutes or until cooked. You may cover the bowl with foil or cheese cloth to avoid the water from dripping to the custard, which makes it bubbly in texture.
For the toppings, combine garlic, ginger, and red chili flakes in a heat-proof bowl, set aside while heating the oil in a pan. Once the oil is piping hot, pour it in the dry mixture, mix well then add brown sugar, soy sauce, sesame oil, tausi, and dried mushroom.
To serve, slice the custard into cubes and pour the toppings all over the custard and garnish with spring onions. Enjoy!
Show love and care for our mothers sparing them of cooking task even just for one day can mean the world to them. Let them know you put some extra love by serving them a special dish that is thoughtfully curated for their heart. Happy Mother's Day to all our Ka-Cookmunity mommies, mom-to-be's and mother figures out there!
Visit Cookmunity by Ajinomoto Philippines, and like and follow our Facebook Page for more recipes and updates.