Cook With Sustainability In Mind this World Food Day
September 28, 2023 8:47 am
---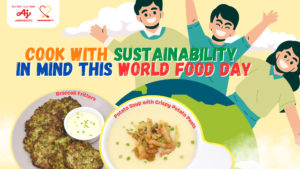 Happy World Food Day, Ka-Cookmunity! Today is dedicated to raise awareness around the globe about the importance of having sustainable food systems and combating hunger. There's no better way to join the celebration than cleaning out your fridge and whipping up a delicious meal from your leftovers. Find creative ways to cook in your kitchen with these two recipes that won't put any of your good ingredients to waste.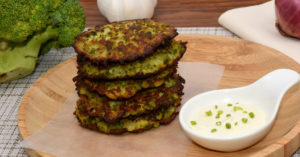 When you cook a meal with broccolis, don't throw the perfectly edible stalks and use them to make this delicious Broccoli Fritters!
In a pot add water and let it boil. Add broccoli (florets and stems) then cook until fork tender. Drain excess water using a colander, once it has cooled down, finely chop broccoli, and set aside. Did you know the Broccoli is rich in Vitamin A? Vitamin A is needed for strong immune system and healthy eyesight.
In a bowl, combine chopped broccoli, egg, flour, onion, garlic, and AJI-GINISA®, mix well. Get 2 tablespoons of the mixture and mold into flat circular shape. AJI-GINISA® Less Sodium Flavor Seasoning Mix will give this dish the same gisa and meaty deliciousness but at 30% less sodium!
Now it's time for frying, heat oil in a pan and fry the fritters until golden brown. Prior to frying you can freeze the molded fritter for few minutes to retain its shape while cooking.
Finally, transfer the fritters onto a serving plate. If you're a fan of dips, you can definitely pair it with your fritters. Enjoy!
Potato Soup with Crispy Potato Peels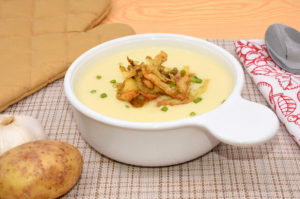 Everybody loves potatoes. From main to side dishes, there is a spot for this golden ingredient on everyone's top food list. But did you know that you can also eat the potato peels? Try it yourself by cooking this easy and nutritious Potato Soup with Crispy Potato Peels.
First, heat oil in a pot. Add butter, onion, and garlic, sauté until fragrant. Mix-in potato and add water, let it boil and cook until soft, let it cool down. This recipe is very nutritious since Potato is a good source of Potassium which is beneficial for maintaining normal blood pressure.
Next, pour the contents of the pot in a blender and blend until smooth, then put back the potato mixture in the pot. If you don't have a blender, you can mash the potato using a fork.
Then add cream and season with AJI-GINISA®, mix well and set aside. AJI-GINISA® Less Sodium Flavor Seasoning Mix has 30% less sodium providing same meaty gisa deliciousness!
Now let's make the crispy toppings. In a pan heat oil then fry the potato peels until golden brown and crispy, drain excess oil in a colander.
Finally, transfer soup in bowl and top with crispy potato peels and spring onions. Serve and enjoy while hot!
Want to know more sustainable recipe ideas to cook in the kitchen? Visit Cookmunity by Ajinomoto and discover a variety of recipes from nutritious and delicious hearty BawAsin recipes to sustainable less-food waste dishes anyone can cook from home. Happy cooking, Ka-Cookmunity!