Spend Grandparent's Day with a Healthy Meal
September 4, 2023 6:55 am
---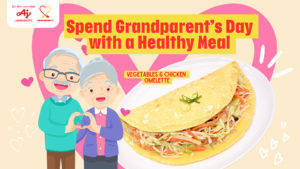 Show how much you love your Lolo and Lola this Grandparents Day! While buying gifts and taking them out may be some of the ways to express how much you are thankful to have them around, whipping a delicious and nutritious meal in the kitchen is the most genuine way to show how much you care.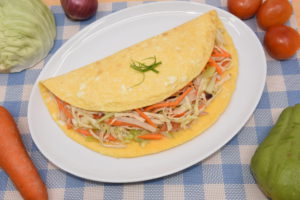 To make this simple yet hearty recipe for your grandparents, let's sauté first in a pan our onion, garlic, and tomato in hot oil until fragrant. Mix-in cabbage, carrot, sayote, and chicken, then continue to cook until the vegetables soften. Depending on your preference, you may use any vegetables or meat for this recipe.
Next, season the vegetables and chicken with AJI-GINISA® Flavor Seasoning Mix Less Sodium. This will give the gisa taste that everyone loves but with 30% less sodium! O diba? Masarap na, healthy pa! Mix it well then set aside.
Now, let's fry and assemble our dish. In a separate pan, heat oil. Pour the egg mixture and let it cook until firm in low heat.
Did you know that egg is a good source of Choline? This is important in maintaining optimal brain health. This is perfect for our lolos and lolas who are needing more nutrient care than ever as they start to grow old with age.
While the egg is on the pan, place the vegetable mixture on one side of the egg sheet then fold it in half.
Last step is to serve! Slide omelette on a plate then slice into 5 equal parts. Sprinkle with spring onions on top and enjoy with your grandparents.
To learn more about unique and umami recipes perfect for special occasions, visit Cookmunity by Ajinomoto Philippines, and like and follow our Facebook Page and Tiktok.