These Delicious & Nutritious Sandwiches are a Must-Have This Back-to-School Season
September 2, 2022 1:37 pm
---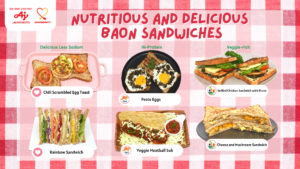 Back to school na naman! After more than two years of online classes, students are back on the road for the new school year. Keep your kids motivated and powered up for the upcoming classes by packing a delicious and nutritious baon to school. Need help with new baon ideas? Here at Cookmunity®, we got these healthy sandwiches lined up just for you.
Delicious Less Sodium Sandwiches
You're probably thinking, "Hindi ba matabang?" when you first hear the words "less sodium".  No worries, with AJI-NO-MOTO® Umami Seasoning, you can enjoy linamnam deliciousness of food while enjoying less sodium benefit.  AJI-NO-MOTO® Umami Seasoning provides umami or linamnam tastes to food and helps bring out the natural deliciousness of dishes.  It contains only 1/3 sodium compared to table salt, so you and your loved ones can enjoy delicious dishes despite it being less sodium!
Take this Chili Scrambled Egg Toast as an example. Combine eggs, milk, AJI-NO-MOTO®, and salt in a bowl. Adding AJI-NO-MOTO® can reduce the usual amount of salt and increase the umami flavor of the eggs. By doing this, you can reduce the sodium amount of the recipe by up to 41%. Beat the eggs until fluffy then fry the eggs in a heated pan with oil. Cook until soft curds form.
To prepare the toast, spread garlic masala on a toasted wheat bread. Then add tomatoes and cooked scrambled egg. Garnish with spring onion then serve! You can use a ring molder to cook the eggs and to create your desired perfect round shape of the scrambled eggs. Eggs, being one of the versatile common ingredients found in the pantry, is rich in essential nutrients such as Protein, Zinc, Selenium, and Iron which are all essential in maintaining optimal health.
Another must-try Less Sodium Sandwich is the Rainbow Sandwich! This fun and colorful sandwich will surely wow your kids and their classmates because of its very appetizing appearance and attractive shape. This recipe also contains 30% less sodium.
To make the sandwich, prepare the spread by combining cream cheese, AJI-NO-MOTO®, and salt in a bowl. Mix well then spread this mixture to the slices of bread. Layer the sliced vegetables in between the slices of bread in this order to create a rainbow-effect: romaine lettuce, cucumber, bean sprouts, yellow bell pepper, carrots, red bell pepper, tomato, and purple cabbage. Fresh raw vegetables contain more nutrients like Vitamin C and antioxidants compared to cooked vegetables because these nutrients may be lost during cooking. Gently press the sandwich, or you may use a toothpick to secure the filling. Make sure that the toothpick is visible to avoid injury while eating. Now that's a baon worth sharing!
Hi-Protein Sandwiches
If you're looking for a baon that's high in protein, we gotchu mga Ka-Cookmunity®! Protein is important in building and developing strong muscles. This Pesto Eggs recipe is high in Protein thanks to the eggs and peanuts which also contains Vitamin E that helps boost the immune system to help fight against certain types of diseases. Aside from its healthy factor, mas pinasarap ito ng AJI-GINISA® Flavor Seasoning Mix na nagdadagdag ng meaty taste sa ating sandwich! Kahit na hindi gisado ang recipe, bagay na bagay pa rin ang AJI-GINISA®!
Want to know how to make this sandwich? First, prepare the pesto sauce by combining basil leaves, garlic, toasted peanuts, parmesan cheese, olive oil, and AJI-GINISA® in a blender. Blend until smooth. If you don't have a blender at home, you can use a mortar and pestle to prepare the pesto sauce. Next, in a pan with oil, heat pesto paste then crack an egg at the center. Cook the eggs until your desired doneness. Place on a toasted bread then serve!
For a veggie alternative that's still high in protein, try this Veggie Meatball Sub recipe. This recipe may be meat-free, but it also contains a good amount protein, thanks to the red kidney beans. Aside from meat and eggs, beans and nuts are also good sources of protein. Red kidney beans contain a good amount of Dietary Fiber which helps in keeping a regular bowel movement.
To prepare this recipe, sauté onion and garlic in a pan with heated oil. Then add red kidney beans, mushroom, and oats. Season with oregano, basil, tomato paste, soy sauce, sugar, pepper, and AJI-NO-MOTO®. Mix well and cook for a few minutes, then set aside to cool. Once cooled, form the mixture into meatballs. You may place the meatballs in the freezer for 30 minutes to help hold its shape.
In a preheated oven at 175°C (350 °F), bake the meatballs on a baking sheet with parchment paper for 20-30 minutes. Once cooked, place the meatballs on to sliced baguettes then top with Bolognese sauce, cheese, and parsley. Enjoy!
Veggie-rich Sandwiches
Since we're already talking about healthy baons for school, we can never go wrong with sandwiches that are packed with vegetables. Here's another pesto recipe you should try to make. This Grilled Chicken Sandwich with Pesto is not only full of nutritious veggies but also high in protein. Chicken contains Vitamin B3 or Niacin which is essential in maintaining healthy nerves.
To make this sandwich, first, marinate chicken breast fillet with AJI-NO-MOTO®, soy sauce, and sugar for 20 minutes or overnight. For an even chicken fillet, you may pound the meat or slice the thicker portion before marinating. Once done, panfry the chicken until lightly browned. Set aside.
To prepare pesto paste, combine basil leaves, garlic, peanuts, cheese, and olive oil. Blend until combined. Lastly, assemble the sandwich by spreading pesto paste on to slices of bread then add romaine lettuce, tomato, and cooked chicken. Pack it up and it's ready to be devoured at school!
If you have school kids who are cheese lovers, you may  try this Cheese and Mushroom Sandwich which is jam-packed with natural umami taste thanks to the cheese and mushroom. This baon sandwich will surely give a satisfying and filling finish.
And to make things better for you, it's easy to make! Perfect for fast morning preparation. First, sauté mushroom with hot oil for 5 minutes. Add salt and AJI-SHIO® Garlic Seasoning Mix for an added garlic flavor with the right balance of saltiness and umami. Once mushrooms are cooked, assemble the sandwich by spreading mayonnaise on slices of bread then add the cooked mushroom, quick melt cheese, and Swiss cheese. Cover with the other bread then toast the sandwich with melted butter until the bread is golden brown and cheese has also melted.
Explore more baon recipes by visiting our Cookmunity® website and Facebook page for more news and recipe updates. Don't miss out on our Tiktok as well for quick and easy to follow recipe videos. Happy cooking, Ka-Cookmunity®!