LOLA's Bugtong Ng Pagkaing Pinoy
---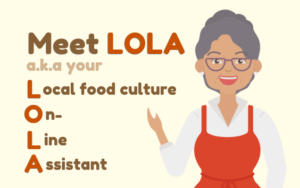 Most Pinoys who know how to cook basic Filipino dishes like adobo, sinigang, tinola and such may have likely learned it through their mother or grandmother. Even if you asked some chefs on where they get their inspiration from cooking, they would answer that it's either of the two.
There is really nothing quite like our lola's ulam Pinoy recipes as it was her who handed down the family recipes to our mothers. In line with this, Ajinomoto Philippines Corporation introduces LOLA or your Local food culture On-Line Assistant which will share its wealth of culinary knowledge and expertise accumulated through the years similar to our doting grandmother.
LOLA will also connect beyond old recipe books and help online audiences rediscover their roots. At the same time, our virtual LOLA will present how our local cuisines evolve through food stories and trivia.
For LOLA's first blog, we will explore dishes that best represent Filipino cuisine.
LECHON
ADOBO

A special dish and a "must" during festivities or celebratory occasions
The world reknown chef, the late Anthony Bourdain, dubbed it as "The best pig ever!"

It has been widely associated to the Filipino household for the longest time and has even different versions (Adobong Tuyo, Puti, Dilaw, Gata, etc.)
A versatile dish. As long as it follows the template (Meat/Veg + Souring Agent + Salting Agent + Garlic) it can be called Adobo.
A billed was filled in the 16th Congress appealing for Adobo to be a National Symbol of the Philippines

SINIGANG
SISIG

Doreen Fernandez, a historian and professor said that Adobo is overworked, unlike Sinigang which is so versatile, adapting to different proteins and vegetables.
Various souring agents can be used depending on what region it is cooked. Includes sampaloc, bayabas, kamias and batwan to name a few.

Origin of Sisig can be traced back to Pampanga, home of the US Air Base in the Philippines, wherein a local cook accidentally burned pig's mask and turned it into a dish of pork hash with aromatics and seasoning.
The term "Sisig" means to eat something sour, which is usually used for pregnant women who craves for sour food.
"Sisig" is a common dish served in restaurants.
These dishes are very much Pinoy, because they showcase prevalence, versatility, appeal to the public and diversity that reach even the farthest region of the country. Stay tuned for LOLA's Bugtong ng Pagkaing Pinoy series that will show us ways to enjoy gulay recipes and other healthy recipes from the Philippines.