Meet the many versions of Chicken Tinola
---
A hearty chicken soup never fails to warm the soul. Whenever we run out of ideas on what dish to cook, a bowl of Chicken Tinola often comes on top of one's mind. This one-pot dish is the perfect choice when you want to whip up easy, nutritious, and tasty chicken soup dish. One slurp of Chicken Tinola after a long day drives any feeling of tiredness away, making it a comfort food indeed for most Filipinos.
Traditionally, the classic Chicken Tinola is cooked with ginger, green papaya and dahon ng sili or chili pepper leaves. But today we'll explore more about Tinola – the differences in ingredients used, varieties depending on region, and the secret to making it remarkably delicious! So, let's begin!
#TeamPapaya or #TeamSayote
The biggest debate when it comes to cooking Chicken Tinola is the use of papaya or sayote. In terms of taste, papaya has a little sweetness to it while sayote is more refreshing to the palate. However, both flavors are subtle enough to complement the taste of ginger really well. Green papaya and sayote are almost identical, too! They look the same, are prepared the exact same way, and they even have the same textures when cooked! These similarities make sayote the perfect substitute for green papaya when it is hard to find. However in some places, upo and labanos are considered great for Tinola as well.
#TeamMalunggay or #TeamSili
Both malunggay (moringa) and dahon ng sili (chili pepper leaves) are perfect for Chicken Tinola, but the latter is richer in antioxidants that are good for the body. Dahon ng sili also gives a distinct peppery flavor to the soup that's why many people opt for this for their Tinola. However, if sili leaves are not available, that's where malunggay or moringa leaves come in! Malunggay grows easily in anyone's backyard, making it the popular vegetable of choice for Chicken Tinola. Did you know that Malunggay leaves have 7x the amount of Vitamin C found in oranges? It is highly nutritious and perfect for breastfeeding moms! Apart from the two, ampalaya leaves are also great substitutes to sili leaves. When cooked right, you won't taste any bitterness from the ampalaya leaves at all!
Describing the taste of Chicken Tinola is the quickest way to make someone hungry. You must be feeling it now, too! So allow us to share with you these four savory and heartwarming Chicken Tinola recipes that you can serve for lunch or dinner.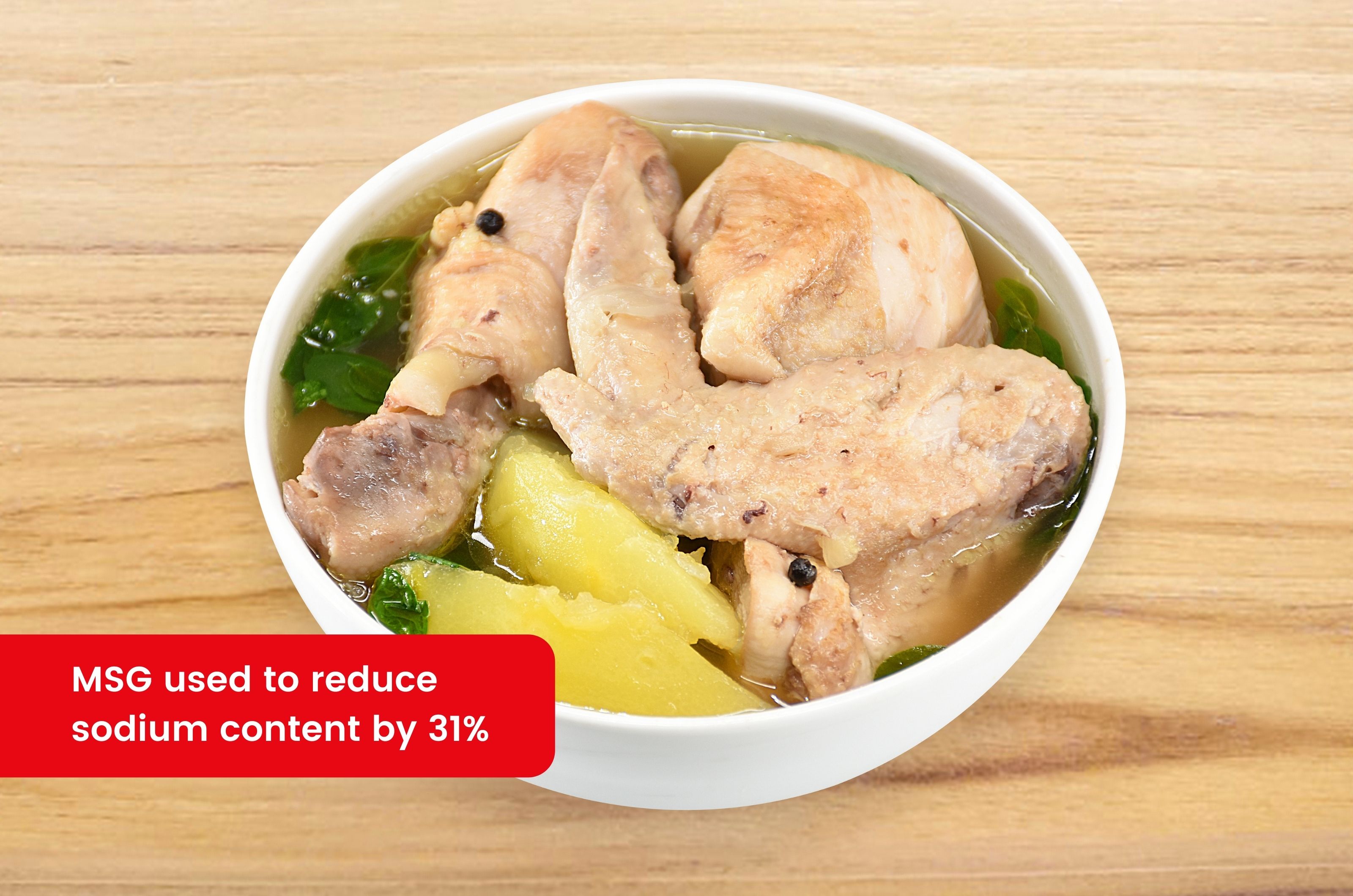 If what you have is green papaya and sili leaves, then you're ready to cook Chicken Tinola the traditional way. To begin, heat oil in a pan to saute onion, garlic and ginger. Then, add the chicken and sear it for 3 minutes. Next, add water and let it boil until the chicken becomes tender. Add in some green papaya and let it boil until tender. Seasonings come next! Sprinkle some AJI-NO-MOTO® Umami Seasoning, then add a little fish sauce and ground black pepper to taste. For the last step, add in the chili pepper leaves and boil until the papaya is cooked through. Eat it with rice and you're in for a hearty and nutritious treat!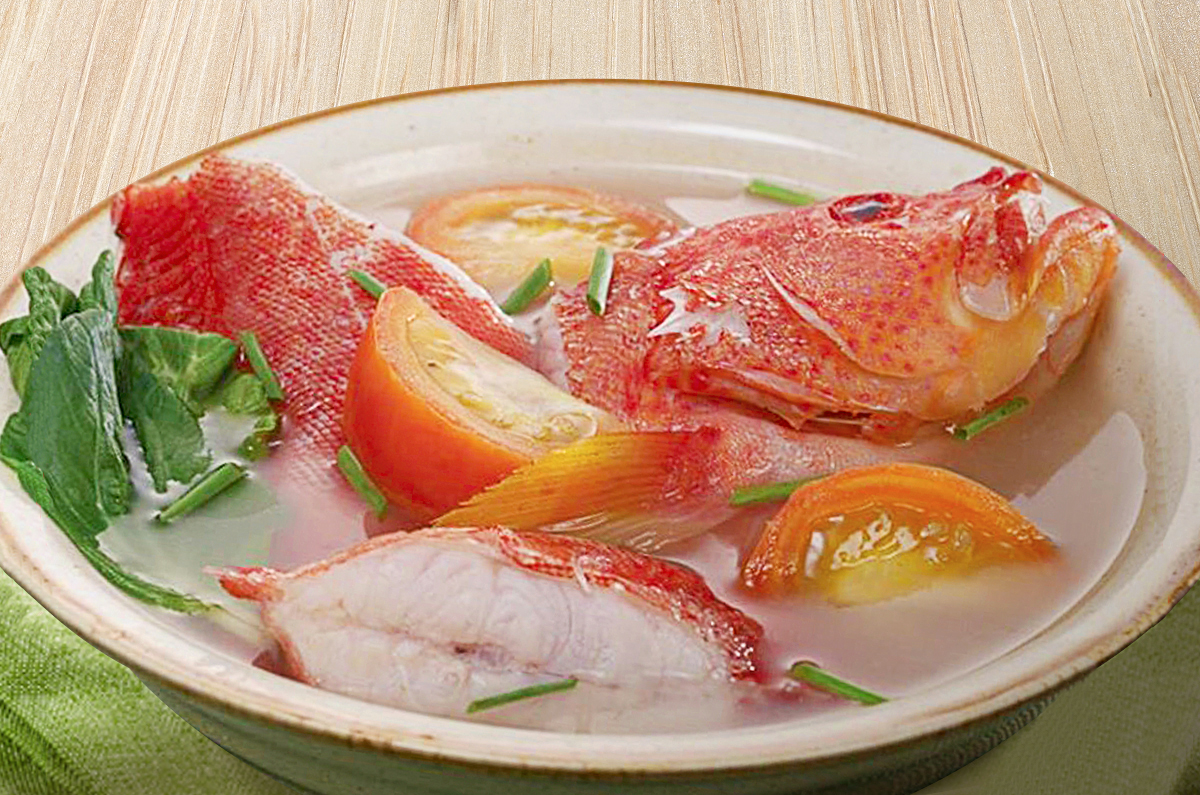 Fried fish goes well with a soupy dish. But a soupy dish with fish as the main source of protein? Surprisingly, it's even better! Fish Tinola isn't the most popular Tinola variety, but it sure tastes great whatever your choice of fish is. Some use Salmon, some prefer Bangus, but for our recipe today, we're using Lapu-Lapu. To start, boil Lapu-Lapu in water for 10 minutes. Then season with salt, pepper and AJI-NO-MOTO® Umami Seasoning to taste. After, add tomatoes, Tagalog pechay, green onion leaves and siling haba. Lastly, cover and let it simmer to cook through. Voila! Enjoy a new fresh twist of Tinola that your family will surely love! Mapapa-ISDA best sila niyan!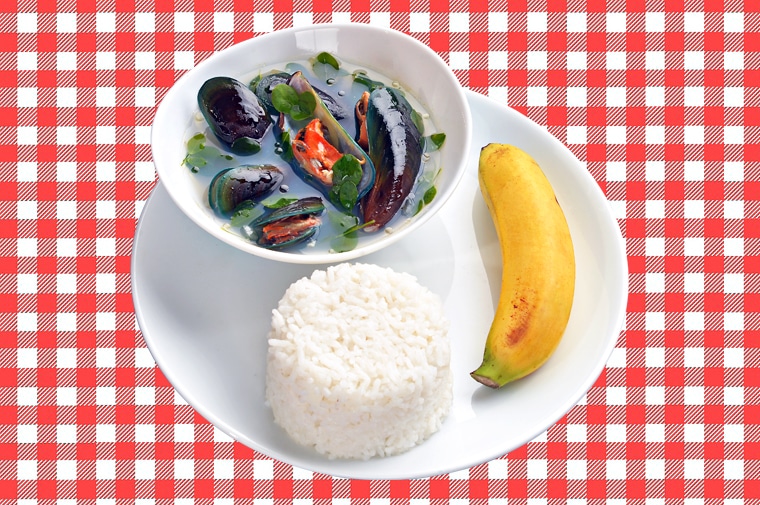 Did you know that Tahong is Mussels in English? And did you also know that Tahong makes a delightful version of Tinola? If you're not too sold with that, then it's time to flex our muscles so we can get these mussels cooking! Our recipe for today is a seafood version of Tinola– the Tinolang Tahong. Unlike other Tinola, this one has the saltiness that will remind you of good times at the beach. To cook it, begin by soaking the Tahong in water with salt for about 30 minutes. After removing the water, put it aside. Next, saute some ginger, onion, siling haba, and garlic in a hot pan. After 2-3 mins, add in the Tahong and watch its colors glow. When the smell starts to embrace the kitchen air, pour in some water and bring the dish to a boil. Lower down to a simmer when the boiling gets too strong– we need to keep the volume of the soup because that's where the flavor lies. And to bring out the best of this dish, season it with pepper, fish sauce, and AJI-NO-MOTO® Umami Seasoning. Lastly, add malunggay and bring it to a boil. Serve hot together with a heaping serving of white fluffy rice. Tinolang Tahong may not be the most popular, but it surely tops our list as one of the best Tinola in town.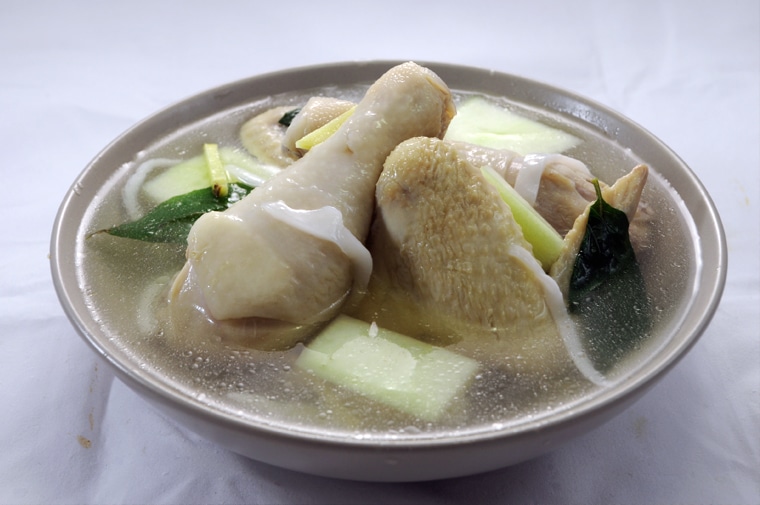 Did you know that Chicken Binakol is also a derivative of our favorite Filipino chicken soup? This dish is very popular in the Visayas region! It's basically Chicken Tinola except that it is cooked with coconut water as the broth instead of plain water. Coconut meat is also added in for some sweetness and texture. In some provinces, coconut milk is even added in for a creamy delight!
Other Tinola Varieties to Love
This isn't all there is to Tinola. Apart from these four, there are more kinds of Tinola to crave for! There's Clam Tinola, Tinola Paella, and even the soupless sizzling version! All these creative and out-of-the-box Tinola recipes that pop out from everywhere just prove how much we Filipinos love our Tinola. And what isn't there to indulge in? Tinola is warm and comforting, easy to prepare, very affordable, and most of all, healthy as healthy can be!
Do you or your family have a unique Tinola recipe that the world needs to hear about? Share it with us at Cookmunity® by Ajinomoto Philippines on Facebook!