Make new family favorite dishes at home with Chef JM!
October 11, 2021 10:56 am
---
Getting tired of the same ol' dishes every day? Want something new and easy to try at home? Chef JM Sunglao has just the recipes for you! Something new and different but with familiar flavors na siguradong magiging new family favorites! We've got a complete course meal just for the fam bam – Crispy Fry Fish Roulade na mas pina-crispy with CRISPY FRY® Breading Mix Original, Garlic Parmesan Spaghetti na mas pinalinamnam with AJI-NO-MOTO® Umami Seasoning, and Apan-apan na mas pinasarap at dagdag umami with AJI-NO-MOTO® Umami Seasoning.
Chef Jerwin Mark 'JM' Sunglao, is a chef and entrepreneur. He is the owner of comfort food restaurant, STONS Minute Steaks + Onion Rings in Las Piñas City and part owner of Dr. Chefy, a clothing brand that provides customized aprons using locally made materials. Chef JM also has a hand in crafting Santa and Sons Gourmet Deli's gourmet tuyo, tinapa and other delicacies. And now, this humble and charismatic chef has shared some of his unique recipes for us to try at home! They're easy, affordable, and most definitely delicious!
For starters, let's have the Crispy Fish Roulade, a deep-fried breaded fish roll with some sliced vegetable as a filling, perfectly paired with Garlic Aioli Dip. Roulade is a French word meaning "roll". This dish has a similar concept with Chicken Cordon Bleu but instead of using chicken, he uses fish fillet. This is a perfect game changer for your usual finger food. But do not be intimated by how complicated it sounds and how good it looks because Chef JM's technique will quickly turn you into a pro in making this dish.
First, lay a piece of fish fillet flat on a clean surface then season it with salt and pepper. You can use any fish fillet you have available in the market but for this recipe, Chef JM uses cream dory fillet which contains Omega-3 Fatty Acids that helps in maintaining our skin's elasticity. And then, place a sheet of nori on top of the fillet. Make sure that the sliced nori is similar in size as the fillet. And then place the vegetable sticks on top of the nori sheet. Chef JM uses carrots, baby corn, and cucumber sticks but any hard and crunchy type of vegetable you prefer can be used. Slowly roll the fish fillet while enclosing the vegetables. Use a toothpick to secure the roll.
Before deep-frying, coat the roulade in CRISPY FRY® Breading Mix (Original), then dip in beaten eggs, and lastly dredge in breadcrumbs. CRISPY FRY® will give the roulade that added crunch and the perfect seasoning. Deep-fry the roulade in hot oil while making sure not to overcrowd the pan. Drain excess oil using a strainer or colander. Set these aside as we prepare the perfect dip. In a bowl, mix mayonnaise, garlic, salt, pepper, lemon juice, and spring onions. Once the roulade has slightly cooled down, slice them into bite size pieces then transfer to a plate. Serve with the Garlic Aioli Dip.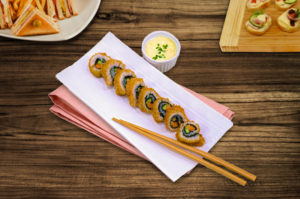 Click here for the full recipe. To watch the tutorial video on how to make Crispy Fish Roulade, click here!
As for the second dish, Garlic Parmesan Spaghetti, a familiar combination that will surely win the hearts of many. No need to fret on the ingredients as these are just as affordable and easily available in the market. To make Garlic Parmesan Spaghetti, start by cooking pasta in a pot of boiling water. Pasta is rich in Carbohydrates which is the primary fuel source for our body's high energy demands. You may opt to season the water with salt and add a few tablespoons of oil to prevent the pasta from sticking. While the pasta's cooking, melt butter in a separate pan then sauté garlic until fragrant. Once the pasta is al dente, meaning "firm to the bite", toss the cooked pasta into the butter garlic sauce. Another tip, you may add the pasta water when the noodles get a little dry. Then, season with parmesan cheese and of course, AJI-NO-MOTO® Umami Seasoning that will help amp up the natural flavors of the garlic and parmesan. Toss to combine and then transfer to a plate. Garnish with some dried pepper flakes and chopped parsley.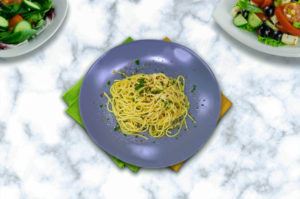 Click here for the full recipe. To watch the tutorial video on how to make Garlic Parmesan Spaghetti, click here!
Lastly, for the humble Filipino vegetable dish which originated in Iloilo, Apan-apan. This dish is like Adobong Kangkong but instead of using soy sauce, the Ilonggos used ginamos, an ingredient like bagoong that uses dilis instead of alamang. For Chef JM's version, he uses sweet bagoong for that added sweetness
First step is to blanch the kangkong. Kangkong leaves carry an excellent level of Ascorbic Acid which is good in strengthening the immune system. It also contains a great amount of Fiber that aids in digestion to avoid constipation In a pot of boiling water, add kangkong leaves and cook for 3 minutes or until half-done. You may place these in an ice bath to prevent them from overcooking. Set this aside as we prepare the sauce. In a separate pan, combine vinegar, bagoong, and AJI-NO-MOTO® Umami Seasoning then bring it to a boil. Transfer kangkong to a plate then pour the bagoong sauce on top. Garnish with some toasted garlic, and there you have it! Serve and enjoy while hot.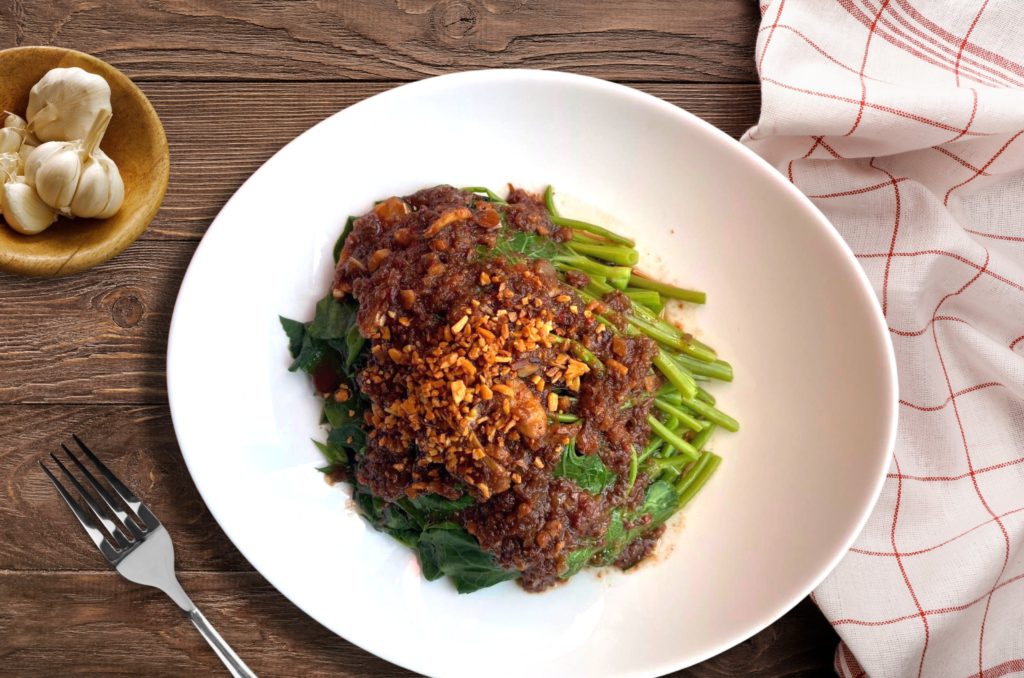 Click here for the full recipe. To watch the tutorial video on how to make Apan-apan, click here!
For updates on new recipes and blogs, come visit and follow our Facebook Page Cookmunity® by Ajinomoto Philippines.