Nutritious and Delicious Meal na Affordable
---
July is National Nutrition Month and this year's theme is: Healthy Diet, Gawing Affordable for All.  
Day-to-day meal preparation can become an ordeal for Moms /homecooks, from thinking of recipe ideas while juggling food budget faced and worrying about proper nutrition for the family.
Here are easy to prepare, affordable, delicious and nutritious recipes that are part of Ajinomoto Philippines Corporation's Mag-Pinggang Pinoy® Tayo! (MPPT) program that promotes the practice of preparing and serving delicious balanced meals with the right amount of Go, Grow, and Glow food.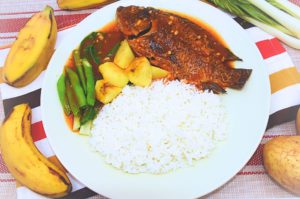 Try this Pocherong Isda, using tilapia, a good source of Calcium which helps in preventing Osteoporosis, but you may use other types of fish that you like.
First, let's fry. Heat oil in a pan and fry the fish for 5 minutes on each side or until cooked, followed by potato and banana then cook until golden brown. Drain the excess oil from the fish, potato, and banana using a strainer and set aside. To avoid oil splatters when frying, you may pat dry the fish with a paper towel to remove the water from it.
Now let's sauté! In the same pan, remove some oil and leave 1 tablespoon. Add garlic and onion then sauté until fragrant. Mix-in the tomato paste then continue to sauté for 1 minute.
Next, pour water into the pan then add Baguio beans and pechay, let it simmer for 3 minutes and add the fried potato, banana, and fish onto the pan.
To complete the dish, season with salt, sugar, AJI-NO-MOTO®, and black pepper then mix well. AJI-NO-MOTO® Umami Seasoning will give the perfect balance of flavor to this dish.
Lastly, transfer Pocherong Isda into a serving bowl and serve with steamed rice and your choice of fruit. Happy eating!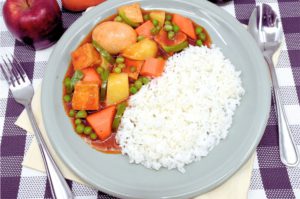 Ngayong mahal pa din ang presyo ng karne sa Supermarket man o palengke, try this affordable version of caldereta by swapping pork with egg and tofu! Don't worry they are equally nutritious and an excellent source of protein like pork.
First step is frying. Heat oil in pan then fry the tofu until golden brown, drain excess oil in a colander and set aside.
Second step is sauté. In the same pan, remove some oil and leave at least 1 tablespoon.  Add garlic and onion then sauté until fragrant. Mix-in the tomato paste then continue to sauté for 1 minute.
Third step is simmer. Pour water into the pan then add carrots and potato, simmer for 5 minutes or until they become soft. Then add green peas, bell pepper, and fried tofu. Continue to simmer for another 2 minutes.
Fourth step is season. Add salt, Sarsaya® Oyster Sauce which will make the dish more special with perfect blend of savory – sweet and salty taste, and black pepper. Mix-in the eggs and combine well.
For a perfect hard-boiled egg, cook the eggs for 10 minutes in boiling water. Did you know that aside from being the cheapest source of protein, egg is a good source of Vitamin D? Which helps the body absorb and retain Calcium for healthy teeth and bones.
Fifth and last step is to serve. You may follow the Pinggang Pinoy guide for a healthy and balanced meal by assembling onto a plate 1 piece egg, 1 1/4 cups vegetables, tofu, and sauce paired with 1 cup rice and 1 piece banana.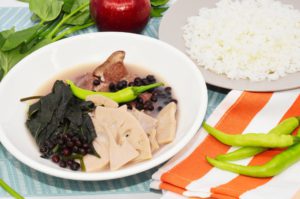 Tired with the usual sinigang but craving for hot and sour soup? Ilonggo's version of pork sinigang is the perfect answer to that known as Kadyos, Baboy, Langka or KBL. This one dish meal has protein and vegetables perfect for pairing with rice and fruit to achieve a balanced meal.
As usual, ito ay madali lang gawin. Put water in a pot, lemongrass, kadyos, and sampalok then let it boil for 25 minutes. To shorten the cooking time, you may soak the dried kadyos for few hours before cooking.
You may use batwan as the souring agent to make this dish more authentic, but since it is found only in Visayas region we can substitute it with sampalok which is more accessible.
Once the pork and kadyos are cooked, get the sampalok from the pot. Using a strainer, mash and strain the sampalok in the pot to release the extract. Add the langka, which is a good source of fiber which helps in lowering the risks of having cardiovascular disease, then simmer for another 10 minutes or until the langka is soft. Next, add kamote tops and green chili.
Season the dish with fish sauce and AJI-NO-MOTO® to bring out the savory-deliciousness of the dish, mix well. Then finally transfer into a serving bowl served with rice and fruit. Enjoy!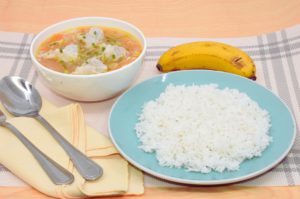 Kids eat well with soupy dish, try this comforting Chicken & Dumpling Soup! This recipe is packed with nutrients from vegetables and protein which can help make the body strong to combat colds and flu this rainy season.
Start by making the dumplings. In a bowl combine pork, garlic, onion, egg, salt, and pepper, mix well. Scoop ½ tablespoon of meat mixture and wrap it in molo wrapper, set aside.
Put water in a pot then let it boil, for more flavorful soup, you may use chicken stock. Mix-in the dumpling and simmer for 5 minutes, then add chicken, cabbage, carrots, then simmer for another 5 minutes.
Next, season with fish sauce, Aji-Ginisa® Flavor Seasoning Mix, pepper, and spring onions, mix well. Aji-Ginisa® will enhance the meaty taste of the dish and give the gisa taste that everyone loves.
Lastly, transfer the soup into a serving bowl and you may serve it with rice and fruit for a perfect balanced meal. Happy slurping!
Mga Ka-Cookmunity, serving delicious and nutritious food to our families doesn't need to be heavy on the pocket.  Check out Cookmunity by Ajinomoto Philippines and discover recipes that take into consideration nutrition and budget of the family.  You may also like and follow our Cookmunity® By Ajinomoto Facebook Page.