A low fat and low cholesterol eating plan can help you manage your blood cholesterol levels. It may also help you reduce your risk of developing heart diseases or stroke. The simple cooking tips below can help you prepare a delicious, low fat, low cholesterol meals that could help you have better heart health.
Though there are some restrictions in meals when trying to reduce blood cholesterol levels, low fat and low cholesterol meals need not to be bland and boring. Try our Grilled Cream Dory with Mango and Avocado Salsa Bowl recipe made with AJI-GINISA® Flavor Seasoning Mix.  This dish includes avocados which are good sources of monounsaturated fatty acids that help in increasing HDL (the good cholesterol) in the body when consumed in moderate amounts. The mangoes, on the other hand, give you a refreshing and fruity taste that goes well with your Grilled Cream Dory. More so, AJI-GINISA® makes this dish more flavorful by giving the "Gisa" and umami taste that we love!
---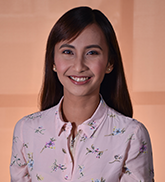 Deborah A. Sales, RND is a licensed nutritionist-dietitian handling the Science Communication Section of AJINOMOTO PHILIPPINES CORPORATION's Public Relations Department. She is a technical expert in food and health and an experienced Culinary Nutrition spokes
---
Disclaimer:
This article contains general information about exercise, fitness, diet, nutrition and related subjects intended for general educational purposes only. The words and other content provided in this material, and in any linked or referenced materials, are not intended and should not be construed as a health, medical, fitness, diet or nutrition advice. Always consult with a licensed physician and/or health workers before beginning any exercise, fitness, diet or nutrition routine especially if the reader is pregnant or having a special medical condition. Information presented herein, are in no way intended to substitute formal and legitimate consultations with your healthcare providers.
The views expressed on this blog and website have no relation to those of any academic or organizations mentioned as reference in this article.
References:
American Heart Association. Cooking to Lower Cholesterol. November 11, 2020. Retrieved from https://www.heart.org/en/health-topics/cholesterol/prevention-and-treatment-of-high-cholesterol-hyperlipidemia/cooking-to-lower-cholesterol
Food and Nutrition Research Institute-Department of Science and Technology (FNRI-DOST). 2008. Nutritional Guidelines for the Prevention of Heart Diseases and Diabetes Mellitus. FNRI Bldg., DOST Compound, Bicutan, Taguig City, Metro Manila, Philippines