These Affordable and Healthy Baon Recipes Will Make Your Kid's F2F Classes More Exciting
---
Face-to-Face Classes are officially back and students are gradually adjusting back into the routine. Moms alike are readjusting going from online to on site learning faced daily with the big question every morning "ano baon nila?".  No worries Mommies, we got you!
Instead of providing lunch money to your kids and worry about the possible food they could buy with their allowance, why not try to prepare a nutritious and delicious baon for your kids? And to make things easier for our Ka-Cookmunity mommies, we've got four Hi-Protein dishes lined-up for you na bukod sa masustansyang baon para sa anak, siguradong hindi mabigat sa bulsa because these are only less than P50 per serving!
Meat prices are on the rise and most of our favorite meaty dishes like patties are becoming more expensive to make. As a budget-friendly alternative, use fish instead which is a good source of Iodine that helps in brain development! Just mix minced cream dory fillet, ground pepper, spring onion, fish sauce, calamansi juice, egg, cornstarch, and baguio beans in a bowl. Para sa dagdag linamnam, add AJI-NO-MOTO® Umami Seasoning that enhances the natural flavors of the ingredients. Mix well.
In a pan, heat oil. Scoop 1/8 cup of the fish mixture then mold into a patty. You can rub a little amount of oil on your palms before molding the patty so that the mixture won't stick to your hands. Cook the patties for 2 minutes on each side then drain excess oil using a strainer or colander.
Transfer to a lunch box container with rice and your choice of veggies and fruit. Sprinkle some spring onions then cover the lunch box para ready to bring to school! Just a reminder, do not cover the lunch box while the food is hot to avoid steaming. Steaming will add moisture to the dish which can cause early spoilage to your kid's baon. When this happens, the patties will no longer be enjoyable to eat.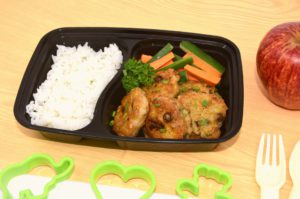 Since the morning prep to school can be hectic for the entire household, this quick and easy egg dish is a speedy option for mommies on the go. First prepare the egg mixture by combining beaten eggs, minced carrots, spring onions, drained canned tuna, onion, and green peas. Para sa seasoning, add sugar, salt, and let's not forget, AJI-NO-MOTO® Umami Seasoning for that added umami-goodness for a more satisfying meal. This recipe is also a good source of Vitamin A to help maintain good eye health.
In a pan, heat oil. Add the onion rings then pour the egg mixture into each ring. Flip each omelette once the egg is slightly firm. You can also use tomato or bell pepper rings as other options.
Assemble the lunch box with rice, a vegetable side dish, a treat in form of some fruit, and these omelette bites to complete your kid's lunch. Ito ang baon na masarap na, masustansya pa!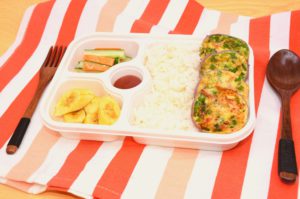 If your kid is a fan of burritos, this unique lunch is perfect for them. Instead of using a tortilla wrap, for this recipe, we will be making an egg wrap.
First step is to make the egg sheet. In a bowl, beat the eggs, vinegar, and AJI-NO-MOTO® Umami Seasoning together. Adding vinegar to the beaten eggs helps create a lighter texture. It helps to control lumpiness, loss of water, and collapsing of egg mixture due to overbeating.
Pour the egg mixture into the pan with hot oil then swirl the pan to make an egg sheet. Cook until firm then set aside.
To prepare the burrito fillings, sauté tomato, carrot, bell pepper, and kidney beans in a pan with hot oil. Syempre, hindi kumpleto ang burrito kapag walang red beans. It's a good plant-based Protein that's also a great source of Dietary Fiber which helps improve digestion. Season with salt then set aside to slightly cool.
To assemble the burrito, add rice, cheese, and the sautéed vegetables on an egg sheet. Wrap carefully by folding both ends and then roll the egg sheets, then you may cover them with parchment paper for a few minutes to help maintain its shape. Slice the burrito in half then transfer it to a lunch box. Do not forget to add your kid's favorite fruit on the side! This dish is ready for lunchtime!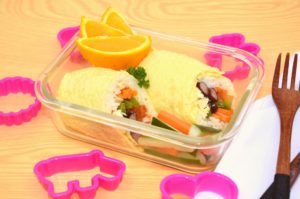 This recipe is going to be a showstopper sa lunch box ng mga chikiting! Try these nuggets na hindi gawa sa chicken, but tofu which is also a good source of Protein that helps build muscle and Calcium that helps maintain bone mass. Prepare the tofu nuggets by combining mashed tofu, green peas, minced carrots, minced spring onion, minced red onion, flour, egg, sugar, pepper, and AJI-GINISA® Flavor Seasoning Mix para sa meatier and more ginisarap taste. Shape 2 Tbsps. of the mixture then wrap each nugget with ham. Secure with a toothpick if needed. Set aside then place in the freezer for 30 minutes. This will help maintain its shape during frying.
In a pan with hot oil, fry the tofu nuggets until golden. Drain excess oil using a strainer or colander. Transfer to a lunch box with rice and vegetable side dish. Mas maganda kung meron ding fruits for a balanced meal. And that's it, you're done!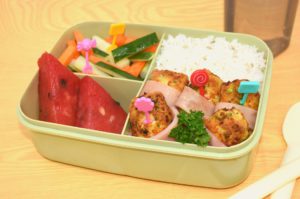 Try making these healthy and budget-friendly baon recipes that's not only nutritiously delicious but also affordable for all! Face to face classes will be more exciting for your kids if they have a yummy lunch to look forward to every day. Kaya mga mommies, time to roll up your sleeves and make the best dishes for your loved ones. Sa food na healthy, ang mga bata ay hindi magiging sickly!
Like and visit our Facebook Page, Cookmunity by Ajinomoto PH for more updates. Check out and subscribe to our Tiktok!