Pinoy Pancit Favorites
---
Pancit is a beloved Filipino food that is present in every handaan be it big or small. It's like a staple celebration food be it wedding, baptism, graduation, anniversary and most commonly  birthdays.
Perhaps this is due to its variety in terms of noodle type and the many ways you can cook it.
Ka-Cookmunity, we are pretty sure you have your favorites, but here are some pancit recipes you can try.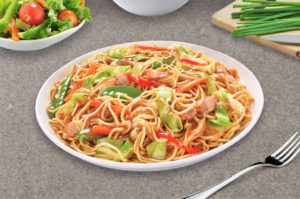 Do you prefer a saucy pancit? Try this easy Pancit Canton recipe made more delicious with SARSAYA® Oyster Sauce!
First step is to heat oil in a large pan or wok, sauté garlic and onion until fragrant. Add meat slices and sauté until lightly brown. Then add water and pepper. Bring to a boil and simmer until meat is tender. Add pancit canton, chicharo, carrots, bell pepper, and cabbage then cook for 5 minutes. You may cook the noodles and vegetables separately to avoid overcooking.
Next step is to add SARSAYA® Oyster Sauce, this will make the pancit more special since it has a delicious blend of real oyster extract and spices. Mix well until the noodles are well coated.
Finally, transfer pancit into a serving plate.
Enjoy!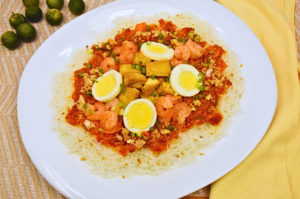 Try this Pancit Palabok recipe using bihon noodles instead of the thick ones.
In a pot, boil water and atsuete seeds for 5 minutes. Strain and discard seeds, add AJI-NO-MOTO® and fish sauce then simmer for 3 minutes. Use annatto seeds with lye water for easier color extraction in water.
On a separate pot, heat oil. Sauté garlic, ground pork, and tinapa, add the atsuete mixture, and let it boil for 3 minutes. Combine cornstarch and water then pour in the pot. Mix and simmer for 3 minutes or until the sauce thickens. Set aside.
On a serving plate, assemble noodles and add the sauce mixture. Top with tofu, chicharon, shrimp, egg, spring onion, and toasted garlic.
Serve and enjoy!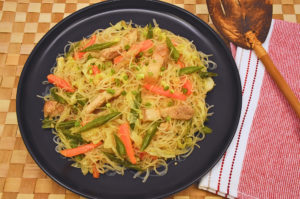 Pancit without using soy sauce? Yes, it is possible with this Pancit Puti recipe! Prepare this yummy & savory dish with 4 easy steps.
First step is stir-fry. In a pan, heat oil then stir-fry onion and garlic until fragrant. Add pork and cook until golden brown. Mix-in carrots and Baguio beans then stir-fry for another 1 minute. You can add other types of vegetables you prefer for a more colorful and nutritious dish.
Second step is boil & mix. Add water and fish sauce then bring to a boil. Add pancit bihon and cook until tender, then add cabbage and mix well.
Third step is season. Put AJI-NO-MOTO® to bring out the savory-deliciousness of the dish and black pepper. Mix until well-incorporated.
For the fourth and last step – serve. Transfer to a serving platter and sprinkle with spring onions (optional). Enjoy!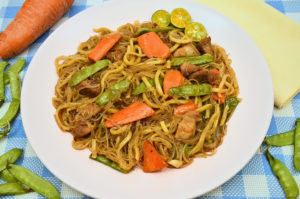 Miki or bihon? Can't make up your mind? Why not put both and try this super easy and delicious recipe – Pancit Miki Bihon!
So easy to prepare.  First, heat oil in a pan. Sauté pork until light brown. Then, add onion and garlic and cook until fragrant. Add carrots and sitsaro, mix well. You may add more kinds of vegetables if you prefer.
Next, pour in water and let it boil. Add in the miki noodles and bihon then let it simmer until the noodles are cooked. You can use dried pancit miki if fresh is not available. Did you know that pancit bihon and miki noodles are a great source of Carbohydrates which gives energy to the body?
Then let's season, add pepper, SARSAYA® Oyster Sauce for the sweet and salty taste, and soy sauce, mix well until noodles are well-coated.
Lastly, transfer the pancit on a serving plate, sprinkle with spring onions and place calamansi on the side.
Be it a celebration or simply just a craving, whip up your favorite pancit at home deliciously with either  AJI-NO-MOTO® Umami Seasoning Mix or SARSAYA® Oyster Sauce.
Discover other pancit recipes and Pinoy favorites at Cookmunity by Ajinomoto Philippines or like and follow our Facebook Page to learn more!