Recreate your restaurant cravings at home with Chef Sau's recipes
---
Craving for a restaurant-style dish that you can easily make at home? Impress your family with these easy and affordable recipes by the amazing and ever-talented, Chef Sau del Rosario! Try this crunchy Prawn Rebosado, made more malinamnam with AJI-NO-MOTO® Umami Seasoning and this savory-sweet Asian-Style BBQ Chicken, na mas pinadali at mas pinasarap ng SARSAYA® Oyster Sauce.
Born and raised in Pampanga, the culinary capital of the Philippines, Chef Sau has ventured far and wide to chase his dreams in the early 1990's as the third-generation chef of his family. This French-trained chef has continued to expand and explore his culinary skills abroad and locally. Even amidst the pandemic, he opened Café Fleur right at the heart of Makati, in Barangay Poblacion. Originally located in Pampanga, he established a branch in Metro Manila to introduce his latest concept on Filipino-International cuisine inspired from his previous travels, his signature dishes from his previous restaurants, and most especially, his mother's cooking. He opened Café Fleur to honor his mother, with the design and concept to resemble his home and his childhood.
Ever since becoming a chef, Chef Sau has always been promoting Filipino cuisine and continues to use local ingredients. Instead of creating Filipino-fusion dishes, he incorporated techniques he's learned throughout his culinary career without changing the recipes. With these in mind, he developed Prawn Rebosado and Asian-Style BBQ Chicken for us to easily recreate and enjoy at home! Now let's get down to the recipes.
Prawn Rebosado, or Camaron Rebosado, is a Spanish-inspired Filipino dish. This dish is originally, Gambas Rebozadas from Spain, which literally means "battered prawns." It is a deep-fried saffron-battered shrimp. As for Camaron Rebosado, the prawns are first marinated with a citrus fruit (calamansi/lemon) and salt before coating with the batter. This dish is usually partnered with a sweet & sour sauce. Now, let's try making Chef Sau's Prawn !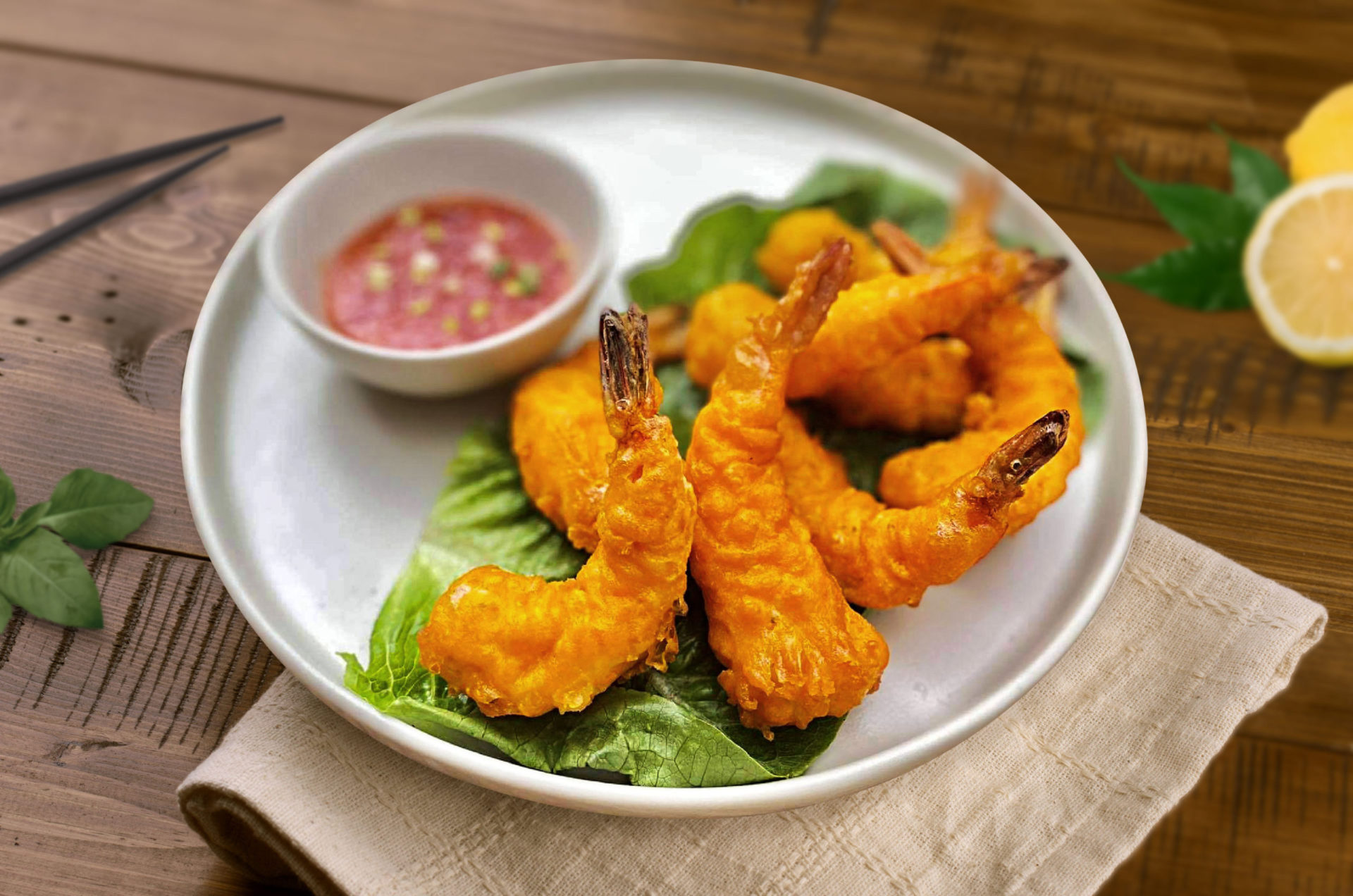 First, season the prawns with lemon juice, salt, and pepper. Prawns contain a good amount of Zinc that aids in wound healing. Make sure that the prawns are fresh, peeled with the tail still intact, and deveined. Set these aside and then prepare the batter mixture. In a bowl, combine baking powder, rice flour, water, egg, AJI-NO-MOTO®, and fish sauce. Mix well until well-incorporated and no lumps. The batter mixture uses rice flour to get that extra chewy texture while the baking powder helps give a puffier look and lighter texture of the rebosado.
Now to deep-fry the rebosado, dip the prawns in the batter mixture and then drop it in heated oil at 180°C. The umami taste of fresh prawns combined with AJI-NO-MOTO® Umami Seasoning from the batter mixture will create synergistic effect that makes the dish more flavorful because AJI-NO-MOTO® enhances the natural taste of fresh ingredients. Here's a tip when frying, make sure not to overcrowd the pan and stir to avoid sticking. Overcrowding will lead to lowering of the temperature of the oil that will reduce the crunchiness of the rebosado. Fry the prawns until golden brown and make sure to remove excess oil using a strainer or colander. Transfer to a plate, then serve and enjoy!
On to the second recipe, Asian-Style BBQ Chicken. The dish uses 7 ingredients, which are most likely already in your pantry. It has a balanced blend of sweet-salty-umami taste that goes wonderfully with Chicken BBQ na syempre, mas pinasarap with SARSAYA® Oyster Sauce. Asian BBQ are cooked with a wide variety of condiments that gives much variation in flavor and aroma.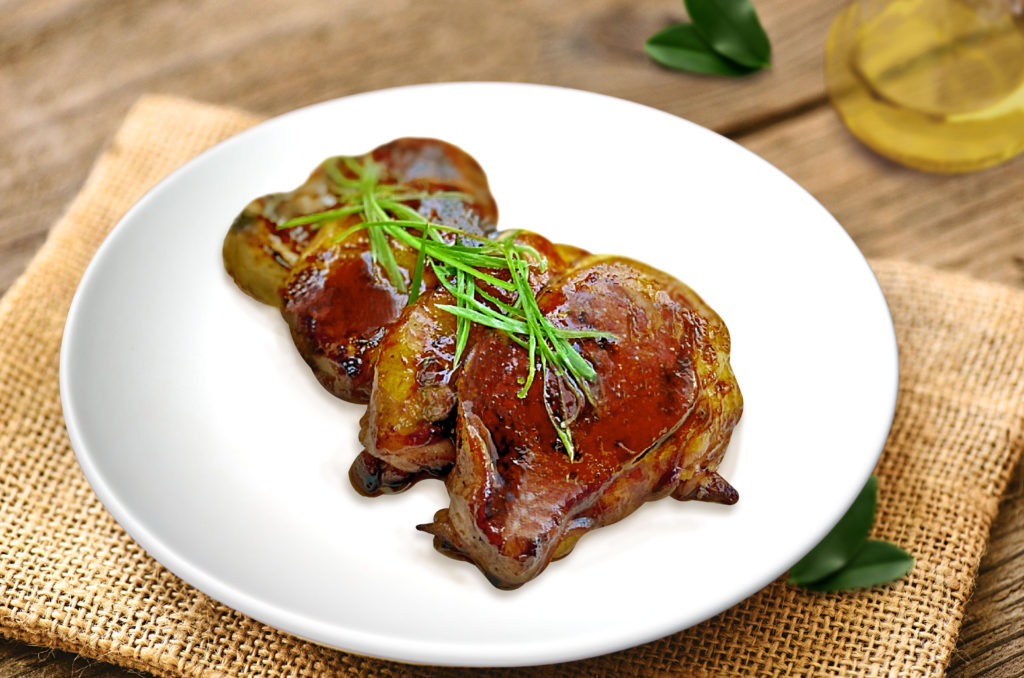 To start, marinate the boneless chicken. If chicken pieces are not uniform in thickness, you may tenderize or pound the meat to get even thickness. This ensures that when grilling, all parts of the chicken is cooked evenly. Chicken is a good source of Protein and essential for building and repairing muscles. Now to prepare a delicious, marinated chicken, in a bowl, combine chicken, SARSAYA® Oyster Sauce, catsup, soy sauce, brown sugar, and vinegar. Mix well then marinate overnight. SARSAYA® Oyster Sauce adds that rich sweet, salt, and oyster taste that helps balance the flavors of the dish.
Next, grill marinated chicken on both sides in a heated grill pan with oil. Some cooking tips to prevent your marinated chicken from burning or drying out:
Make sure to control the heat when necessary. Ideally, cook the chicken at medium heat.
Occasionally baste chicken with oil or the excess marinade mixture to keep it moist.
In basting using the excess marinade, make sure to do so at the latter part of the cooking.
Burnt marinade gives a bitter taste, plus it's not good for the health as it may contain carcinogens, a possible cancer-causing substance. You may also grill the chicken on a charcoal grill which uses lesser oil, hence, lesser fat intake. Transfer to a plate then serve with hot steamed rice.
For updates on new recipes and blogs, come visit and follow our Facebook Page Cookmunity® by Ajinomoto Philippines.