Swak Sa Budget Yummy Filipino Dishes
---
"Ang mahal!" With the increasing prices of goods because of inflation, talagang mapapaisip ka kung anong pwede mong lutuin na masarap, masustansya, at syempre 'yung abot-kaya. Ka-Cookmunity®, don't worry because we have just the right recipes for you!
Ensaladang Kangkong at Itlog na Maalat
Looking for an alternative way to enjoy kangkong? How about making your own ensalada? Tapos lalagyan mo ng itlog na maalat, at syempre hindi mawawala ang AJI-GINISA® Flavor Seasoning Mix. Aba'y panalo!
First, heat water until it's boiling then blanch or quickly cook the kangkong for 1 minute. Place the kangkong in an ice bath to prevent it from overcooking. Transfer to a plate then set aside.
Prepare the dressing by mixing vinegar, sugar, and AJI-GINISA® in a bowl. No need to add garlic and onions because AJI-GINISA® provides the ginisa taste of garlic and onions with the right balance of spices and meatiness. Drizzle this mixture into the kangkong then top with sliced tomatoes and salted egg. This dish is a good source of Vitamin A that aids in boosting immunity and healthy skin. Healthy Pinoy Salad Sarap!
Sinabawang Mais sa Malunggay at Kamatis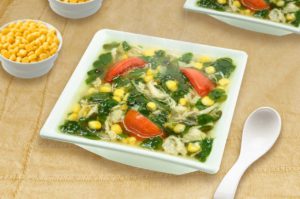 Here's a hearty vegetable soup that's rich in Fiber which helps in digestive problems like constipation. It's also low in sodium, thanks to AJI-NO-MOTO® Umami Seasoning because it contains 1/3 sodium versus regular salt. With easily accessible and affordable ingredients, kaya mo 'to, ka-Cookmunity®!
First, sauté onion, garlic, and tomato until soft and fragrant. Add corn, shredded chicken breast and chicken stock or water then bring to a boil. You can use white or yellow corn, just make sure that these are fresh. To check for freshness, make sure that the husk is bright green and wrapped tightly against the corn. The kernels should also look plump and not wrinkled.
Season with salt, ground pepper, sugar, and AJI-NO-MOTO® for that added savoriness and it also enhances the natural flavors of the ingredients. Mix well then add the malunggay leaves. Transfer to a bowl then serve and enjoy!
In these trying times, it's important that we prepare our food at home para mas affordable while ensuring deliciousness and nutrition for the family.  Kayang kaya nating maging mapamaraan at masinop sa ating budget mga ka-Cookmunity®. Let's always remember to Eat Well, Live Well.
For more updates, come visit our Facebook Page, Cookmunity by Ajinomoto Philippines!