Turn to a New You with this Happy and Healthy Menu
December 28, 2021 7:06 am
---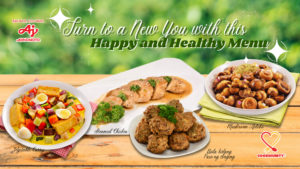 It's New Year! Let's celebrate another opportunity for us to be better, happier, and healthier! As we look back what happened in the past year, try to ask yourself, "Did I take good care of my body by making healthy food choices? If you struggled to answer that question affirmatively, then we hope this article will help inspire you to make healthier choices this 2022. We'd like to introduce you to new recipes that will give you a healthier alternative to the usual dishes that you serve.
Let's start with Steamed Chicken. This dish has lesser fat than common chicken recipes because you can cook it without oil or butter. Steaming the chicken will not use any added fat; therefore, you won't need to worry much about its fat content. Of course, Sarsaya® Oyster Sauce will add flavor and deliciousness to this recipe. To prepare, completely combine SARSAYA®, ginger, garlic, sesame oil, salt and pepper. Add the chicken and marinate for at least 30 minutes or overnight and set aside. On an aluminum foil, wrap the marinated chicken with cilantro leaves and sesame seeds on top. Wrap securely so the juice will not drip during cooking. Steam for at least 15 minutes or until chicken is cooked. Click here to watch how to cook this recipe.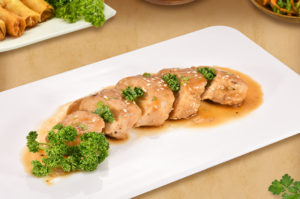 The next dish is a popular international dish but made healthier by turning the classic Chicken Curry to Vegetable Curry. With just tofu and vegetables, this dish will still taste meatier with the help of AJI-GINISA® Flavor Seasoning Mix. To make this healthy veggie dish, sauté onions, garlic and ginger. Add annatto powder and mix well. Sauté in carrots and bell peppers. Add water, curry powder, laurel leaf and AJI-GINISA® and bring to a simmer. Add sayote and eggplant then simmer again or until vegetables are almost cooked. Mix in coconut cream and fish sauce. Combine well and continue simmering until coconut cream thickens. Stir in boiled potatoes and kamote and simmer. To serve, pour into individual bowls and top with fried tofu and quail eggs. Click here to watch how to cook this recipe.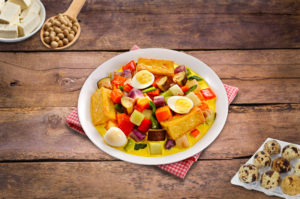 Up next is a gulay recipe – Bola-bolang Puso ng Saging. Hindi nito bobolahin ang iyong puso because it surely is a good-for-the-heart version of our favorite street food bola-bola. Consuming fiber-rich foods like banana heart helps us reduce risks of having heart diseases. Preparing puso ng saging might seem complicated to do, but it's not. Make sure to follow these steps to cook this dish. First, combine water and salt in a bowl and add puso ng saging. Let it sit for 10 minutes or until needed. Wash and squeeze well to get rid of the bitter sap inside, then discard the liquid. In another bowl, mix well garlic, red onion, eggs, all purpose flour and puso ng saging. Season with AJI-GINISA® Flavor Seasoning Mix, mix well and form into small balls. Deep-fry the balls until brown in color. Click here to watch how to cook this recipe.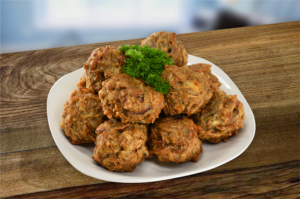 The fourth dish is Mushroom Adobo, a new take on the classic Pinoy dish – Adobo. Although it's not the Adobong baboy or the Adobong manok recipe that we are familiar with, this adobong gulay recipe will surely be delicious and flavorful with the help of AJI-GINISA® Flavor Seasoning Mix. Like any other adobo, cooking Mushroom Adobo is quick and easy. But first, ensure that your fresh mushrooms are firm, dry, and unbruised. Avoid mushrooms that appear slimy or withered. To cook, sauté mushroom in oil until lightly brown. Then, sauté in the onion and garlic. Pour in soy sauce, sugar, bayleaf, and vinegar. Make sure that you do not stir. Let it simmer until sauce is reduced. Season this with AJI-GINISA® Flavor Seasoning Mix. Click here to watch how to cook this recipe.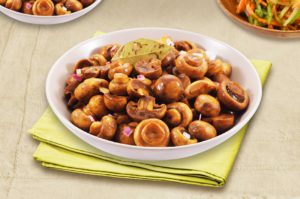 These four (4) healthy and enjoyable recipes are only starters to help jumpstart your journey to be healthier and happier. Why not find your favorite classic recipes at home and turn them into something new. Make some twists, create its healthier version, and serve your own healthy menu made more exciting and delicious with Ajinomoto. Happy New Year, mga ka-COOKMUNITY®!
For more recipes and blogs, follow our Facebook Page Cookmunity® by Ajinomoto Philippines.