Easy Asian Recipes to satisfy your quarantine cravings
September 10, 2021 1:36 pm
---
Let's admit it, we miss traveling! We can only imagine going to unfamiliar places with our favorite and important people, taking pictures at tourist spots and let's not forget tasting the local cuisines. In this pandemic, it's safer to just relax and stay at home. But when cravings come by, the best way to satisfy this is to cook it at home! We've got some easy Asian recipes made by Chef Nathaniel Uy to help your inner wanderlust just enjoy Asian flavors at the comfort of your home.
Chef Nathan is an "instablogger" also known as @thehungrychef in Instagram. He is one of the owners of MeatSumo Premium, a Korean BBQ Style Restaurant that sells both Korean and Japanese food. He also has his own home-based commissary which is famous for their homemade Moon cakes. Processed meats, food trays, and other food products are also available depending on his customer's needs and requests. Aside from his businesses, he has experience in teaching culinary courses to high school students as well as being a creative consultant for a few restaurants.
Chef Nathan first graduated in 2008 at De La Salle University Manila with a bachelor's degree in Organizational Communication. While his burning passion for food remains, he enrolled in the International School of Culinary Arts and Hospitality Management (ISCAHM) of which he graduated as third honor and bagged a bronze medal in an in-school competition. He also finished a Restaurant Entrepreneurship course at the same school in 2013. To expand his knowledge and skills in cooking and baking, he attended multiple short courses from different institutions and chefs. And now, he has developed some Asian dishes that are easy and affordable that will make you feel like you traveled around Asia!
Enjoy the taste of Bangkok by making this chicken recipe, Pandan Chicken made more mouthwatering with SARSAYA® Oyster Sauce and AJI-GINISA® Flavor Seasoning Mix. This dish is a popular appetizer in most Thai restaurants around the world. It is usually served with a sweet and salty soy sesame dip to complement the subtle taste of the chicken. But for Chef Nathan's version, he used SARSAYA® Sweet and Sour Sauce that has the perfect blend of sweet and sour tastes from pineapples and tomatoes. This dish is a good source of Protein that promotes muscle building, and Niacin that aids in normal functioning of the brain.
To make Pandan Chicken, first combine boneless chicken pieces with SARSAYA® Oyster Sauce, AJI-GINISA®, water, sugar, ginger, garlic, and soy sauce. You can use thigh chicken fillet or breast fillet in this recipe. Leave the chicken to marinate overnight. Marinating will help infuse the chicken with the rich "oyster taste" from SARSAYA® Oyster Sauce and make the chicken meatier with the perfect blend of onion, garlic, and meat extracts from AJI-GINISA®. Next is to wrap the chicken carefully in pandan leaves. You can use a toothpick to secure the pandan leaves in place. Then, heat oil in a pan. Deep-fry the chicken pieces until pandan leaves are crispy and chicken is cooked through. Drain excess oil using a strainer or colander. Serve Chicken Pandan with a side of SARSAYA® Sweet and Sour Sauce .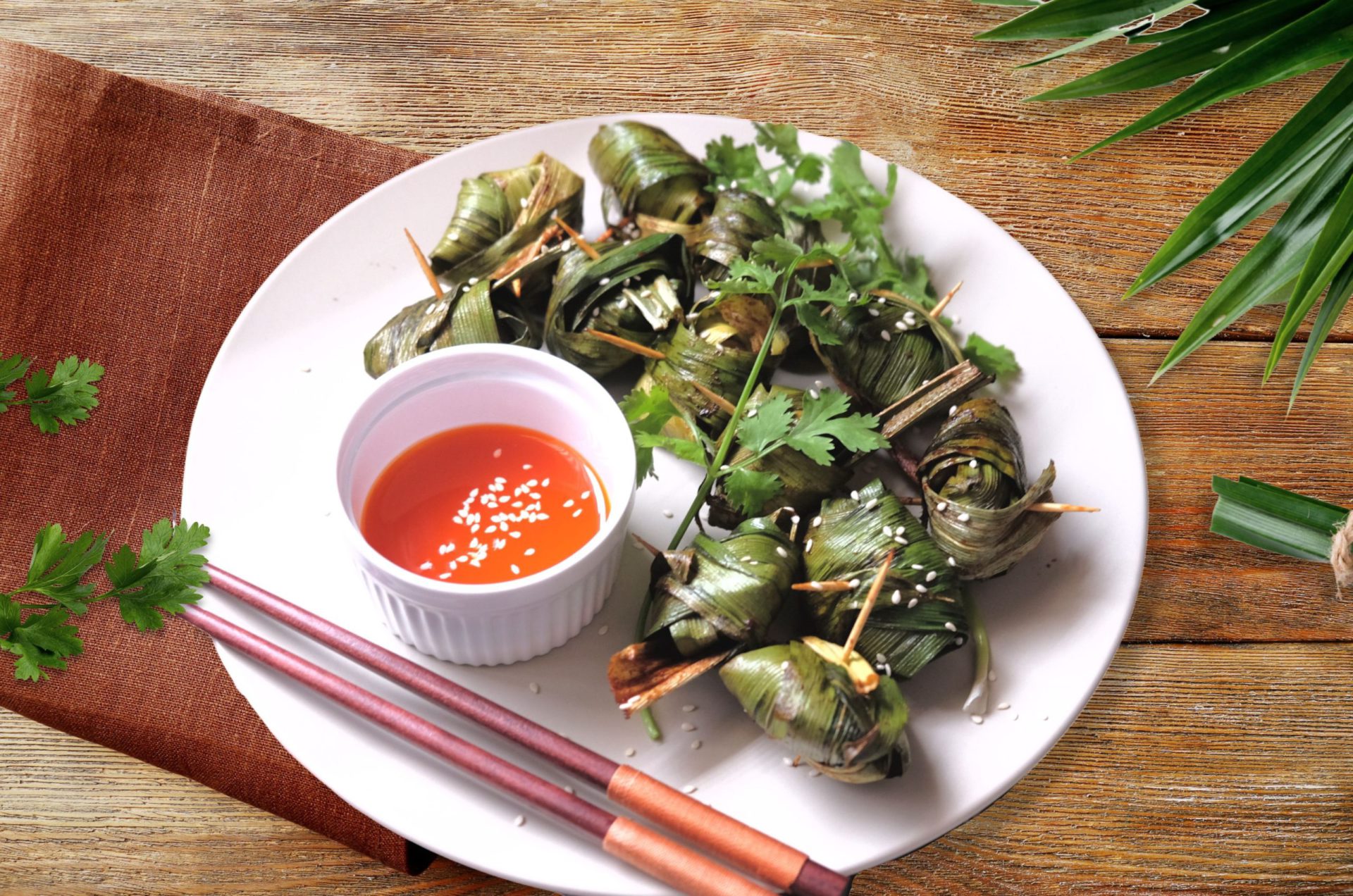 Here's a simple Chinese dish that serves as a main dish in Chinese feasts, a whole steamed fish. This recipe is based on a Cantonese-style steamed fish that uses soy sauce dressing with some aromatics like ginger and garlic. Steaming maximizes the use of the natural flavors of the fish so make sure to get fresh fish when steaming. To know if the fish is fresh, the eyes should be clear and not dull or bloody. Gills should be bright red, and flesh should be firm to the touch. For Chef Nathan's recipe, he uses fresh pompano that is rich in Omega-3 Fatty Acids which help decrease the risk for heart diseases.
To make Chinese Style Steamed Fish, first season the fish with AJI-NO-MOTO® Umami Seasoning and rice wine. AJI-NO-MOTO® will help release the natural flavors of the fish and amp up the umami-goodness of the dish. And then, place ginger and green leeks inside the fish. Set aside for a few minutes. Next is to place the fish on a plate then place it inside the steamer to cook for 10 minutes. The plate will help catch the liquid from the fish. While the fish is steaming, prepare the sauce by combining SARSAYA® Oyster Sauce, water, soy sauce, sugar, grated ginger, white leeks, and garlic in a saucepan. SARSAYA® Oyster Sauce contains real oyster extract that will blend well with the other ingredients. Bring this to a simmer then add sesame oil and stems of the cilantro. Once 10 minutes has passed, remove the fish from the steamer then pour the prepared sauce. Place the fish back into the steamer and cook for another 10 minutes or until fish is cooked through. Remove from the steamer then garnish with cilantro leaves. Enjoy with a cup of hot steamed rice.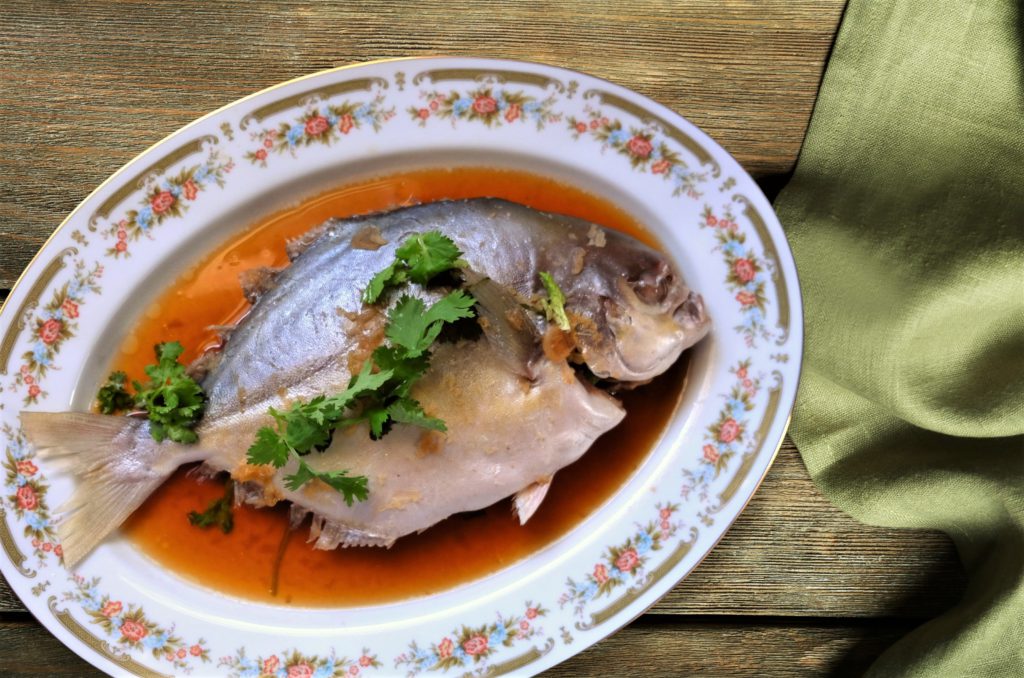 Last stop is Korea! With the Filipinos' love for Korean culture, we get interested with the food we usually see in Korean Dramas. Here's an easy Korean dish that will make you feel you're in a K-Drama, the classic Kimchi Fried Rice! Kimchi is a spicy fermented napa cabbage, a favorite among Koreans that completes their meals. Kimchi Fried Rice usually makes use of leftover kimchi that has aged or fermented quite a bit longer and has a stronger sour taste and a more pungent smell which is perfect for cooking kimchi dishes such as kimchi stew or this Kimchi Fried Rice recipe.
To make Kimchi Fried Rice, melt butter in a pan then sauté bell pepper, onion, kimchi, and gochujang. Kimchi and bell peppers contain vitamin A which is essential in maintaining good eyesight. Add in the cold cooked rice and mix well, while making sure that each grain of rice is covered in the red gochujang sauce. Season with AJI-SHIO® Garlic Seasoning Mix, which provides the true taste and aroma of fresh garlic with the right balance of saltiness and savoriness. Transfer Kimchi Fried Rice to individual bowls then top with fried sunny side-up egg. Serve and enjoy while watching your favorite K-Drama!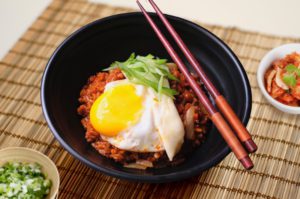 For updates on new recipes and blogs, come visit and follow our Facebook Page Cookmunity® by Ajinomoto Philippines.