K-Inspired Budget Friendly Home Cooked Dishes
---
Annyeonghaseyo ("Hello" in Korean) Filipinos are such a huge fan of K-Dramas, K-Pop, K-Barbecue, K-everything! We are so into it that Korean culture and Korean food is becoming a part of our daily lives. As much as we'd like to eat at Korean restaurants or Korean Barbecue places, it's too expensive, especially with our current situation due to inflation.
But how about making Korean food at home? You'll be surprised how easy it can be not to mention more affordable too compared to dining-out with the right Ajinomoto® product to cook.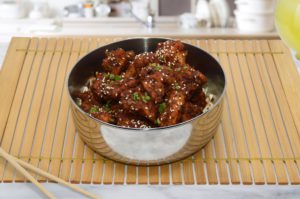 What makes Korean-Style Fried Chicken special is the spicy umami sauce wrapped all-over the EXTRA crunchy fried chicken thanks to CRISPY FRY® Batter Mix for a thicker and fuller coating! It's easy and budget-friendly because you only need a few ingredients.
To make this recipe, first prepare the CRISPY FRY® Batter Mix by mixing the batter pack with ½ cup of water then transfer the breading pack to a plate or bowl. Coat each chicken breast pieces in the batter mix then roll evenly one by one on the breading. For easier coating, use one hand to dip the chicken into the batter and use your other hand to coat the chicken with the breading. Deep-fry each chicken piece in a heated pan with oil until golden brown and crispy. Drain excess oil using strainer or colander.
To make the spicy sauce, melt butter in a wok. Add the dried chili flakes, ginger, garlic, Korean red chili paste ("gochujang"), ketchup, soy sauce, and sugar. Mix well and simmer until sauce has thickened. Add the chicken pieces then toss well to coat. This recipe is a good source of Vitamin B3 and B12 that helps maintain healthy blood and nerves.
Transfer to a bowl then garnish with toasted peanuts, sesame seeds, and spring onions. Serve and enjoy! Bab Meokja! ("Let's eat" in Korean)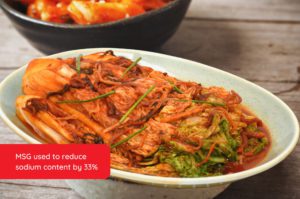 Kimchi is a staple Korean side dish. Here in the Philippines, we can get these in our local supermarkets or in Korean stores. Although some might say it takes too much time and effort to make it yourself, but it's actually not too tedious to prepare and mas makakatipid ka pa! Plus, kimchi is good for maintaining a healthy gut because it contains Dietary Fiber and probiotics or good bacteria.
First, rub salt on the leaves and white stems of Napa or Chinese cabbages. Let it rest for an hour or until the cabbage leaves are soft. Don't forget to wash the excess salt after the leaves have softened.
To make the kimchi paste, in a saucepan, add water, rice flour, garlic, ginger, sugar, fish sauce, Korean red chili flakes ("gochugaru"), and AJI-NO-MOTO® Umami Seasoning for that savory-goodness. Mix then let it simmer until slightly thick. Transfer to a bowl then add radish and onion leeks. Mix well.
Using clean hands, rub the kimchi paste on each cabbage leaf. You can also use clean rubber or plastic gloves to avoid discoloration of your fingers. Transfer the kimchi in a clean plastic or glass container, then cover at room temperature for 24-72 hours to let it ferment. You'll know that the kimchi is fermenting if the kimchi liquid contains bubbles and there is a strong sour smell. The longer the fermentation, the stronger sour taste it gets. Slice the kimchi into bite-size pieces then serve together with your favorite main dish, or even with just rice and seaweed wrapper. Mmm, Massiseo (delicious in Korean)!
With Ajinomoto®, you can enjoy your favorite Korean dishes ate the comfort of your home without making dent on your budget!
For more recipes and updates, like and follow our Facebook Page, Cookmunity by Ajinomoto Philippines!