4 Nutritious and Delicious Budget-Friendly Meals Perfect for Family
---
As moms, we only want what's best for our family and that includes providing not only delicious but also nutritious meals for them. Since market prices have been on the rise, it's becoming a big challenge for moms to come up with yummy and healthy dishes at home without breaking the bank.
Don't you worry, mommies! Here at Cookmunity® we got you covered with swak na swak sa bulsa recipes you can recreate from your own kitchen at the price of no more than P150 pesos. O diba? Budget-friendly na, masarap pa, at pinasustansya pa with its well-balanced composition of the right amount of nutrients your family needs to stay healthy.
Check these 4 nutritious and affordable fish and vegetable recipes perfect for mealtimes at home.
Who says Tempuras are strictly made with shrimp? This Fish and Vegetable Tempura will prove you wrong with its umami linamnam and delicious taste, thanks to AJI-GINISA® Flavor Seasoning Mix. Once you try and recreate this at home, it will surely become a house favorite! Sa halagang P105 pesos, abot-kaya ang sustansya! Expose your kids to more fish and veggies recipes and try to encourage them to eat these types of dishes frequently. Fish and Vegetables are rich in essential Vitamins and Minerals to help maintain optimal health.
To cook this dish, season the sliced carrots, eggplant, potato, and tilapia with AJI-GINISA® then set aside for 5-10 minutes to let the veggies and fish absorb the seasoning.
For the batter mixture, combine flour, cornstarch, salt, egg, and cold water. Mix gently until batter is a little lumpy. Using a mixture of ice-cold water and cornstarch will help achieve a crispier coating of the tempura.
Next, in a casserole with heated oil, dip the sliced veggies and fish into the batter mixture then fry the tempura until golden brown and crispy. Avoid overcrowding the casserole to prevent the tempura from sticking together and reducing the risk of a soggy tempura. Don't forget to drain the excess oil using a strainer or colander to cool the tempura. Serve and enjoy!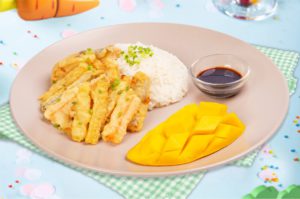 Tofu is an excellent source of high-quality protein which is essential for muscle growth and development. So, if you want to consume an adequate amount of protein in your diet but find meat prices to be a little too over the budget, try switching to tofu! However, cooking plain tofu may not be as appealing especially for kids so why not make it into something more fun and exciting like this Tokwa Bites recipe using AJI-NO-MOTO® Umami Seasoning.
Here's how you can recreate this dish from home. First, combine malunggay, squash, tokwa, onion, cornstarch, breadcrumbs, salt, pepper in a bowl and add AJI-NO-MOTO® to enhance the savoriness of the dish.  Mix well and make sure to drain the excess liquid from the tokwa first before mixing it with the other ingredients.
Form the mixture into balls or any shape you prefer to unleash your creativity! And then, fry the tofu in a pan until golden brown. For a crispier texture, you may add more breadcrumbs to the mixture.
Pancake pero gawa sa gulay? Kakaiba pero masarap, masustansya, at mura pa sa halagang P95! Especially when you tak-tak-tak AJI-NO-MOTO® Umami Seasoning for that added savory goodness to your Cabbage Pancakes. At alam niyo ba, cabbages are rich in Dietary Fiber which aids in normal bowel movement para iwas sakit sa tiyan ng mga chikiting.
To make the batter mixture, add flour, egg, and milk in a bowl. Mix well then set aside. On a separate bowl, combine the shredded cabbage, carrots, onion, garlic, kinchay, salt, pepper, and AJI-NO-MOTO®. Mix the vegetable mixture into the batter until well-coated.
In a pan, heat oil. Fry ¼ cup of the mixture then flatten like a pancake. Cook until golden on both sides. You may cover the pan to create steam that helps cook the pancakes easily. Set aside.
To create the sauce, melt butter in a pan then mix in flour until golden. Slowly pour in milk to avoid a lumpy texture. Season with salt and garnish with kinchay leaves. Pour the sauce to the pancake then serve.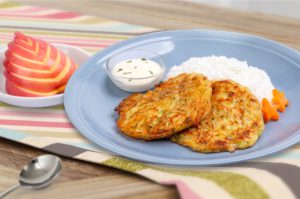 Mommies, do you have kids who are not a fan of veggies but a huge lover of burger? This Monggo Burger recipe that's made meatier at ginisarap with AJI-GINISA® Flavor Seasoning Mix is our recommended dish for you! Aside from meat and tofu, monggo beans are also a good source of Protein. Kasing sustansya ng karne, pero di kasing mahal. With only P95, you can serve your family a nutritious and delicious burger.
To make the monggo patties, combine boiled monggo beans, onion, garlic, egg, flour, pepper, salt, and AJI-GINISA®. Mix well then form into patties. You may place them in the freezer for 30 minutes before frying to help maintain their round shape.
In a heated pan with oil, fry each patty for 2-3 minutes on each side or until golden brown. To assemble the burger, spread mayonnaise on each side of the burger bun then add the lettuce, cucumber, tomato, and the monggo patty. Mukha talaga siyang totoong meaty burger!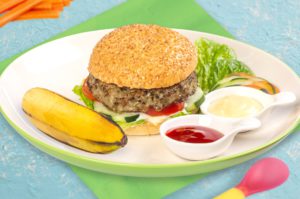 Make your meals more delicious, nutritious, and affordable with these budget-friendly healthy recipes. Like and visit our Facebook Page, Cookmunity by Ajinomoto PH for more updates. Check out and subscribe to our Tiktok!