Meatless Family-Pleaser Meals for Lent
---
We can enjoy delicious food without the guilt during the observance of the Lenten season through these meatless recipes that the family can enjoy and even the kids will be pleased.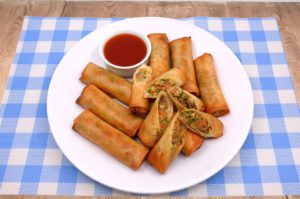 In making spring rolls, instead of ground pork, why not replace it with fish like this Tinapa Spring Roll recipe!
First, combine flaked galunggong, onion, carrot, spring onion, garlic, egg, pepper, and AJI-NO-MOTO® Umami Seasoning for that linamnam sarap. You can use any kind of tinapa that is available but for this recipe, we used galunggong that's rich in Protein and Calcium that helps maintain healthy muscles, bones, and teeth.
Stir the mixture until well-combined then scoop a tablespoon of the mixture on a lumpia wrapper. Roll and wrap, then seal the edges with water. In a pan with heated oil, fry the lumpia until golden brown and crispy. Drain excess oil using a strainer or colander. Transfer to a serving plate and enjoy!
You can place the uncooked spring rolls in the freezer for a longer shelf-life (up to 3 months). Make sure to thaw at room temperature for at least 15 minutes before frying.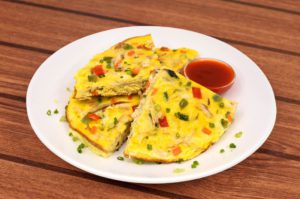 Here's a great way to use leftover fish and turn it into a new dish for the family.  Not only have you created a new recipe for them to enjoy, you also contribute to lessening food waste.
First step is to beat the eggs. Add in a bowl for enhanced savoriness. Set it aside.
Next, heat oil in a pan. Sauté onion and garlic until fragrant then add carrots and bell pepper. Mix in the flaked galunggong then distribute the ingredients equally on the pan. Galunggong contains Omega-3 Fatty Acids that can help improve heart's health.
Pour the egg mixture then mix well, while making sure to distribute the ingredients evenly into the pan. Cover and lower the heat to avoid the bottom from burning. Covering the pan helps to cook the top layer faster by steaming. Let the torta cook until firm but not dry.
Once done, slice the torta onto a plate then garnish with spring onions. Serve and enjoy!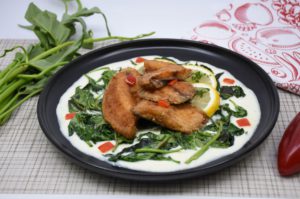 Tilapia Florentine, sounds fancy? But cooking ala Florentine only means to serve the protein with spinach and creamy white sauce with cheese. For this recipe, we used fish. And what better way to make this dish taste more scrumptious is by adding CRISPY FRY® Fish Breading Mix and AJI-GINISA® Flavor Seasoning Mix!
To make this dish, first coat the tilapia fillet with CRISPY FRY® Fish. Then fry for 3 minutes on each side.. Tilapia is a good source of Selenium, a mineral that plays a role in the prevention of cancer, heart and thyroid disease, and cognitive decline.
To prepare the Florentine sauce, sauté garlic in a pan with heated oil. Add red bell pepper and kangkong leaves, or water spinach in English. Cook for a minute or until the leaves have wilted. Add cream cheese, milk, and cornstarch-water mixture. Lower the heat to avoid the milk from curdling which can result to a grainy texture and appearance. Season with AJI-GINISA®, for added garlic and onion taste, and black pepper. Mix then let it simmer until the sauce has thickened.
To serve, pour the sauce onto a serving plate then arrange the fish on top. Serve with a lemon wedge on the side and enjoy!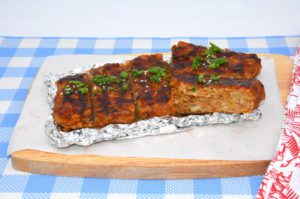 Ano pa ba pwedeng gawin sa langka bukod sa ginataan? Have a go at this game-changing Roasted Jackfruit recipe na mas ginisarap with AJI-GINISA® Flavor Seasoning Mix! And did you know that jackfruit is a great source of Potassium – an electrolyte that helps in muscle contraction and cramps prevention.
Prepare by sautéing the sliced unripe jackfruit in a pan with heated oil. Add water, barbecue sauce, salt and AJI-GINISA®. Cover and cook until tender and most of the water has evaporated. Shred the jackfruit to resemble shredded pork texture. You may also remove the core and seeds of the jackfruit for a more meat-like appearance.
In a bowl, combine flour, egg, cooking oil, paprika powder, soy sauce, and brown sugar. Mix well then add the shredded jackfruit. Mix then mold this mixture into 2 thick rectangles, similar to pork ribs. Wrap in foil or wax paper for easier molding. You may opt to chill for at least an hour for a more compact and stable shape before grilling.
Grill the jackfruit spareribs in a griddle pan with oil. Cook for 3-4 minutes on both sides then brush with barbecue sauce. Cook for another 1-2 minutes on each side or until slightly charred.
Slice the ribs into serving pieces then transfer to a plate. Serve and enjoy!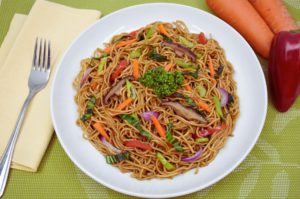 In a wok or pan, heat oil. Sauté onion, celery, and garlic until fragrant. Add the sliced vegetables (mushrooms, carrots, bell pepper) then stir-fry for 2-3 minutes. Add water then let it simmer. Add the egg noodles then cook until softened and most of the water has dried out. Add bok choy then mix for a minute. You can also cook the vegetables and noodles separately to avoid the vegetables from overcooking and keep their vibrant colors.
Next, season with AJI-GINISA® Flavor Seasoning Mix, soy sauce, brown sugar, sesame oil, and pepper. Stir-fry until the noodles and seasoning are well combined. AJI-GINISA® Flavor Seasoning Mix will provide balanced meaty stir-fry deliciousness to this dish!
Transfer the noodles onto a plate then garnish with leeks (optional). Serve while hot. Adding a variety of colorful vegetables to chow mein or stir-fried noodle recipes adds a variety of antioxidants that help protect against sickness. This recipe gives you the same great restaurant flavors, but in the comfort of your own home!
Break the cycle of the usual Lenten food during this time of the year. We hope this batch of recipes inspired you mga Ka-Cookmunity to explore and be more creative in the kitchen. Don't forget that these recipes can also be served year-round! Have a blessed Holy Week and happy Easter in advance!
For more recipes and updates, like and follow our Facebook Page, Cookmunity by Ajinomoto Philippines!