A Healthier Christmas Feast for the Family
---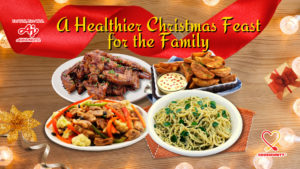 Christmas is our favorite time to bond with the family, but the pandemic still isn't over, so we must stay safe in the comforts of our home. After all, home-cooked meals are the best way to show your love this Christmas! We've got 4 dishes lined up this December for you to try that will surely capture the hearts (and stomachs) of your loved ones!
Enjoy your Christmas Feast minus the guilt by making this Malunggay Pesto Pasta made more umami-licious with AJI-NO-MOTO® Umami Seasoning. Unlike your typical pesto, this recipe contains malunggay, a green leafy vegetable high in essential vitamins and minerals like Iron, Calcium, Potassium, Vitamins A, and C that help keep the body healthy. To make this recipe, in a food processor, combine malunggay leaves, basil leaves, garlic, peanuts, parmesan cheese, olive oil, AJI-NO-MOTO®, and black pepper. AJI-NO-MOTO® enhances the natural flavors of the ingredients na talagang mas nagbibigay linamnam sa pagkain! Mix until well-combined. You may also use mortar and pestle for maximum extraction of flavor from the leaves and peanuts. You can also roast the peanuts for added flavor. Toss the malunggay pesto mixture in cooked pasta until it's well-coated. Transfer to a plate then serve!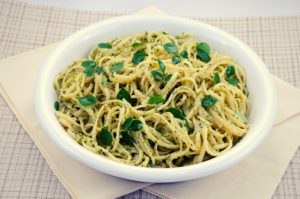 How about a simple but fancy appetizer that will surely make everyone feel special! Try this Crispy Garlic Potato Wedge recipe made crispier and garlicky with Crispy Fry® Breading Mix (Garlic). Enjoy this with homemade Bacon Aioli Dip by whisking vinegar, egg yolk, and garlic in a bowl until well-combined. Then slowly drizzle with olive oil while whisking rigorously until mixture is thick and emulsified. Make sure to pour the oil slowly while whisking or else the dip will split and not emulsify, which means that the oil will separate with the other ingredients. Add in bacon, salt, and pepper. You may use a blender or hand mixer if available. Set this aside then prepare the Crispy Garlic Potato Wedge.
Potatoes are good sources of Potassium and Vitamin B6 that supports nerve function. Coat the potato wedges in Crispy Fry® Breading Mix (Garlic). Make sure that the potatoes are dry before coating them. Deep-fry each piece in a pan with heated oil. Crispy Fry® Breading Mix (Garlic) contains the perfect blend of seasonings and starches that will give any fried dish a crispy texture and a delicious taste! Drain excess oil using strainer or colander. Transfer the potato wedges to a plate then serve with bacon aioli dip!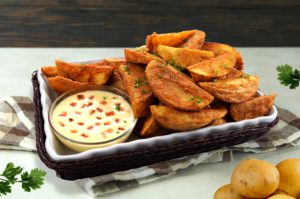 Pork Stir Fry in Black Bean Sauce
Indulge with less guilt with this healthy pinoy pork recipe Pork Stir Fry in Black Bean Sauce made meatier and with more gisa taste with AJI-GINISA® Flavor Seasoning Mix! This dish is a good source of protein that helps maintain muscle mass. In a pan, heat oil and stir-fry pork until golden brown. Then add soy sauce, onion, and garlic until fragrant. Add cauliflower, carrot, and bell peppers then sauté until al dente. Season with black bean sauce (tausi) and AJI-GINISA® then mix well. You can mash the black beans for a better flavor. Transfer this dish to a plate then serve while hot!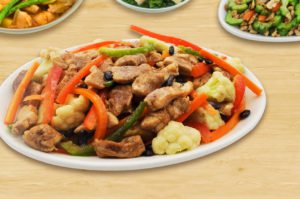 'Tis the season for seasoning! Try this flavorful Soy Garlic Chicken made with TASTY BOY® Breading Mix (Regular) to tickle your taste buds. First, dredge the chicken wings in TASTY BOY® (Regular), a budget – friendly breading mix made from high quality ingredients which makes your fried dishes tastier and crispier. Chicken wings are a good source of protein that promotes muscle growth and development. Deep-fry the chicken wings in hot oil until golden brown and crispy. Don't forget to drain the excess oil using strainer or colander to keep it crispy! We're not done yet because this is not your typical fried chicken recipe. Set this aside then prepare the soy garlic sauce. In a pan, combine brown sugar, sesame oil, water, soy sauce, rice wine vinegar, ginger, oil, and garlic. Let it simmer for 5 minutes over low heat. Toss the fried chicken wings to the sauce until chicken is well-coated. Transfer to a serving platter then enjoy while hot!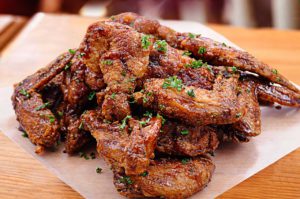 You don't need to sacrifice nutrition to make delicious food for your loved ones even during the holidays. So why not prepare these delicious and most definitely nutritious meals this Christmas time for them? Happy Holidays, mga ka-COOKMUNITY®!
For updates on new recipes and blogs, come visit and follow our Facebook Page Cookmunity® by Ajinomoto Philippines.