Start the new year right with Balanced and Healthy Meals
---
A new year means a fresh start and new opportunities. Let's have the attitude of gratitude and keep in mind to avoid setting unrealistic goals.  We're prone to aiming for unattainable body goals resulting to diet changes that do more harm than good for us not only physically but mentally as well.
This 2023, let's take it slowly but surely by practicing Ta-Ma-Sa: Tamang Dami, Mag-balanse, at Sari-sari!
As guide reference, let's take a look at Pinggang Pinoy®:
50% or half for Glow Foods aka fruits and vegetables, which are rich in vitamins and minerals that help maintain regular body functions as well as strengthen our immune system
33% or 1/3 for Go foods which are Carbohydrate-rich such as rice, root crops, bread, and pasta that fuel our body since it is our primary source of energy
17% or 1/6 for Grow foods that are Protein-rich such as eggs, meats, chicken, fish, seafood, tofu, and beans that build and repair muscles.
Here's 5 yummy recipes complete with Glow, Go, and Grow foods to help you jumpstart eating healthier this year:
Potato and Beef Layered Casserole
This casserole contains layers of beef and vegetables topped with creamy bechamel sauce that's made more mouth-watering, thanks to AJI-GINISA® Flavor Seasoning Mix.
First step is to cook the ground beef by sautéing it in a pan with hot oil. Once meat has browned, add corn kernels then season with fish sauce. Mix then set aside.
To prepare the bechamel sauce, melt butter in a saucepan. Add flour then mix until it forms into a paste or a roux. Roux is usually composed of equal parts of flour and fat or butter, but you can add more flour for a thicker sauce. Then, slowly whisk in milk. Make sure to pour the milk in batches to avoid a lumpy bechamel sauce. Mix well until it thickens and boils. Season with fish sauce then set aside.
Next step is to season the thinly sliced potatoes with AJI-GINISA®. Potatoes are good sources of Potassium that helps maintain normal blood pressure. Start layering the casserole in a casserole dish with ground beef, sliced vegetables like zucchini, tomato, spinach, and potatoes. Pour the bechamel sauce on top then add grated cheese. Make sure that the baking dish is about ¾ full to leave room for the ingredients to bubble up. If you're worried about spillover, you can place the casserole dish on a baking sheet before placing it in the oven.
Bake this in a preheated oven at 190°C (375 °F) for 30-45 minutes or until cheese has melted and vegetables are fully cooked. Remove the casserole from the oven then let it cool for 20-30 minutes. Letting it cool will let the casserole set and stable so you can enjoy a perfect slice.
Transfer a slice (around 1 cup) of the casserole onto a plate then garnish with parsley. Serve with a slice of mango for a complete meal.
Chicken & Shrimp Paella Blanca
You've heard of Spanish Paella and Paella Negra, but how about Paella Blanca? This dish contains coconut milk or gata for that creamy and rich flavor; and shrimp for a mild seafood flavor which also contains Selenium, a mineral that promotes strong immune system. This one pot dish will surely blow your mind!
To prepare, in a heated large pan, add oil then sauté onion and garlic until fragrant. Add bell peppers, carrots, sayote, and rice. Sauté for 5-7 minutes or until rice is slightly toasted.
Add white wine then let it simmer until liquid has reduced or the alcohol has evaporated. Add coconut cream, coconut milk, and chicken breast. Sprinkle AJI-GINISA® Flavor Seasoning Mix for that added garlic, onion, and meaty taste to our paella. Mix well, cover, then let it simmer on low heat for 15-20 minutes or until rice is almost cooked. To test whether the paella is cooked, use a spoon to taste a little rice from the edge of the pan – this rice will be cooked last as it's the furthest away from the heat in the centre. Add shrimp and green peas. Cover then cook for another 3-5 minutes.
For a complete meal, arrange on a plate 1 ½ cups of Paella Blanca with vegetables with ¼ cup chicken and 2 pcs shrimp (about 220 grams). Serve with a slice of mango.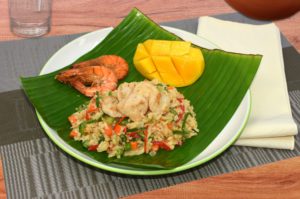 Shredded Pork in Tortilla with Salad
Looking for a light meal but still balanced? This Shredded Pork in Tortilla with Salad recipe will make you crave for more.
To make this recipe, first marinate the pork with ketchup, vinegar, sugar, Worcestershire sauce, hot sauce, and PORKSAVOR® All-in-One Seasoning Mix for a more meaty taste and added spices. Mix then marinate for at least 2 hours or overnight.
After marinating, place the marinated pork, marinade mixture, and water in a pan. Let it simmer until pork is tender and sauce is slightly thick. If pork is not yet tender, you can add more water to avoid the sauce from drying up and help tenderize the pork. You can also cook this in a pressure cooker for 20-30 minutes. Once tender, remove the pork from the pan to let it cool. Shred then mix it with the sauce. Set aside.
Next, prepare the coleslaw by combining cabbage, mayonnaise, red onion, carrot, and pickles in a bowl. Mix then set aside. Raw cabbage is a good source of Vitamin C for healthy skin and helps boost immunity.
To assemble, place shredded pork and coleslaw on a tortilla. Serve with 1 cup of baked potatoes (about 130 grams) and 5 slices of apple for a complete meal.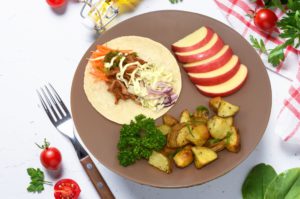 Potato & Chicken Caesar Salad with Grilled Vegetables
Here's another light but filling dish, Potato & Chicken Caesar Salad with Grilled Vegetables that's made more flavorful with AJI-SHIO® Garlic Seasoning Mix that contains the right balance of saltiness and savoriness.
To prepare the Caesar salad dressing, combine AJI-SHIO® Garlic, anchovy, mustard, mayonnaise, black pepper, and sugar in a bowl. Add the boiled potatoes, boiled chicken breast, and cucumber. Instead of boiled chicken, you can use grilled chicken for a deeper flavor. Toss until well coated then set aside in the fridge to cool.
For the grilled vegetables, grill squash, onion, and eggplant on a heated griller or griddle pan until slightly charred on both sides.
To serve, place the Caesar salad on a bed of lettuce then serve with grilled vegetables (1 1/3 cups) and a slice of mango for a complete meal. This recipe contains a great amount of Dietary Fiber that helps prevent indigestion!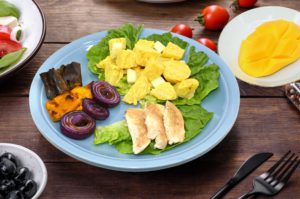 Pan-fried Cream Dory in Garlic and Butter
How about a simple and easy dish that you can prepare in minutes?
First, marinate cream dory or any fish fillet with AJI-SHIO® Pepper. Let it sit for 15 minutes to help absorb the flavors. Then pan-fry the fish fillet in a pan with a little amount of oil. Cook until lightly browned on both sides. Set aside.
On the same pan, melt butter then add garlic. Sauté until fragrant then add French beans, carrots, potatoes, pepper, and fish sauce. Sauté for 2-5 minutes. Carrots are good sources of Beta-Carotene that helps maintain normal eyesight.
To serve, transfer a cup of vegetables and 5 small pcs of fish fillet (about 215 grams) onto a plate. Serve with a cup of rice and 5 slices of apple for a complete meal.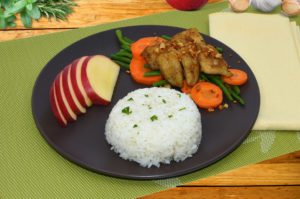 Mga Ka-Cookmunity®, practice self-love and care this new year by keeping an eye on your lifestyle and maintaining a balanced and healthy diet.   Check our Cookmunity® page for more Balanced Meal recipes!